Duterte Die-Hard Supporters slammed the use of the vaccine Dengvaxia in the past
The palace is now open to the use of the vaccine
Bodjie Pascua slams its critics
Dengue is on the rise in the country once again. The outbreak officially started early this year and it has since taken nearly 500 lives, along with over a hundred thousand cases.
The Dengvaxia (Dengue Vaccine) was first used in the country back in April of 2016 during the Aquino administration. The Php 3.5 billion program faced controversy as several children allegedly died after being given the vaccine.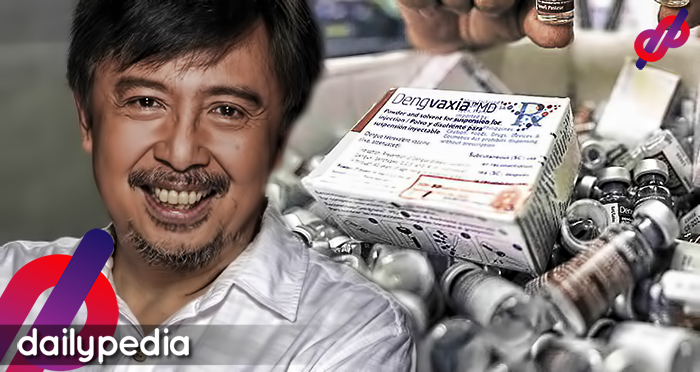 The program continued for a while during the Duterte administration before getting shut down. Sanofi Pasteur, the French company that manufactures Dengvaxia, said that studies conducted showed that the program actually increases the health risks of people who have never been infected by dengue.
The supporters of the current administration slammed the previous one and blamed the controversy on the former President.
Now, Malacañang is saying that they are 'open' to using the vaccine once again because of the current Dengue outbreak.
Former health secretary and now Iloilo Rep. Janette Garin, who is also facing charges over the deaths of the children who were vaccinated during the program, released a statement begging the current administration to run the Dengvaxia program once more.
Garin said the vaccination program will be able to reduce dengue-related hospitalization by 80 percent and will decrease the cases of the fever to 93%.
Presidential spokesperson Salvador Panelo also said that if the positives outweigh the negatives, then running the program would be a no-brainer.
"If the weight of findings show that there is benefit using Dengvaxia against dengue, then certainly the government should consider it,".
Panelo said that the Palace is open to any solution that would counter the current outbreak.
"We're always open to anything that will benefit the Filipino people. We're not closed to any suggestion. We need experts to support any call for the return of Dengvaxia," he added.
Actor Bodjie Pascua was not happy with Panelo's statement.
Back in June 2018, Public Attorney's Office (PAO) chief Atty. Persida Acosta attributed the death of 60 children to the Dengvaxia program and based this on her team's examination. Ted Failon and Noli de Castro also reported the controversy in the past.
"Ano masasabi mo ngayon Persida? Ka Noli? Ano na DDS?" said Pascua.
Also in 2018, the use of vaccines declined because according to Filipino doctors from the Doctors for Truth and Public Welfare group, PAO has been spreading 'fake news' about Dengvaxia.
PAO forensics chief Dr. Erwin Erfe was also criticized by the doctors for spreading fake news about measles, mumps, and rubella (MMR) vaccine having links to autism.
The Department of Health still claims that there have been zero deaths caused by the Dengvaxia program and that those children died of other causes.