They were threatening and hitting the man even though he had shown a quarantine pass.
Netizens were horrified by the situation.
Manila Police District (MPD) stated that they will investigate a cop threatening and hitting a man who was caught outside of his home amid the enhanced community quarantine in Luzon.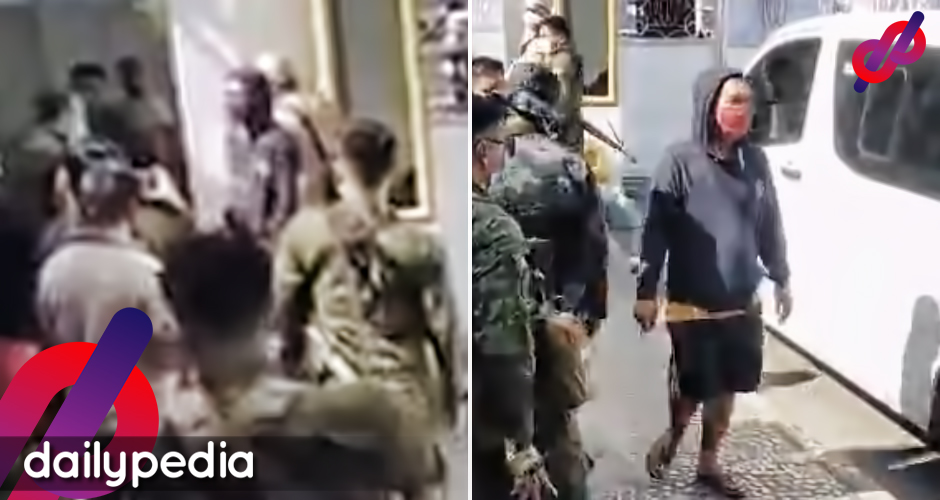 The viral video of the situation reached MPD director Brig. Gen Rolando Miranda and he ordered his staff to study the situation.
"Paiimbestigahan ko ito. Hindi dapat natin daanin sa init ng ulo ang pagpapatupad ng batas," he said.
In the video filmed by a resident who refused to disclose their identity, a group of policemen can be seen at Muslim Town in Quiapo. They were hitting a resident on the street.
Nakuhanan ng video ang isang pulis na namamalo ng mga lumalabas sa Muslim Town (Golden Mosque) sa Quiapo, Maynila kahit pa nagpakita na ng quarantine pass ang mga residente roon. | via @zhandercayabyab #COVID19 #LuzonLockdown pic.twitter.com/7jYbkwi2j3

— DZMM TeleRadyo (@DZMMTeleRadyo) March 26, 2020
The policemen were also heard cursing and telling people that they will shoot whoever they will see in the streets. Even though the man had a quarantine pass, he was not allowed to pass and the police allegedly started hitting him. One of those involved is Lt. Col. Rey Magdulayo, chief of the Sta. Cruz police station.
Netizens are horrified by the situation. Francis Baraan IV labeled it as "police brutality".
"We police the police, too! ANG MGA ABUSADONG MGA PULIS, DAPAT RIN IPAPULIS!" he tweeted.
https://twitter.com/MrFrankBaraan/status/1243059451394809856
Rappler's Maria Ressa said that it is the reason why the government should embrace the principle of human rights.
This is why our government should embrace the principles of human rights. It prevents this kind of abuse of authority during uncertain times. https://t.co/woeHLK80pZ

— Maria Ressa (@mariaressa) March 26, 2020
Other Twitter users have quoted the video and emphasized how wrong the action was.
SORRY PERO I CANNOT STRESS THIS ENOUGH NOW MORE THAN EVER:

SOLUSYONG MEDIKAL HINDI MILITAR

See this shit? That's abuse of fuckin power https://t.co/YErcPwdRhw

— sab (@sabsecillano) March 26, 2020
Duterte: "This is not martial law."

PNP: "Lahat ng lalabas nang walang oras BABARILIN NA!"

The fascist state forces only show their inhumane treatment to civilians who are mere victims of hunger in time of Luzon lockdown. https://t.co/nReEWvOle2

— Maria Laya Guerrero (@malayaguerrero_) March 26, 2020
The government says it will exercise "human compassion" as a COVID-19 positive senator broke quarantine rules. Here's a thread of how / why Filipinos don't feel this on the ground.

First, from Manila police today: "Anyone out at the wrong time will be shot, you sons of bitches." https://t.co/wEhpK2hDPA

— Regine Cabato (@RegineCabato) March 26, 2020
This is human rights violations! So violent are the enforcers because they thought the lockdown meant Martial Law! The nerve of this policemen na gawin ito sa mga kababayan nila, but they cannot do it to those VIPs who broke rules and even endangered the lives of others. https://t.co/sH43ex8qJk

— Amirah Ali Lidasan (@AmirahLidasan) March 26, 2020
Ordinary Filipinos: *leave home with Quarantine Pass*

Duterte Gov't: *namamalo* "Babarilin namin kayo! 😡"

KokoVID Pimentel: *enters hospital/delivery room, potentially infecting frontliners, mothers, babies*

Duterte Gov't: "b-but COMPASSION!!! 😭"#NoVIPTreatment #KokoKulong https://t.co/DNEp0CHBsn

— Superficial Gazette (@SuperficialGZT) March 26, 2020
On March 17, the Philippine government decided to place the entire island of Luzon on an "enhanced community quarantine" in hopes of containing the spread of the coronavirus disease (COVID-19).
"I have come to the conclusion that stricter measures are necessary. For this reason, pursuant to my powers as President under the Constitution and RA 11332 (Law on Reporting of Communicable Diseases), I am placing the entire mainland of Luzon under quarantine until April 12, 2020," said President Rodrigo Duterte.
Under new measures, strict quarantine for all households will be implemented, transportation will be suspended, provision for food and "essential health services" will be regulated, based on an earlier memorandum released by Malacañang.