"Talagang sinadya ko yun, ganun ako eh."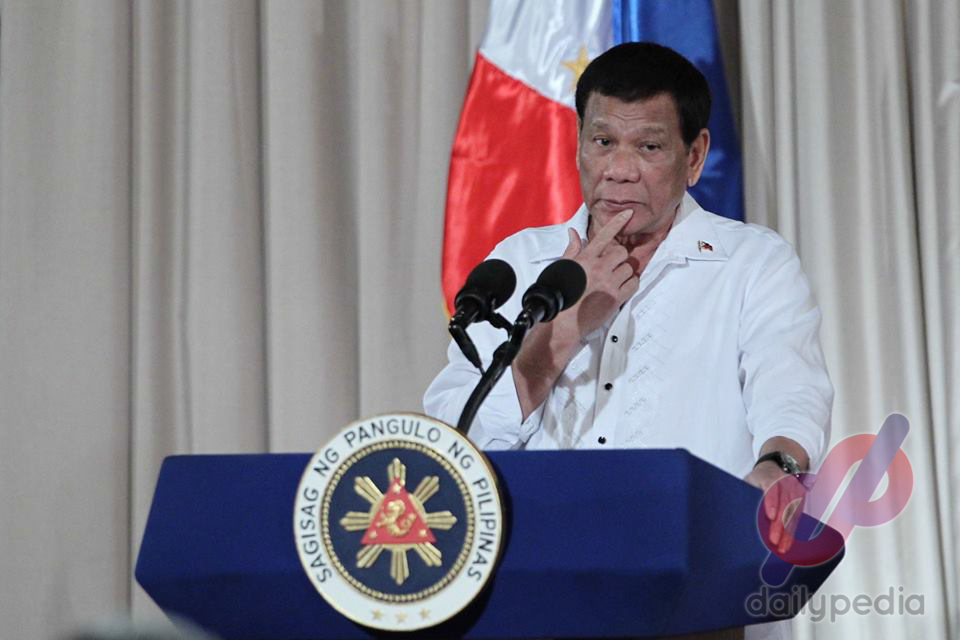 Those seven latest words [not related to 'The Seven Last Words'] can easily be linked to President Duterte's response to COVID-19 in the country. According to him, he gave himself a two-week leave.
He said that he spent a lot of time working on papers and has no illness that would prevent him from exercising his power as President of the Republic of the Philippines.
As far as the Palace is concerned, though, no one is entitled to know if Duterte is indeed working—at least according to his Spokesperson Harry Roque.
Roque went on to say "Ang taong bayan naman ay naniniwala naman na talagang on top of the situation ang President even if hindi niya pinangangalandakan ito sa taumbayan."
As for proof that the President is indeed in good health, his long-time aide, Sen. Christopher 'Bong' Go, showed videos of the Commander-in-Chief jogging, riding an ATV, and playing golf within the Malacañang grounds.
In just posted Facebook post Pres. Duterte is seen riding a motorcycle, walking and playing golf in Malacanang. He will resume his "Talk to the Nation Address" on Monday, says Sen. Bong Go @gmanews pic.twitter.com/ZZshXW1z6y

— Joseph Morong 🇵🇭 (@Joseph_Morong) April 10, 2021
All three statements were met with disdain by Netizens, who wanted assurance that the President is really on top of the pandemic.
https://twitter.com/iamriaaaaaaaaa/status/1381125254819373057
Everything he does except WORK! #MatagalNangWalangPangulo #DutertePalpak #DuterteInutil #OUSTDUTERTENOW https://t.co/B3BxopPvlQ

— Johnnie S (@sampras_john) April 11, 2021
If he's healthy enough to play golf, etc. then why will Roque hold the press conference given that he's the one confined in the hospital? Is the pres just "not in the mood?" https://t.co/fPIEWC34ys

— Midge Alva (@Harpingsaw) April 11, 2021
One Netizen even pointed out how Duterte did not perform his assigned duty for two weeks, yet he still had time to tackle his hobbies.
If he can do all this shit, he can address the nation.

— kiko rustia (@kikorustia) April 10, 2021
Netizens even compared him to the late President Elpidio Quirino, who did serve the nation even from his hospital bed.
Photograph of the late President Elpidio Quirino during his 15th monthly radio broadcast while confined at the John Hopkins Hospital Baltimore, Maryland, January 15, 1950

Tapos si President Rodrigo Duterte absent sa last Monday Press Conference, Grabe no? pic.twitter.com/r7HQ43RBFC

— PauloInManila (@pauloMDtweets) April 8, 2021
Quirino was known to hold a monthly radio broadcast that he never skipped—at least for 15 months.
Most Netizens, however, continue to ask whether Duterte was competent enough to lead the country.
Enough na po sa proofs of having no health conditions President Rodrigo Duterte. Proofs naman po sana of your competency. Yun nalang po inaantay namin since 2016. And you should be addressing now the nation, and not your personal emotion. Awit ka bhie. https://t.co/HaBKPrTBYo

— The Shepherd (@AngManunupa) April 12, 2021
To date, Duterte has resorted to what has now become his standard rhetoric: telling Filipinos it's okay even if the country lacks the vaccines and that there are countries that are far worse than the Philippines.
As for his year-long task force to tackle the pandemic, progress has been slow-going.
It was only in March this year when a contact tracing app got implemented across the nation: the StaySafe app.
Just recently, the Philippine National Police (PNP) announced that they would no longer hold quarantine violators within jail cells.
PNP chief Gen. Debold Sinas orders policemen not to arrest quarantine violators, tells police commanders to refrain from accepting violators who would be turned over by barangay officials. | via @aaronrecuenco

— Manila Bulletin News (@manilabulletin) April 12, 2021
In a surprise move from PNP chief Gen. Debold Sinas, the policemen are now ordered not to arrest quarantine violators and to turn away barangay officials who turn over the same.
Offenders should be fined on the spot or asked to render community service instead.