Netizens were disappointed after finding out that the viral hand-written sign that read, "Harry, my boyfriend said he'll propose if you duet with him!" during Harry Styles' "Harry Styles: Love On Tour in Manila" on March 14 was staged and fake.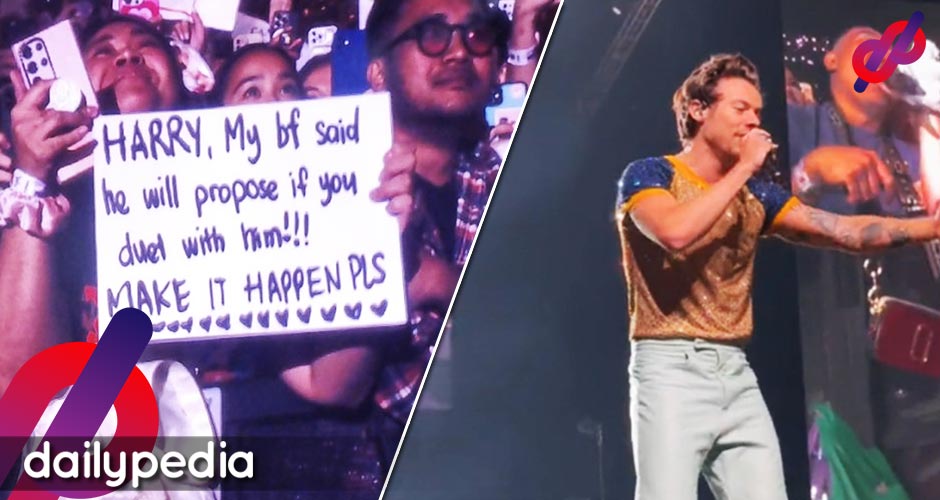 The proposal happened at the concert and immediately caught netizens' attention because it was sweet.
Styles also acknowledged the sign.
"Are you prepared to tie the knot? Are you certain?" the singer asked the couple.
The woman, Michelle Angela Martin, then requested Styles perform "Sign Of The Times."
"Would you like to perform it now, get the proposal done with, and then I'll complete the song?" Styles said as the crowd grew wild.
https://www.tiktok.com/@notpatatas/video/7211129913699585286
Five days following the concert, speculations started to emerge among fans that the proposal was not genuine and had been arranged.
In a post that is now inaccessible to the public, the woman who was proposed to acknowledged on social media that her boyfriend had not intended to propose during the concert.
""Ahahahahahahhqhahahhwhah!!! at nagulantang ang kasama ko kasi wala siyang ka id-idea," she captioned the post of the placard.
Fans were more than disappointed after the woman appeared to have confirmed it.
https://twitter.com/ginminniee/status/1637408809290452993?s=20
https://twitter.com/justine_odi/status/1637636434692816896?s=20
hahanapin ko bahay mo michelle angela martin

— gishelle (@seashelIe) March 19, 2023
H was used for this sh!tty KSP stuff by a person. Damn. Proud ka pa Michelle Angela Martin. https://t.co/C8KRjsiLlO

— EDISON (@edisoonlee) March 19, 2023
cancel MICHELLE ANGELA MARTIN potangennaaaang babae yan, may ubo yata sa utak

— kate is looking fORward 2 all the things to come👀 (@keepthrivingliv) March 19, 2023
hello po michelle angela martin pic.twitter.com/yD2F0PkovJ

— sai SAW HARRY (@ihrt94rry) March 19, 2023
Sana talaga di masarap ulam mo palagi Michelle Angela Martin

— I COULD START A CULT (@andreadtc_) March 19, 2023
A cousin of Martin claimed that Michelle Angela Martin was in fact getting married because they performed the song.
It is indeed legit, @mrnikkotuazon.

M's sarcastic humor was taken out of context. Nonetheless, she definitely doesn't deserve the flak, the threats and most especially the one-sided published article from @inquirerdotnet.

Talking about joining the clout from INQ. https://t.co/IamitPnBPw

— K ✨ (@kindessonly) March 20, 2023
PEP Ph lifestyle writer Nikko Angelo Tuazon shared Martin's cousin's remark and confirmed that she's engaged.
"THEY ARE ENGAGED," he added, stalking Martin's then-boyfriend's social media account.
Styles' Manila concert was the second stop on his Asia tour, which commenced on March 11 in Bangkok, Thailand. In the upcoming days, the former One Direction member will also perform in Singapore, South Korea, and Japan.