A video of Manila Mayor Isko Moreno getting hit with a turon has gone viral on social media.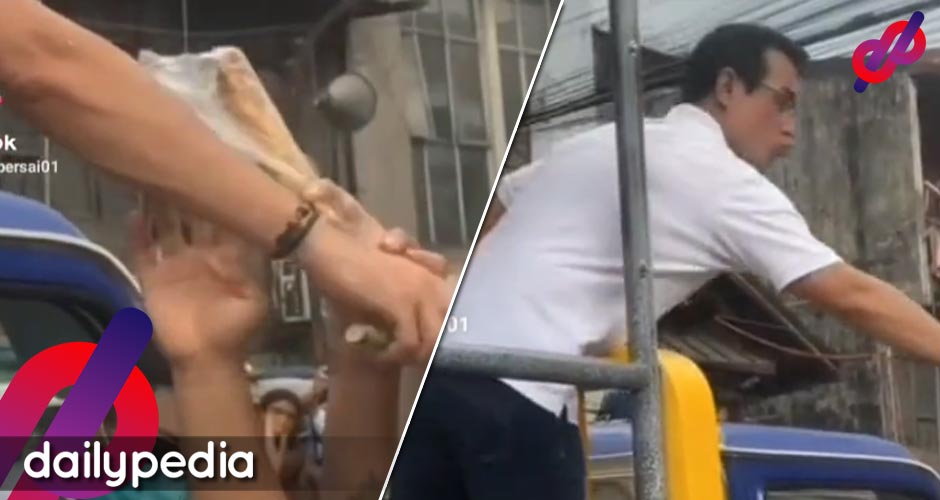 The footage was first uploaded on TikTok by user "hypersai01." It shows Moreno waving to his supporters during a caravan held in Sampaloc. As he was briefly interacting with the crowd, a fan tried to hand him a turon wrapped in plastic.
The presidential candidate did not see it, unfortunately. But the fan didn't want anything else in the world other than for his idol to take the snack. So he flings it at Moreno, hitting his shoulder.
https://www.tiktok.com/@hypersai01/video/7062675886981549314?_d=secCgwIARCbDRjEFSADKAESPgo8mWYPAR79uJRu%2BHIy5EuM7DsPtSZ79S%2BgfsRLlH78mTFiKtqVWBj54n4OSNs9P5so%2Bii5bQnhj7OSlI6ZGgA%3D&_r=1&checksum=bd531ef1268194d5f7c69ef053ce8660a4fac602776491f782b2fe2f89d108ee&language=en&mid=7062675872721603329&preview_pb=0&region=PH&sec_user_id=MS4wLjABAAAAMOJ8mJO3pGknb4s6CQZH_KChohKLAKSTNsbyTKEEFNjQjH3oesWdzin1IGVEyko8&share_app_id=1180&share_item_id=7062675886981549314&share_link_id=45B1E4EB-5FE1-4CD5-AE86-7C4CFFED40DE&source=h5_t&timestamp=1644495566&tt_from=copy&u_code=d92996eaa0jl2b&user_id=6751999512631395333&utm_campaign=client_share&utm_medium=ios&utm_source=copy
The caravan consisted of around 5,000 motorcyclists wearing blue. Vice presidential bet Dr. Willie Ong, senatorial aspirants Atty. Jopet Sison, Samira Gutoc, and Carl Balita joined Moreno.
Moreno's campaign kicked off with a mass held at the Sto. Nino Parish Church in Tondo before the group headed to Sta. Cruz District, Sampaloc District, Sta. Ana District.
Meanwhile, Moreno's campaign manager Lito Banayo denied trying to win over Vice President Leni Robredo's supporters.
"The silent majority will gravitate towards Isko, with due apology to handlers of Vice President Leni," he told ANC.
"People want a continuity in certain aspects of Duterte, but a major improvement in the economy, in healthcare, in education, and all the other minimum basic needs that they want," he added.