The public was left dumbfounded after Pres. Rodrigo Duterte, with a straight face, asked Health Secretary Francisco Duque III if the coronavirus was airborne.
Duterte explained that people who wear face masks still get infected with the Omicron variant, including the vaccinated.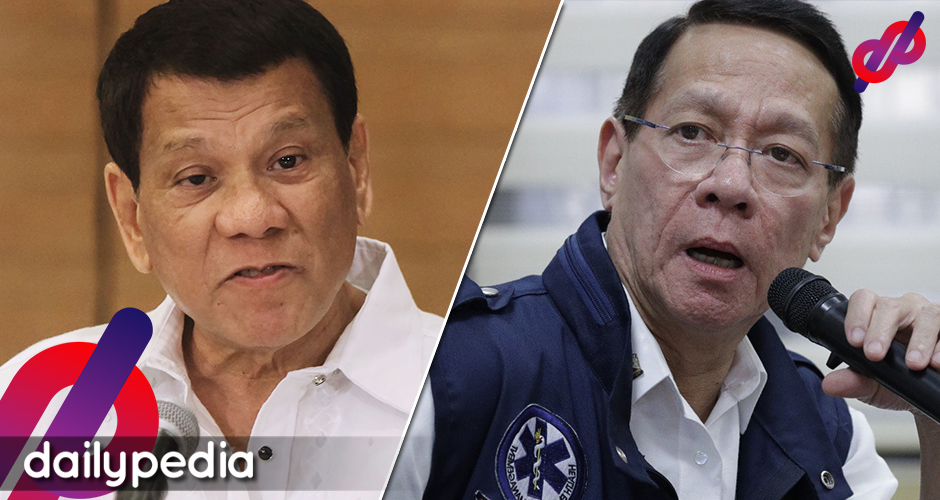 "This Omicron has hit so many people who wear masks, who are vaccinated. Even those who just stay at home… they get infected," Duterte said
He then asked Duque if the virus lives freely in the air.
"There are others – or there are many of them — who are vaccinated who still get infected. Is that airborne? There are so many people who are already wearing masks who still get infected," the president added.
Duque didn't answer directly but said the wrong way of wearing masks might have something to do with getting infected.
"Those who get infected are either wearing their mask wrongly or with their nose sticking out. That's useless. That is what we call token compliance, but it's the wrong way of doing things," Duque said.
"It is the wrong way of complying with our minimum public health standards. For example, when it comes to avoiding contact, instead of [distancing from each other] one meter, people talk close together," he added.
Duque also highlighted the recent holiday season.
"This past Christmas and New Year, people celebrated Christmas by inviting other people. Of course,  if you're eating you have to remove your mask," he said.
"The findings on the Omicron variant [show that] it gathers in the upper respiratory [tract. There are many cases where it's in the nose or in the throat but not in the lower part of our lungs from where they can't easily get out.
"Individuals with Omicron variant can easily transmit [the virus] because when they talk, cough a bit, blow their nose a little, they could easily transfer [the virus]," he furthered.
Netizens couldn't believe that Duterte would even ask if airborne the virus. The pandemic has been around for over two years already.
No wonder we're so messed up. No one in @DOHgovph bothered to tell him a year ago that COVID is airborne? Figures why there are no actions re ventilation and air flow. Govt mindset is still virus droplets. https://t.co/LOpM1mCo8i

— Citizen Jane (@citizenjaneph) January 18, 2022
This is such a pathetic exchange of words. Almost 2 years into the pandemic and their discussions are so MABABAW!!! https://t.co/LOpM1mCo8i

— Citizen Jane (@citizenjaneph) January 18, 2022
dumb, lazy, incompetent https://t.co/2vdMfXwS13

— Justin Dizon #LeniKiko2022 (@iamjustindizon) January 18, 2022
Duterte's question just shows that he never really cared about the health crisis from the jump, netizens further said.
https://twitter.com/aichaselight/status/1483449434352537600?s=20
https://twitter.com/DuterteWatchdog/status/1483412044829368321?s=20
After 22 months of dealing with COVID Duterte still asked if COVID is airborne. And his DOH Secretary explain, which Duterte cuts off and remind Duque to wear his mask. I have too much of of this stupidity. God forbid but people were laughing at them as they continue their idiocy https://t.co/LclF6jWps6

— Joel Alapar (@AlaparJoel) January 18, 2022
https://twitter.com/RDA47338427/status/1483602284546523136?s=20
Dr. Tony Leachon is worried that Duque is also not informed enough about the new variant.
If the Sec. of Health doesn't recognize the problem then we are doomed to fail.
It's airborne. The Omicron variant is highly transmissible too so the plan of action should be clear.
Wear medical grade masks. Stay home. Tests. Isolate. Trace. Quarantine. Vax. Booster. Simple ! https://t.co/m29SRxCnxT

— Tony Leachon MD (@DrTonyLeachon) January 18, 2022
Even Duterte allies have called for Duque's resignation, but the president wouldn't have it.