Die-hard Duterte Supporters (DDS), or it seems, are ramping up efforts on ruining the image of Vice President Leni Robredo amid speculations about political moves concerning next year's national elections.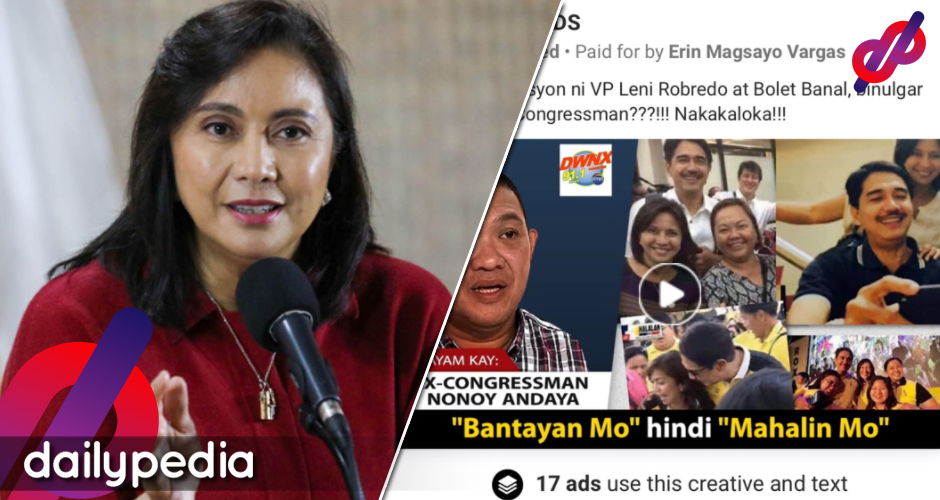 In a Facebook post by social media expert Paolo Miguel Quimbo, he details how much has been spent on negative ads on Robredo for the month of May alone.
Based on Facebook's Ad Library, which anyone can access, DDS, or most likely paid online trolls, have spent over P200,000 on negative social media ads targeted at Robredo.
Paolo can only imagine how much has been spent ever since President Rodrigo Duterte took office.
"How much money have been spent already for these black operations against her in the past 5 years especially if we take into account the seeded posts on pages and profiles with huge number of followers," he said.
Robredo has constantly pointed out that trolls will do anything to make the public dislike her.
DDS is known to spread fake news about anyone or any group that opposes the current administration's stance on certain issues. They mainly go after the Liberal Party of the Philippines.
Paolo is also curious to know how the trolls receive funding. "Where did they source their war chest from?" he asked.
And there could be an answer to his question. Senator Ping Lacson recently said that there is an undersecretary forming at least two troll farms in every province in the country.
Someone who used to work for Lacson told him that they declined the offer to work for the troll farm.
Lacson said this undersecretary is using government funds to continue the trolling.
"Mayroon akong alam na Usec na nag-oorganize na sa buong bansa ng at least 2 troll farms sa [bawat] isang probinsya," Lacson stated during an online press conference. 
"Ang nakausap niya isang dati kong tauhan. Ni-report sa amin. Sabi niya, 'Nag-decline ako… Nag-oorganize sila sa bawat probinsya ng troll farm.'" he added. 
Presidential Spokesperson Harry Roque has denied any association of Duterte to the alleged existence of troll farms.