Late last year, a netizen captured a strange scene in the night sky of Daanbantayan, Cebu. A similar event took place in Sulu, two years earlier. According to witnesses, the strange but mesmerizing scene was like a floating city in the sky.
Their eyes were not fooling them. They were indeed looking at floating lights, except it's not a city. Across the archipelago, there has been a number of sightings of this strange weather phenomenon, which scientists call 'Light Pillars'.
Light Pillars are actually an atmospheric optical phenomenon, which is made possible by the reflection of light from suspended ice crystals in the atmosphere. The phenomenon produces vertical beams of light that extend from a light source, up to a point in the sky. Light pillars can also be caused by the Sun or the moon, or any extremely bright material from the surface of the Earth.
PAGASA (Philippine Atmospheric, Geophysical, and Astronomical Services Administration meteorologist, Raymond Ordinario, offered some explanation to these sightings in the Philippines. According to him, ""Ang nangyari kasi dyan, mayroon silang clear skies. 'Yong manipis na cirrus clouds, mayroong ice crystals. 'Yon 'yong nag-reflect ng ilaw galing sa buwan," (What happens here, is that they have clear skies. Cirrus clouds usually contain the tiny ice crystals, which reflect moonlight).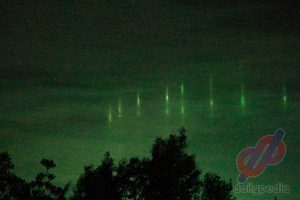 Among the most recent sightings of this peculiar phenomenon was the one in Masbate, last year. ABS-CBN News reported that 'light pillars' were spotted at Dao, Balud, Masbate, on the night of June 19, 2020. The image taken featured breathtaking beams of light cutting through the night sky.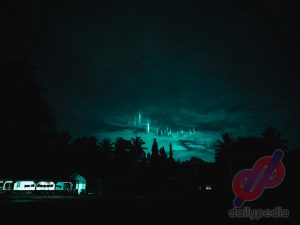 Just a few months later, the same phenomenon was observed in  Culianan, Zamboanga City. A native named John Edward Alfaro Sanson submitted his majestic shot of the rare spectacle to VisMin.ph, in August, last year.
In Sulu, GMA News reported a sighting of the phenomenon. Sulu Native, Amarkhan Jidara, took a shot of the scene on June 30, 2019.
Have you witnessed, let alone taken a shot off, this majestic phenomenon, taking place in your area? Please do share your thoughts, in the comment section.