Marinduque Rep. Lord Allan Velasco has been elected the new leader of the House of Representatives on Monday by his allies from various parties, dethroning incumbent Speaker Alan Peter Cayetano.
However, to Cayetano, the election was a "fake" and illegal session.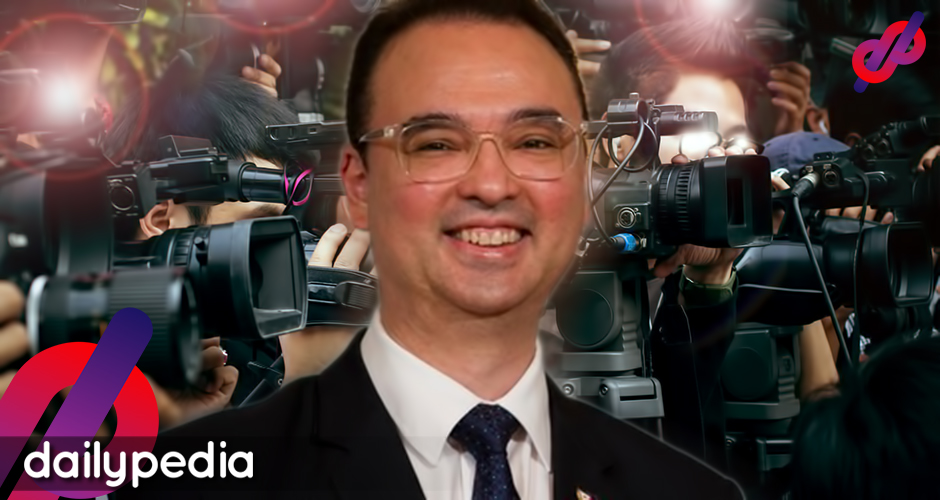 BUHAY Party-list Rep. Lito Atienza moved to declare the leadership position vacant and called for the election of a new Speaker at the Celebrity Sports Plaza in Quezon City.
186 congressmen voted for Velasco as the new leader.
"This can only happen in the age of Duterte, when anything is possible for the benefit of the Filipino people," Velasco said in his oath as he thanked the Duterte family and his allies.
He also asked Cayetano to peacefully step down as Speaker.
"With this compelling proof that has installed me as Speaker of the House, I would like to extend my hand to Speaker [Alan Peter] Cayetano and hope that he would be amenable to sit down with me as we comply with the agreement for a peaceful transition for the benefit of our members and the country."
In his press conference, Cayetano said that the session was illegal because it was not held at the Batasang Pambansa Complex.
"If valid iyon, 'banana republic' na tayo. Never in the history of the Philippines na ganito ang ginagawang pambababoy sa Kongreso," Cayetano said.
He then accused Velasco of being power-hungry.
"I will not allow you to burn this House down. Remember that. I love this institution, 1998 nandito na ako. Marami na akong Goliath na kinalaban," he said.
"So kung gagawin niyo, ipapasa budget, magkakampi tayo dito. Kung ang gagawin niyo papalitan lang ako, 'di ako hahadlang, pero if you try to burn this House down, you're in for one hell of a fight," he added.
Cayetano then said something that elicited reactions from the public. He said that "There is no democracy without a free press, for example."
In a Facebook live on Tuesday afternoon, Alan Peter Cayetano announced his "irrevocable resignation" from his post, ironically while Marinduque Rep. Lord Allan Velasco's speakership election was being ratified in the plenary.
This reminded people that Cayetano played a huge part in shutting down media giant ABS-CBN.
Worried siya matanggalan ng trabaho pero 'di siya worried sa mga tinanggalan niya ng trabaho when he killed ABS-CBN's franchise. 🤡 https://t.co/nVBpQX476n

— Nick Villavecer 🍥 (@nickvillavecer) October 12, 2020
Netizens said this was just another case of karma.
Exactly, Mr. Alan Cayetano. ABS-CBN shutdown? SPELL K A R M A! Back to you. 😏🙄🙄🙄 pic.twitter.com/eHHMwOXtgm

— Kapamilya Online World (@kowalerts) October 12, 2020
ABS-CBN's shutdown saw thousands of employees jobless as the company was forced into retrenchment to cushion its losses, which at the time was around P30 to P35 million a day before striking a new deal with Bro. Eddie Villanueva's ZOE Broadcasting Network.
E yung mga tinanggalan niyo ng trabaho sa ABS-CBN, naisip mo ba?

KARMA MO YAN! https://t.co/LklmNc8aKp

— Miss France Sajorda (@PrincessFrance) October 12, 2020
Paalala lang natin baka nalimutan niyo:

You and your congress led the killing of ABSCBN franchise in a pandemic. It costed thousands of jobs and livelihood.

Huwag gawing excuse ang sitwasyon para i-extend ang posisyon. Alis. https://t.co/1gxOcEJvz0

— Kevin Manalo (@kevinmanalo_) October 12, 2020
Although there is a considerable amount of people who also dislike Velasco, to them, Cayetano is even more unlikable and they want him out asap.
Don't like this Lord Allan guy, pero… At least alam na ni Alan Peter ang pakiramdam, after ng ginawa nila sa ABS-CBN.

Karma, karma, karma chameleon… 🤡

— Miss France Sajorda (@PrincessFrance) October 12, 2020
Cayetano basically asked the media to help him in this fight, but what he did to ABS-CBN was unforgivable.
Cayetano: "Mga kapatid namin sa media"

Luh. Isa ka pa nga sa nagpasara sa ABS-CBN during the PANDEMIC.

— Jam Ancheta (@JamAncheta) October 12, 2020
Talaga ba? Parang laking gulo nung libu-libo ang nawalan ng trabaho dahil pinasara niyo ang ABS-CBN? https://t.co/CiyaBc56HI

— Barnaby Lo (@barnabychuck) October 12, 2020
After ABS-CBN was denied a franchise by a House of Representatives committee last July, Cayetano said that Congress "simply put an end to the privilege of one family in using a public resource to protect and promote their private interest was part of the changes that the Duterte administration has vowed to bring to the country."
"President Duterte, despite all the roadblocks that have been thrown at him by his critics, has been largely successful in leveling the playing field. He has called out those who abuse the system, and has held them accountable on a scale that has never been seen before," Cayetano said in Facebook post shortly after the shutdown.
Cayetano also denied that Congress' decision was an attack on press freedom.
"For those who continue to push the Freedom of the Press card, Congress is not stifling the right of any journalist, host, commentator, talent, or employee of ABS-CBN – or any Filipino for that matter – from criticizing the government. We simply put an end to the privilege of one family in using a public resource to protect and promote their private interests."
"We can argue about whether or not the journalists of ABSCBN had any political bias, but can anyone who is familiar with Philippine history and politics have the same doubts when it comes to the network's owners? Or that they leveraged the influence of the network to gain access to favored government contracts?" Cayetano added.