Confusion arose as news of Senator Imee Marcos thanking President Rodrigo Duterte for laying to rest issues concerning the case of former US Marine Joseph Scott Pemberton and then asking to prioritize the SOGIE bill in one breath made it online.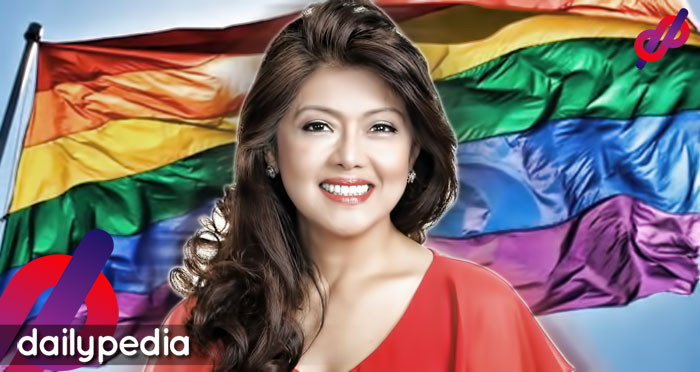 In an article published by Inquirer.net, Marcos said, "The outcry against Pemberton's pardon despite the horrific killing of transgender Jennifer Laude will never be fully appeased until the bills on SOGIE (sexual orientation, gender identity and expression) are passed by Congress and signed into law."
Marcos also said, "The role of the president in issuing a pardon is to prevent any future discordant issues that opposition politicians would try to exploit."
Her statements have earned the ire of several netizens who feel like she isn't championing equal rights and anti-discriminatory treatment for the LGBTQIA+ community.
From the likes of celebs Pia Wurtzbach and Ate Glow…
Okay. Signing off for tonight. Baka macarried away pa ko sa mga susunod kong sasabihin.. pero yun na. I know I dont use twitter much and I probably dont have a lot of active followers here anymore. But pls for those who can read this. Please mag register tayo ha?🙏 #MasMaramiTayo

— Pia Wurtzbach | yourhighness.eth (@PiaWurtzbach) September 7, 2020
Way way back panahon ng mga babaylan sobrang progressive ang Pilipinas sa gay rights. After Marcos ayun dumami mga low IQ na bobo na against same sex marriage at sogie bill. So tama ka umusad ang bayan mo.

— Ate Glow (@AteGloryaPanoyo) September 8, 2020
… to those who support the LGBTQIA+ community.
I'm still confused as to how Marcos attacked the LGBT cause by thanking Duterte's grant of pardon to Pemberton and then say she supports the SOGIE bill at the same time.

How?

— DDS Viruses (@AntiDDSVirus) September 8, 2020
https://twitter.com/liatouille/status/1302980694814068736
https://twitter.com/axcelquing_/status/1302968542254432261
Some even pointed out how the Marcos Day in Ilocos Norte bill was passed after a few sessions while the SOGIE Bill's newer versions have not even gotten past the committee level.
and jusko 20 years (?) na pong nakatengga ang sogie equality bill!!!!! ayun po ang mas importante kesa sa marcos diktador day my ass,,,

— ℐ (@itsjoja__) September 3, 2020
Maipapasa na yang Marcos Day na yan pero ang SOGIE Bill hindi pa rin. Ganto ba talaga katanga mga namumuno sa atin?

— Carl Chavez (@carlchavezc) September 3, 2020
sobrang nakakabobo lang kasi,,, ang daming mas importanteng bagay na dapat unahin? may edsa rev day kung saan ginugunita ang pagpapatalsik ng masa kay marcos tapos biglang magkaka-marcos day? 'yong sogie bill na para sa lahat hindi ma-approve-approve pero ito batas na agad? https://t.co/OrugCXShiG

— septemberus waters (@_chasinglions) September 2, 2020
ang hiningi namin sogie bill, binigay niyo marcos day, putangina niyo po

— ✨ tinkerbell ✨ (@erikafjx) September 2, 2020
ilang beses nilang binasura ang SOGIE EQUALITY BILL. pero ang "President Ferdinand Marcos Day" ang bilis na naipasa???? wow?????? eh yan yung dahilan kung bakit ang daming pilipinong inosente ang namatay jusq

— rosemarie (@soocfemia) September 2, 2020
tanginang "President Ferdinand Edralin Marcos Day" na yan ang bilis ipasa pero yung sogie equality bill na 19 years na sa kongreso binabasura niyo!

— COVID PARAS (@ajmirandilla_) September 2, 2020
Imee Marcos is one of the principal authors for the refiled SOGIE Bill—specifically Senate Bill No. 412–which is still unable to find footing outside of the committee level in both houses of Congress.
Other versions of the bill include those filed by Sen. Sonny Angara, Laguna 3rd District Rep. Sol Aragones, Antique Rep. Loren Legarda, and Bataan Rep. Geraldine Roman. Senators Vicente Sotto III and Joel Villanueva have both expressed dissent within Congress, with Sotto saying the bill "will not pass" in the Upper House as long as he is the Senate President.
Several religious leaders and cause-oriented groups have expressed their support for the bill alongside personalities such as Ann Curtis, Pia Wurtzbach, Catriona Gray, and Vice President Leni Robredo. Even Duterte has expressed support as long as it is "patterned like the one approved in Davao."