Manila Bay's newly-minted "white sand" beach may have caused more harm than good after crowds gathered to "appreciate" its beauty.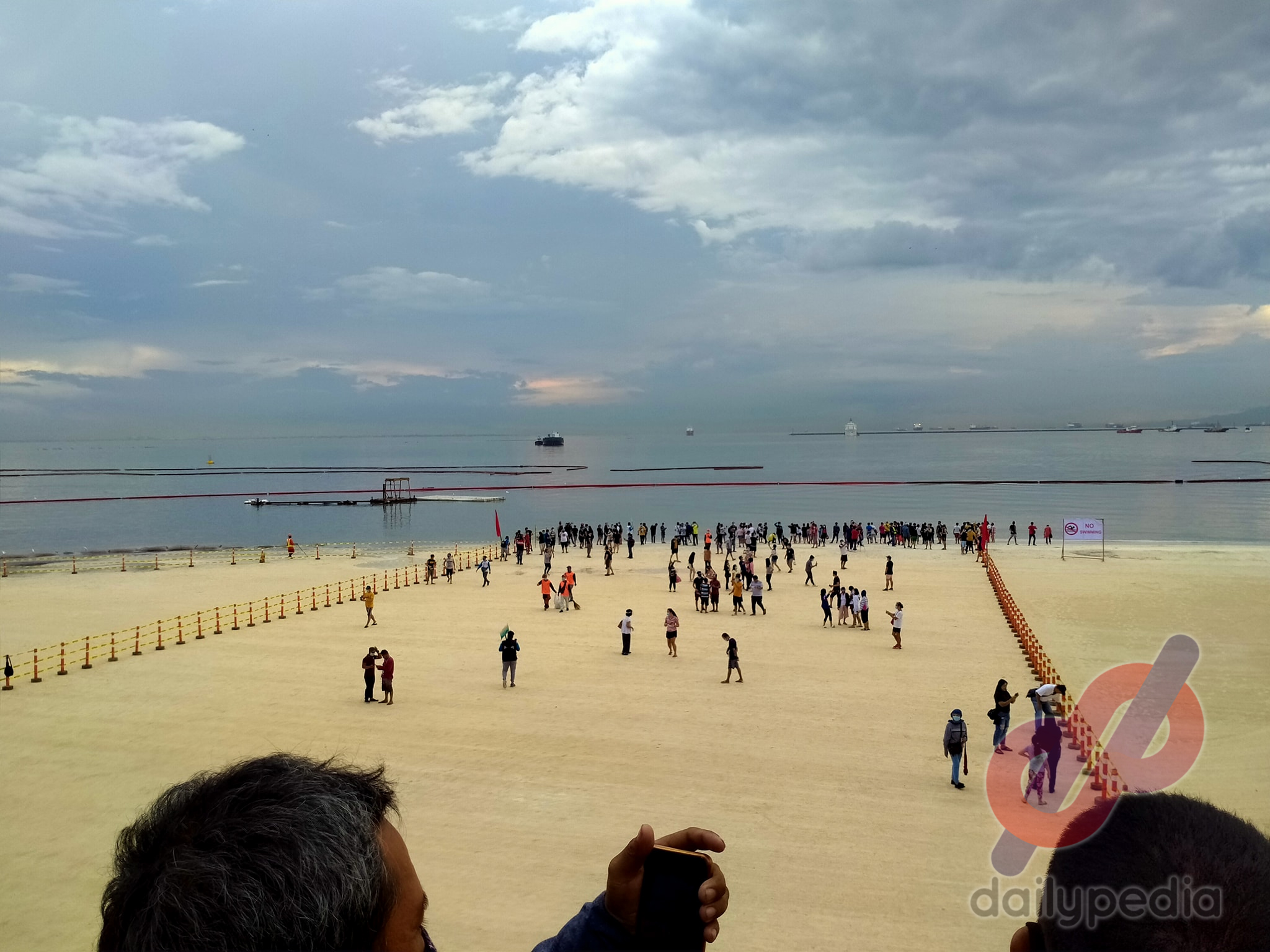 Photos and videos from virtually every Metro Manila-based news outlet showed thousands of people flooding the recently-opened section of Manila Bay featuring DENR's (Department of Environment and Natural Resources) controversial beach restoration project.
PANOORIN: Dumagsa ang mga tao na gustong makita ang "white sand" sa Maynila (as of 6am) pic.twitter.com/b49qjVg41E

— Jekki Pascual (@jekkipascual) September 19, 2020
People flock to Manila Bay's 'white sand beach' along Roxas Boulevard on Sunday morning. Officials opened a portion of the coastline to the public to demonstrate the viability of using crushed dolomite in rehabilitating and beautifying Manila Bay. | via Edd Gumban pic.twitter.com/gR5BO19hAl

— The Philippine Star (@PhilippineStar) September 20, 2020
A group of women supporters of President Duterte cut the line going to the white sand project at the Manila Bay Saturday with one of them asking one of the organizers if they could be let in first since they are senior citizens. | via George Calvelo pic.twitter.com/CPFuXG42RU

— ABS-CBN News (@ABSCBNNews) September 19, 2020
LOOK: Throngs of people have gathered along Roxas Boulevard on Sunday, September 20, for a chance to view the artificial Manila bay white sand that has been opened to the public this weekend from 6am to 6pm. 📷:Marianne Bermudez/Philippine Daily Inquirer pic.twitter.com/6zw8HpJgHO

— Inquirer (@inquirerdotnet) September 20, 2020
Netizens who saw the photos and videos were upset at the lack of adherence to social distancing protocols—even as police from the Ermita Police Station were present.
Celebrities weighed in with their thoughts, either through choice words…
Oh wow. And to think pinag-debatehan ng matagal ang .75 or 1 meter social distancing sa public transport. Ingat po kayo please!

The white sand looks nice from this left pic but I hope it lasts, withstands the storms and does not damage the environment in the long run. https://t.co/CNOvxOLcJS

— Karen Davila (@iamkarendavila) September 20, 2020
There is always a cost. Let us never forget that. https://t.co/DphbLBA2b2

— Karen Davila (@iamkarendavila) September 20, 2020
https://twitter.com/mabuendiahd/status/1306525297047564288
https://twitter.com/glocogaming/status/1307256898018709504
Nice way to alleviate mental anxieties. Good Job Pinas! pic.twitter.com/WNpOYmIdSL

— Chynna Ortaleza (@ChynsOrtaleza) September 20, 2020
… or emojis.
https://twitter.com/gretchenho/status/1307499871851536384
https://twitter.com/moirarachelle4/status/1307531221195354112
https://twitter.com/kakiep83/status/1307747737572577281
Despite blatant violations of quarantine protocol, the incident has not yet caused any spikes in the number of COVID-19 cases. For his part, recently-promoted Philippine National Police chief Camilo Cascolan said both the police and the citizens were to blame for the violations.
"Mahirap po talaga sa mga kapulisan pero wala po kaming magagawa. Kailangan matuto po ang komunidad sa ginawa po namin. Siguro naman po sasabihin niyo sa amin na mali ata' yun, pero dapat isipin niyo saan din kayo nagkamali. Dapat hindi narelieve 'yung aming kapulisan kung ginawa namin ang tama, hindi po ba?" Cascolan said in a press briefing after the incident.
(It is really hard on the part of the police but we could not do anything. The community needs to learn from what we did. Maybe you will tell us we are wrong, but think also about your mistake too. Our police officer should not have been relieved if we did what was right.)
The police officer he was referring to is former Ermita police station commander Lt. Col. Ariel Caramoan.
For his part, Manila Mayor Isko Moreno has ordered the closure of the said area of Manila Bay. He has asked Ermita police station OIC Lt. Col. Alex Daniel to deploy at least 20 officers in the area and enforce quarantine protocols.
Whether this means he is against the rehab or not remains to be seen, but he has gone on record to say he supports the measures taken by the DENR.
"What will be the major reason to stop? And what are we going to gain when we stop? It is long overdue. Let us be fair to environmentalists who fought for this for 20 years," said the Manila mayor in an interview with ANC.
Malacañang has released a somewhat conflicting statement about the crowds at Manila Bay early on Monday, September 21.
In a virtual press briefing, Presidential Spokesperson Harry Roque has defended the beach rehabilitation project and claimed that crowds flocking to the newly-minted beach is proof that it was "the right decision"—even as he reminded Filipinos to still adhere to quarantine protocols.