The oxygen tanks were supposed to be for a patient who had trouble breathing and needed oxygen right away.
It took them one hour to let the van pass. 
On April 28, an oxygen tank supplier posted a complaint against a purok leader at a checkpoint in Quezon City. It was because they were barred from exiting the area even though they were supposed to deliver the tanks to a person whose life was in danger.
On a video uploaded on Facebook by Gina Romano, she and her live-in partner already presented a quarantine pass to the personnel manning the checkpoint. They also had permits from the Department of Trade and Industry, Bureau of Internal Revenue, and the mayor's office to pass through the checkpoint in Zytec Riosa Compound in Barangay Pasong Tamo.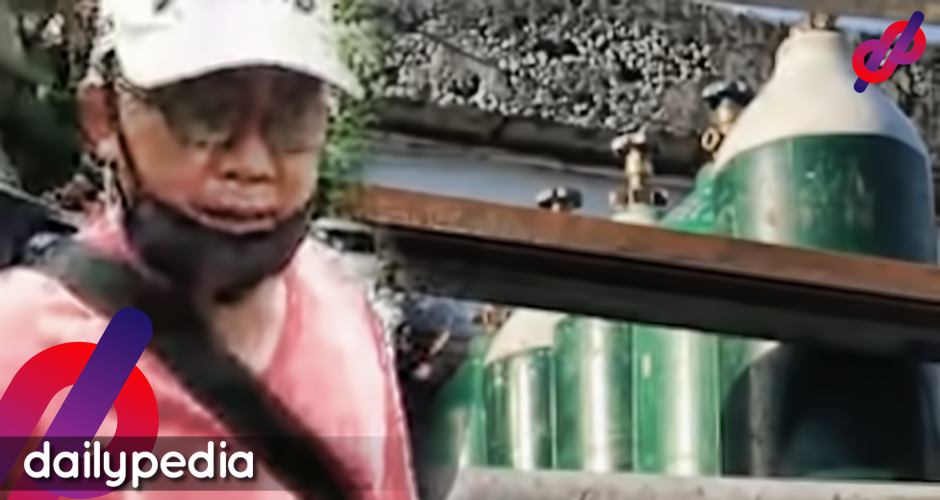 However, Noel Talon stopped them.
Romano said that a nurse called and said that the oxygen tanks should be delivered immediately as the patient was already having a hard time breathing.
"Tinext kami ng nurse na kausap namin, sabi na kailangan na ipadala 'yung oxygen tank kasi naghihingalo na ang pasyente. Kaya nagkagulo na kami," said the delivery man Louie Bugayong.
But the men at the checkpoint told them that they are not allowed to pass from 10 am to 3 pm and the patient will die if they're meant to die.
"Tinanong ko 'yung purok papaano ang deskarte kasi ayaw kami paalisin. Sabi niya, 'Edi mamatay 'yan kung mamatay.'"
They were only allowed to pass after one hour as because an official from the barangay stepped in and helped them.
"May dumating na tiga barangay and noong nakita po nila 'yong oxygen tank, sinabihan po 'yong purok," Romano said.
https://www.facebook.com/Covid19Commotion/videos/231860221382292/
Netizens were horrified by the purok leader's decision not to let the van pass.
Ambobo rin ng purok leader na di pinadaan may dalang oxygen tank.. PUTANGINA YUNG ILALAGAY NIYO SA CHECKPOINT NYO YUNG MAY I.Q SANA

— Lanz (@LnzMvrck) April 28, 2020
Nairita ako sa "mamatay na kung mamatay" yung hindi pinadaan sa checkpoint na may dala ng Oxygen Tank.

Kahapon, may kababayan kaming namatay. Bata pa. Ng dahil sa pesteng oxygen tank na yan na wala sa kaisa isang clinis sa bayan namin (walang hospital samin) namatay sya. 😭

— Beyyy 💜 (@jollibeeeeea) April 28, 2020
pre isipin mo yon, nagche-checkpoint kayo para malaman kung sino may sakit, para di siya makahawa, para di dumami yung mamatay.

sabay haharangin niyo yung supplier ng oxygen tank? para san pa checkpoint kung mamamatay lang din naman pala lahat? https://t.co/GbrFi41X3c

— liyan (@liyantamares) April 28, 2020
https://twitter.com/darickcuevas/status/1255096870243758086
Isipin mo , naghihingalo ka na tapos hinarang pa sa checkpoint yung magdadala ng oxygen tank mo 🤡 pic.twitter.com/ZAFvHOieID

— 𝒱𝒾 (@ToujoursVii) April 28, 2020
The supplier decided to file a case against the purok leader as they allegedly experienced discrimination during the incident even if they were tasked to help the frontliners.
The purok leader has not addressed the matter as of this writing.