Cris-Dan Alday Gatchalian, a netizen from Quezon City, went on Facebook and shared his experience in trying to get treatment from hospitals because he speculated that he and his wife might have the COVID-19 virus.
On March 14, Cris and his wife Christine thought that it would be good to get themselves checked because Cris wasn't feeling too well.
"Today, my wife and I decided to visit the hospital to have ourselves checked kasi I had sore throat and slight fever the past days, just to be sure lang."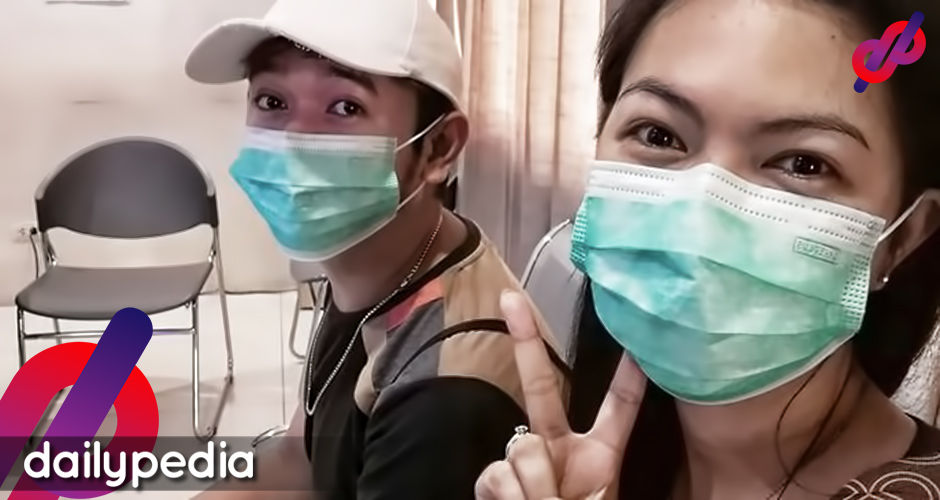 They first went to a hospital located along Commonwealth Avenue because it was closer and that this institution was affiliated with Maxicare, their Health Maintenance Organization (HMO). The process was quick and they filled up some forms.
"Pagdating namin dun may screening agad sa entrance/guard, fill up fill up ng forms tas pag may signs and symptoms ka ng Covid-19 direcho ka na sa screening room where this photo was taken."
A nurse approached them wearing a full-protection suita nd asked them a lot of questions. It was revealed to the couple that getting tested wasn't going to be that easy as they had to shell out a lot of money.
"After namin masabi ung mga naramdaman namin, she said that if we want to proceed pa sa actual testing, we have to pay 2k each para sa green laboratory gown na gagamitin namin inside the room where the sick people are being tested."
It was also required of them to pay for other things since the health measures they were looking for were limited.
"Other than that, may other payments pa during the actual test kasi di daw covered ng health card and super limited lang daw ung test kits na meron sa Philippines."
The amount they had to pay had them thinking whether or not those who live below the poverty line will have the chance to survive in the event they catch the deadly virus.
"We didn't bother asking na kung ano ano pa yung mga babayaran na yun kasi were stunned na tlga sa 4k na initial payment ee.. And yeah, we're so surprised and we're like… Really? So pano pala kaming mga nasa laylayan ng lipunan na wala tlgang capacity mag'shell out ng ganung amount? Antay antay nalang mamatay?"
But the couple understood that the nurses had to follow certain rules and decided to just leave to see if there were other options out there.
"Pero well, yun daw ung protocol sa kanila and they're just following the rules… Ok, no personal grudge to Ate Nurse, then we decided to leave nalang."
They got to another hospital, and to their surprise, nobody was there. No doctors were around, and if there was one, the patients were not guaranteed any tests.
"Walang mga tao sa lobby… Kasi wala din palang doctors! Nakakaloka! 😅 Kahit family doctor wala and kung sakali mang meron depende pa din sa doctor kung tatanggapin ka nya."
That hospital did not have enough resources to treat patients who might possibly be suffering from the virus.
"Tas pag may signs and symptoms ka din ng Covid-19, di ka din iaacommodate kasi wala silang facilities for it… So ano na po tlga? Antay antay nalang lumala at mategi?"
Cris thinks that things are only going to get worse since a lot of money is needed for treatments, and only a few can afford them.
"Dadami lang tlga ng dadami yung cases kahit maglockdown pa, kasi di alam ng tao kung dapat na silang ma'isolate ee kasi walang pambayad sa pangtest… Ano na po PILIPINAS?"
Cris gave an update when he found out that the only reason the situation was turning out badly is because the testing kits are very much limited.
"Okay, we have learned and understand na limited lang yung test kits na meron sa Pilipinas to test Covid-19, and severe cases lang yung kayang iaccomodate, no problem to that anymore."
Cris hopes that more people will be considered for consultations to make things a little easier for everyone.
"Pero sana man lang kahit normal/regular check-up tanggapin ng hospitals/clinics para ma'diagnose padin and mainuman ng gamot if needed kung typical viral infection lang nmn pala. Iba padin ung feeling na may idea ung tao kesa 100% clueless db?"
In other news, the first day of the Metro Manila Community Quarantine had very interesting outcomes. Motorists from Balintawak, Quezon City that were headed to North Luzon Expressway (NLEX) were stopped by the PNP for temperature checks. Some were asked what was the purpose of their travels.
What was more interesting was the buses that had many passengers weren't stopped when they passed checkpoints, but taxis, trucks carrying food, motorcycle riders, and small private vehicles were. Identification cards weren't needed during checkups, as well as documents of employment. There were no checkpoints for those going in and out of  NLEX and Marilao, Bulacan.
The checkpoint located at MacArthur Highway, Valenzuela City was more serious as the police required IDs from drivers.
Region 3 Police Director Rhodel Sermonia said, "Strictly no ID, no entry. Those who didn't have any IDs had to show some kind of proof of employment.
The checkpoint stationed in the Cainta-Marikina border only had temperate checks for motorists and not those who drove four-wheeled vehicles.
Cainta Mayor Kit Nieto said, "The purpose of the questioning here is to know why they're going to Cainta and why they are leaving Cainta. That's actually the quarantine procedure that we're trying to implement.
"If we do thermal scanning on all passengers, this is going to take forever. The sun will be up before we're done checking. There's another group that handles that. But our primary purpose here is to ask: what is your purpose for entering our town?"
At the boundary of San Pedro Laguna, and Barangay Tunasan, Muntinlupa, police created barricades for commuters to drive through. Those going in and out of Muntinlupa did not know the requirements for them to enter and exit the city so they constantly asked the police.
https://www.facebook.com/frixcrisdan14/posts/10220750548627202
Police did temperature checks and required documents and IDs from every single person coming through. Those who lacked the requirements were not allowed to enter.
Residents in Metro Manila were ordered to practice social distancing, which seems impossible to those who are living in dense neighborhoods. Manila will become the first besides Wuhan to be quarantined.
A policeman who works for the Criminal Investigation and Detection Group (CIDG) in Manila has also been reported to have died from the virus.
He died from respiratory failure and his COVID-19 test result will be released soon.
CIDG personnel in Manila will be under quarantine, regardless of the result of the deceased policeman.
The policeman had complained of inflamed tonsils on March 4 and was coughing excessively three months prior to his death. He was also suffering from diabetes.
He was admitted on March 9 and stayed at the Adventist Medical Center Manila in Pasay City until he passed away, reportedly from pneumonia.
As of this writing, there are currently 140 cases of COVID-19 in the country, with 12 confirmed deaths.
Most of those suspected infection cases live in Quezon City, and among them is a 13-year-old girl who is recognized as the youngest person in the country suffering from the virus.