Netizen Lha Ni Col had her tires blown out while driving
Jefferson Tinoyan and friends helped her out
Lha Ni Col says that Tinoyan and friends are blessings from God
Netizen Lha Ni Col went on Facebook to show how appreciative she is of the residents who gave her a hand when she needed it the most.
On August 10, it was foggy and rainy during Nicole and her nephew's ride in Ambuklao when they heard a loud bang.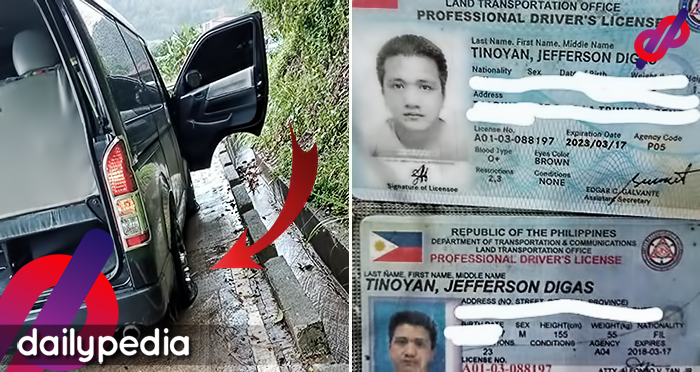 Her nephew hopped out and saw that two of their vehicle's tires blew out and were flat. The nephew then walked around to see if there was anyone who could help them.
They then met two guys who told them that there was nearby vulcanizing shop at Kayapa but they were not sure if the shop had available tires.
They were also offered coffee by the men.
After waiting a couple of hours, three men in a pickup arrived to help them. They were thankful and told the men that they were in a rush.
What the three men did surprised them.
The three men immediately transferred their things to Nicole's van and gave her the keys to their pickup.
"sige po lumakad na kayo kame na ang bahala dito," said one of the men.
When they arrived at their next stop, they received a call from one of the men asking if they left anything important in their pickup.
She saw that there was a wallet with a driver's license that belonged to a man named Jefferson Tinoyan.
"You are an angel sent from heaven together with your 2more companions. I am so grateful sa tulong ninyo mga iho, ipinagkatiwala ninyo yong sasakyan ninyo sa amin ng lubos lubos"
The three men even fixed their tires for them.
"I am so thankful sa mga magulang ninyo na nagpalaki ng mga taong tulad ninyo na matulungin sa kapwa."
She apologized for posting Tinoyan's photo on Facebook, but she just felt she had too because he did such a good thing for them.
"Paxenxa na at binuksan ko yong naiwang wallet mo para malaman ko ang pangalan mo iho. Dahil sa inyo I was able to attend sa lakad ko at lubos akong nagpapasalamat ng maraming marami."