First tip, head straight to the store to save time
Fall in line to pay up to put pressure on girlfriend
All this is to save time
Girls love going to Watson's as the store sells all kinds of skincare products. If you're a guy and you have a girlfriend, you would know that they spend a lot of time in the store.
Darwin Sanpascual had netizens laughing when he shared his little tactic to lessen the time spent at the store.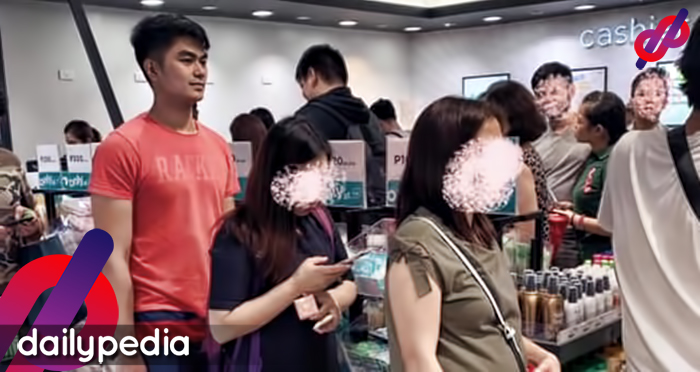 "alam naman natin kapag nag mall tyo kasama gf natin matik yan didiretcho yan sa watson kahit iligaw mo manyan hahanap at hahanap yan ng paraan para makita nila.  ito na ang sagot para sa ating mga lalake"
He laid out three tips for when you are with your girl at the mall.
His first tip would be to head straight to Watson's because no matter what happens, both of you will end up there so might as well save time and head directly there.
"pag punta sa mall kasama gf natin tumbukin mo na, mag watson na kayo kasi alam mo nmn na pupunta kayo dun para hindi sayang sa oras"
His number two tip is that a boyfriend should already fall in line at the cashier so that the girlfriend will see that he cares for her.
"wag na wag kang mag hihintay sa labas na para kang human mannequin literal  at magagalit yan so ganito gawin mo. ikaw na mismo mag sabi sa kanya na pipila kana sa cashier para very good ka sa kanya💪🏻 kasi alam nya na tinutulungan mo sya at alam nya na sasamahan mo sya"
He then revealed the reason for doing all this is that your girlfriend will have to choose products quicker since you are getting nearer and nearer to the cashier.
"it's time to reveal HAHAHA
ang hindi nya alam na pinapabilis mo lng ung oras nya sa pagbili at pamimili sa watson kasi nakapila kana so i guess na mamadaliin mo sya o mapipilitan sya mag bayad agad kasi malapit kana sa cashier hahaha"
His post has over 18k likes.