Three construction workers stopped working when they heard the Lupang Hinirang playing in the background
The photo was posted with the intention of inspiring people to do the same
People are too busy to stop for the national anthem. We have things to do and places to go to. But three construction workers from Quezon City are going viral on social media for doing just so.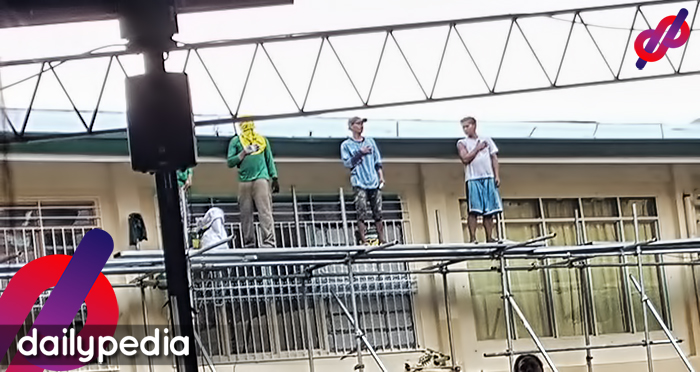 Aaron Occidental posted pictures of three construction workers at San Gabriel Elementary School stopping for the national anthem. The three workers are seen standing on a scaffold with their right arms resting on their chests during the school's flag ceremony.
It all happened during the opening of the school's nutrition month.
The photo taken by Aaron's mother Froilin had a little negative feedback from netizens.
Netizens wondered why Froilin would take a picture during the flag ceremony.
In her defense, Froilin said that she took the photo to inspire people, plus she had her right hand on her chest the whole time.
Aaron posted the photo to inspire netizens to do the same, and that is to show respect to the country's flag.
"Tama po ang magbigay ng respeto sa flag at sa national anthem natin. Pero mga man ALWAYS SAFETY FIRST. Iisa lang po ang buhay natin kaya dapat lang po na ingatan natin ito. Salute sainyo mga man. SAFETY FIRST!"
"ng ginawa nalang ng mga construction worker pansinin nyo hindi ung nagpicture mga pabibo"
"buti sila maygaling yung iba walng pakialam"
"Wow good mga sir nag bibigay pugay sa watawat at pang bansang awit natin"
"salute to construction workers and sa nag post na marunong pa igalang ang pambansang awit, kapuri puring Pilipino"