Woman says her boyfriend drove three hours just to say sorry
The boyfriend allegedly cheated multiple times
The woman defends him and gets bashed by netizens
Netizen @MaiMartinezx shared how her boyfriend, Kervin, wanted to make things right and keep their relationship alive after he was caught cheating on her.
Mai's boyfriend drove all the way from Davao to Mati just to make it up to her.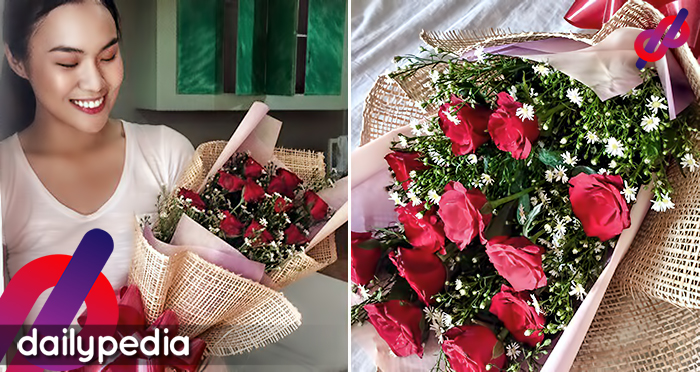 He told Mai, "I'll come to you, we will fix this."
"Guys, he traveled three hours from Davao to Mati to make things right," Mai said in her thread.
The whole drive was three hours which really impressed Mai and made her feel special.
"Hayyy I don't know what I did to deserve a man like you. I love youuu "
https://twitter.com/MaiMartinezx/status/1142741875348013056
The photo shows Mai holding a bouquet of flowers which Kervin gave her. She had a big smile on her face.
The whole reason for all this was that Kervin actually cheated on Mai.
Screenshots were posted of the alleged cheating that Kervin committed.
One user said that Kervin was sending pictures of his private parts to several women and that he would ask for video calls.
The user said, "(Mai) you deserve a love that is pure."
Mai did not care and said that she already knew about it a month ago.
"Hi! Thanks for bringing up something I already know about–actually, last month pa. Haha.  Thanks sa info pero matagal na nmn pinag usapan yan," Mai replied.
https://twitter.com/MaiMartinezx/status/1143514768608641025
"Clearly he was just asking you why you have to post it pa (when you can just DM me unless you have other intentions) hehe 😅"
https://twitter.com/MaiMartinezx/status/1143517143847170048
Netizens started trashing their relationship, calling her boyfriend a cheater.
Nalaman naman daw yan last month pa tas na ayos daw. Wow hahaha alam na alam eh

— Shun (@_shuning) June 25, 2019
srsly? hahaha sht, kaluoy ni ate girl.

— P-Mose (@pauxram) June 26, 2019
Cheater will always be a cheater hahahha @katrinanngarcia

— steffanie./ˈstɛfəni/ (@khateysteffy) June 26, 2019
Ask ko Lang po? Okay Lang Yun sayo?

— メ (@heyydimpyy) June 27, 2019
https://twitter.com/greenislife0421/status/1143801009321287680
Na sad ako kay ate girl, pinaninindigan nya yung pagpi-flex nya sa twitter kahit ma evidence na na nagchicheat yung guy

— TheSuperfluouss 𓃠 (@RomeoDelossant8) June 27, 2019
She did not expect her post to get this much hate, so she tweeted, "I know my boyfriend better than what somebody posted about him online."
Her post has over 7k likes.