A man is seen bringing his ordered meal while evacuating from a burning mall in Davao City
Netizens found the whole ordeal amusing tagging the affair as 'safety is life, but food is lifer'
The viral man in the post was identified as Eujay B. Regner and even joked that he already returned the plate after washing it
Photos of a man streaming out of a burning mall in Davao, with a plate full of his ordered meal, is making the rounds on social media.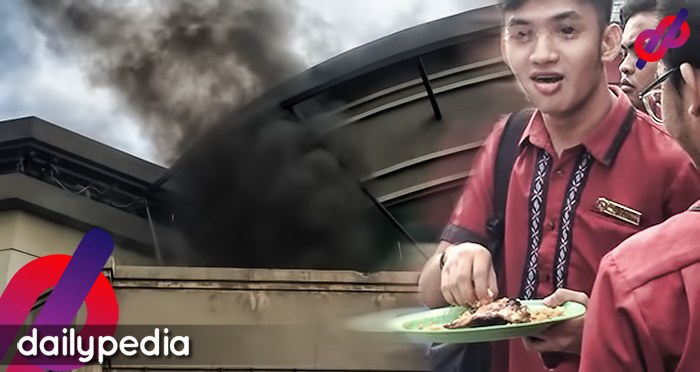 Netizen Joshua Jamez posted the pictures of the man who can be seen happily eating his order, even as he and his companions were leaving Gaisano Mall on J.P. Laurel Avenue, when fire broke out in the upper portion of the mall at around 4:17 p.m.
Social media users were amused by the man's actions as he readily posed in front of Jamez's camera with a "peace sign" while holding his plate up. The original poster's story went viral, gaining 16 thousand reactions online.
One netizen identified the man in the viral photoset as Eujay B. Regner. The foodie himself even commented on the post with "UPDATE: nasauli ko na yung plato, (nahugasan) ko na rin."
Davao City fire marshal Supt. Virnalita Silagan said the fire broke out at the upper ground floor of the mall at a Shakey's Pizza branch.
The firefighters who arrived three minutes after the report was made about the fire were able to put it under control within thirty minutes or so.
https://www.facebook.com/joshua.bibiqoh/posts/2632707863465866
Silagan told INQUIRER that the "initial investigation revealed excessive heat from the kitchen exhaust of the pizza parlor likely ignited the blaze."
The damage was placed at PHP150,000 and no one was hurt during the incident, according to Silagan.