Larry Gadon gets irked by a student calling out his defense of the Marcoses at a university forum
Asked about Marcos' ill-gotten wealth, Larry Gadon failed to keep his temper in check
Father and daughter Gadon are on hot water from social media users due to their behavior, after a public forum in Cebu
Larry Gadon, a lawyer running for the Philippine Senate, is slammed by students and netizens when he made an outburst during a senatorial forum at the University of San Carlos in Cebu last Monday.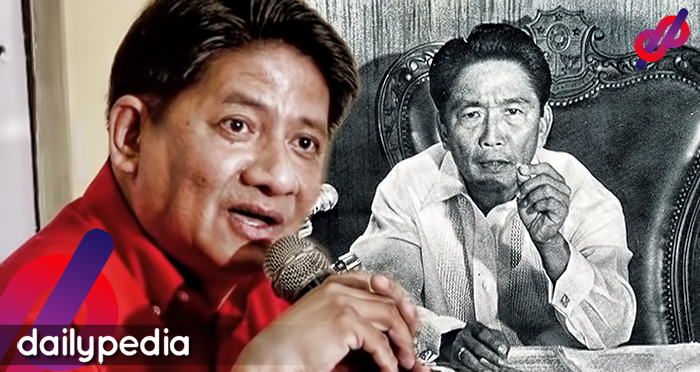 Caught on video, which made the rounds online, it showed an anonymous audience member asking Gadon the question: "Why do you say that there was no corruption in the Marcos era?"
It should be noted that Gadon defended the Marcoses in a televised debate last month, saying that he does not believe the president stole from the country.
The senatorial candidate, known to the public as the one who filed a complaint against then Chief Justice Sereno that led to her ousting, answered that while the Marcos administration allegedly only had a PHP467 billion (US$8.8 billion) budget for 20 years, it was able to produce large-scale infrastructures like highways, hospitals, and cultural centers.
[Live Footage] Klarohay Ta! March 18

Here comes the third batch of senatorial candidates for the Klarohay Ta! Mega Cebu Candidates Forum.Can't watch the entire thing? Klarohay Ta! also airs on MyTV Cebu Sky Cable Channel 30 or livestream at livestream.com/mytv30/onair.The Mega Cebu Candidates Forum airs on MyTV Cebu every MWF 12:00 – 1:45 pm.#KlarohayTa2019 #MegaCebuCandidatesForum

Posted by Mega Cebu Candidates Forum on Sunday, March 17, 2019
He then compared this to the administration of Marcos' successor and political rival Corazon Aquino, who he alleged had a PHP1.7 trillion (US$32.1 billion) budget for six years but did not have high-scale projects.
Gadon used this to prove that there was no corruption during Marcos' regime, which was a stark contrast to what the Presidential Commission on Good Government's estimate that the Marcoses' ill-gotten wealth is between US$5 billion to US$10 billion, and only about PHP170billion (US$3.2 million) has been recovered in the past 30 years.
"Liar," a student in the audience shouted heatedly at Gadon.
Visibly angry, he responded by claiming, "I can debate with you anytime but not in this forum because there are rules already given by the organizers… I'm not lying, you are, you are just ignorant. Don't debate with me here. I'll debate with you anytime but not here. There are rules. I want to follow the rules here."
Event organizers reminded both candidates and audience members before the event started that they cannot use foul language during the forum. They also underlined that the event was not a debate and should not be treated as one.
Gadon even demanded the student to leave the venue for wasting his time. He even mumbled a side comment, "Eh, bobo eh," which may have been a conscious or unconscious allusion to a viral meme of himself where he shouted the insult at those who protested his complaint against former Chief Justice Maria Lourdes Sereno.
Gadon is a known member of the Kilusang Bagong Lipunan (KBL), which is affiliated with President Marcos. He was one of four speakers in the university for a forum dubbed "Klarohay Ta!" in Cebu that was meant to give them opportunities to present their platforms of government.
His daughter, Alarice, on the other hand, also caught the ire of the public after she took a photo of the student and posted it on social media.
Alarice Gadon was so pressed that she thinks it's a good idea to post the student's face online with the intention of attacking him online.

This is online harassment. Period. pic.twitter.com/Hqmww91W7N

— jay-r is officially 22!!!!! (@JayrTheWriter) March 18, 2019
She said in English and Filipino: "I am surprised that despite Cebu being so successful, there are still people whose minds are closed to the truth… You should be thankful that I can be restrained but I really wanted to scream at you. Why? You are entitled to your beliefs and opinions but f*ck it's so rude. This is not the venue, that was such a communist move, very yellow."
The post has now been deleted but screenshots have been circulating online.