Juan Karlos admitted that he was pissed off a bit
But for the band, they have taken it for fun
He announced that he had deleted his Facebook and Twitter accounts because of so many people judging him
Seeing that he is unprofessional and is not like the way they used to know him made him feel so unfair
Juan Karlos Labajo had been judged on social after Rakrakan Festival 2019 where he cursed one of the concert-goers who repeatedly shouted the name of singer "Daren Espanto."
On the uploaded video, most of the netizens reacted negatively towards his actions and KJ continues on commenting why he was judged rudely on social media.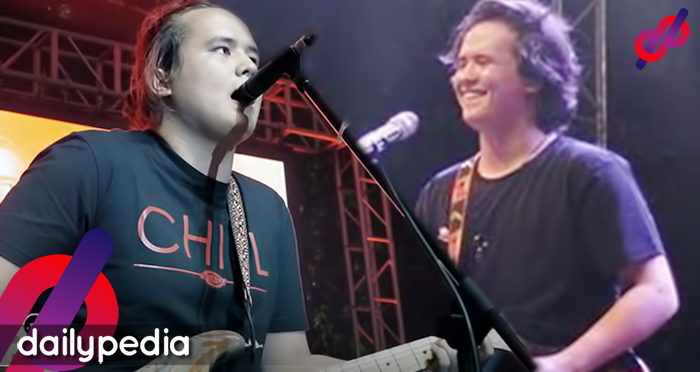 Recently on his Instagram story, he announced that he had deleted his Facebook and Twitter accounts because of so many people judging him.
"Dinelete ko twitter and fb ko kasi masyadong marani mga ano dun…mga… ano…so ito na twitter ko thnx."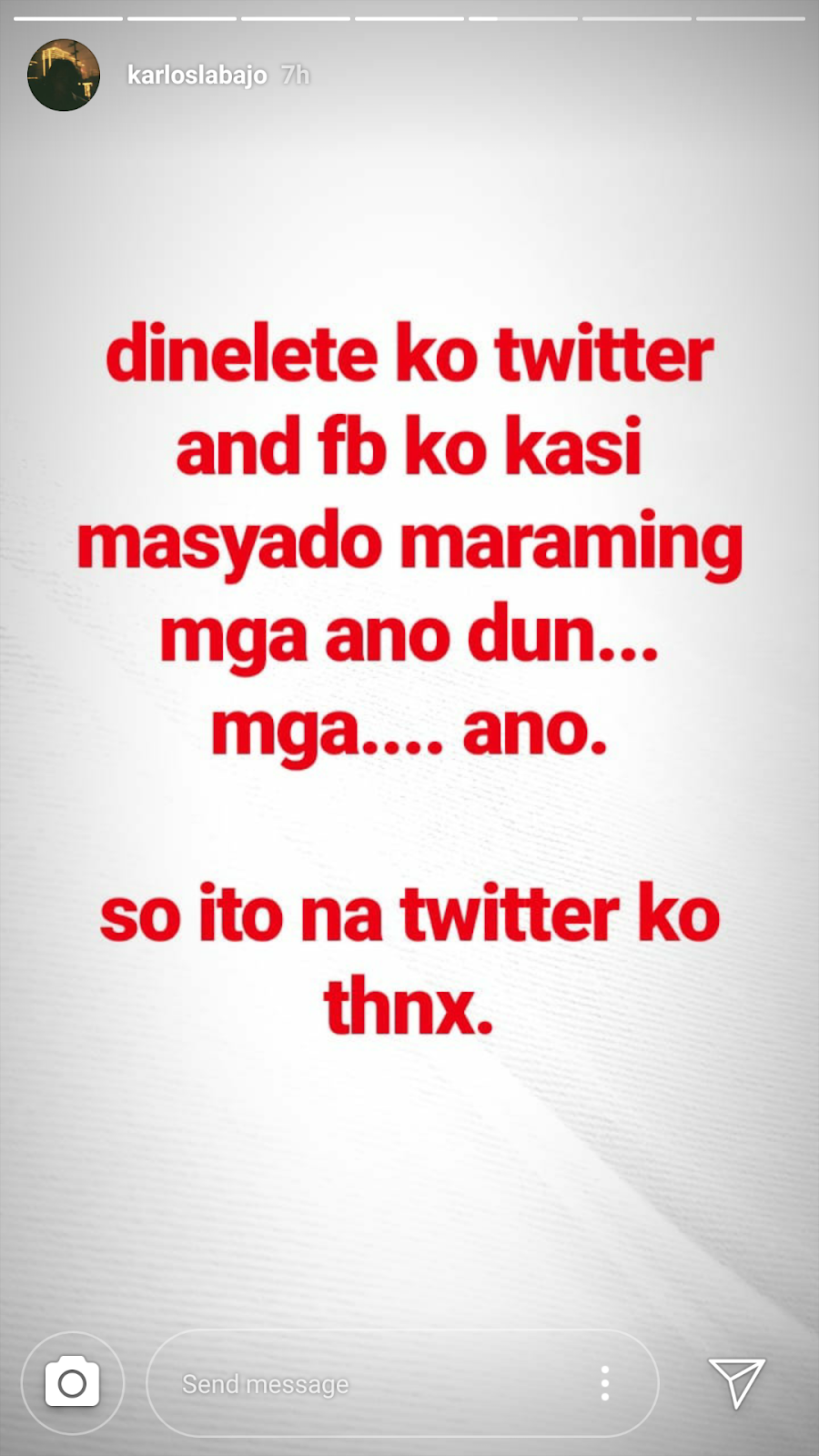 Juan Karlos admitted that he was pissed off a bit but for the band, they have taken it for fun. And he calls the attention of the media who published things on the newspaper without personally witnessing the event.
"lol all the media peeps publishing things on newspapers like they actually even know what actually went down. Were they even there? Did they actually see the full performance? It was all an act ffs. Yeah, of course, we got pissed off a bit but we the band as usual, just made fun of it, ang bilis naman kumagat ng mga haters and newspaper."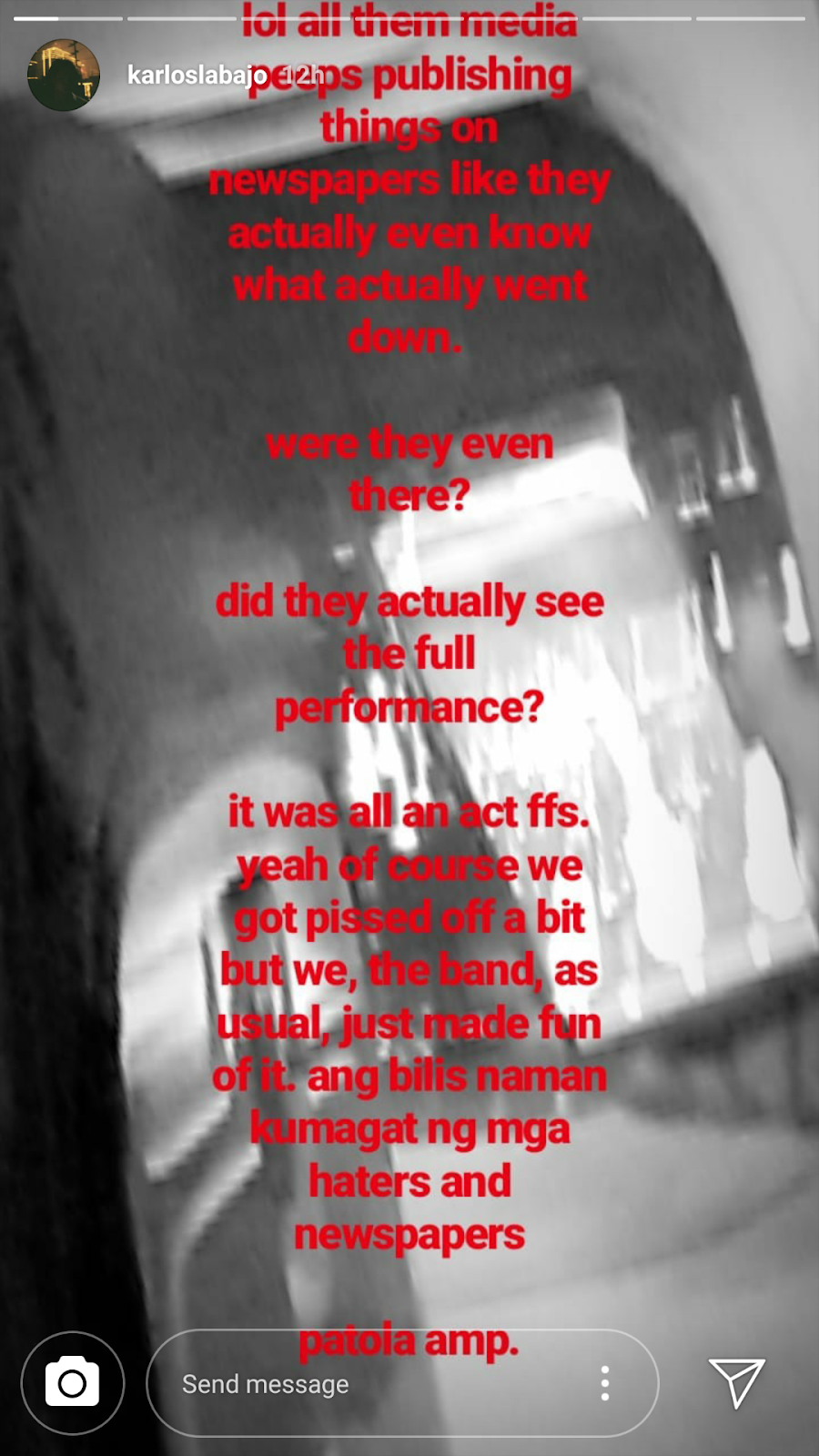 And he continues asking the netizen who was comparing him to another artist who used to curse and they say it is cute. On the contrary, when he cursed that night, the netizen immediately judged him by seeing that he is unprofessional and is not like the way they used to know him, which made him feel that it's so unfair.
"Hmm bakit pag si * insert sikat na girl artista* ay nagmura, sinabi ng taong ang cute. Di nila sinasabi na unprofessional and all? Pero kung tipong pag ako ang nagmura ang dami dami ng sinasabi. Lumaki na ang ulo, nagbago na, mayabang, etc etc…unfair man"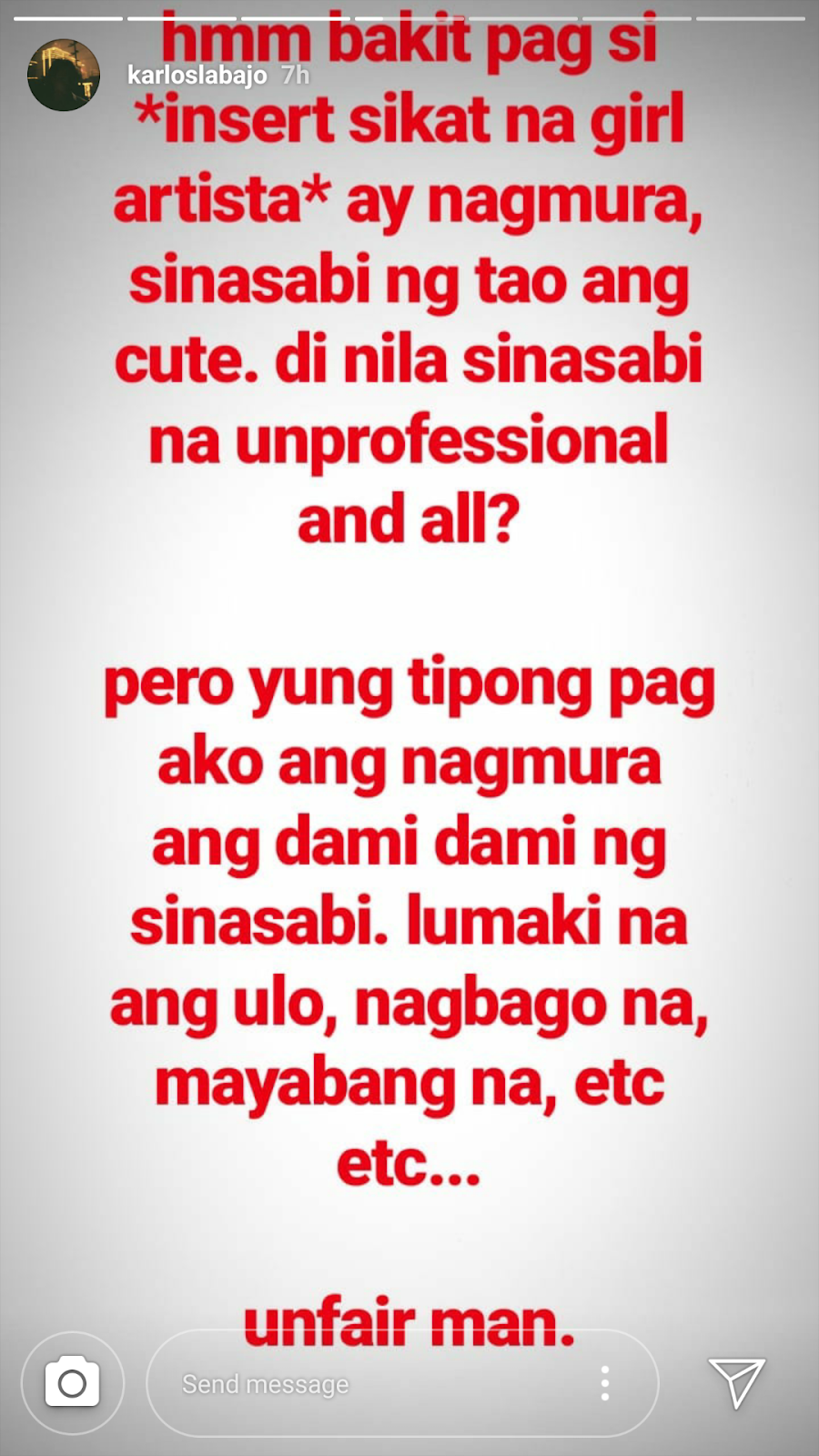 Juan Karlos thinks that some of the Filipinos are not ready for rock 'n roll as they are afraid to appreciate the transparency from a true artist and only see who he called "pretentious angel" on television.
"Filipino ain't ready for rock and roll. Filipinos are afraid to appreciate transparency from true artists. Heck even listens and pays for true artist. Im not saying all Fils of course but you know what I mean. They can't stop love that sugar coated pretentious angel they see on TV ugh what an amazing human being so kind."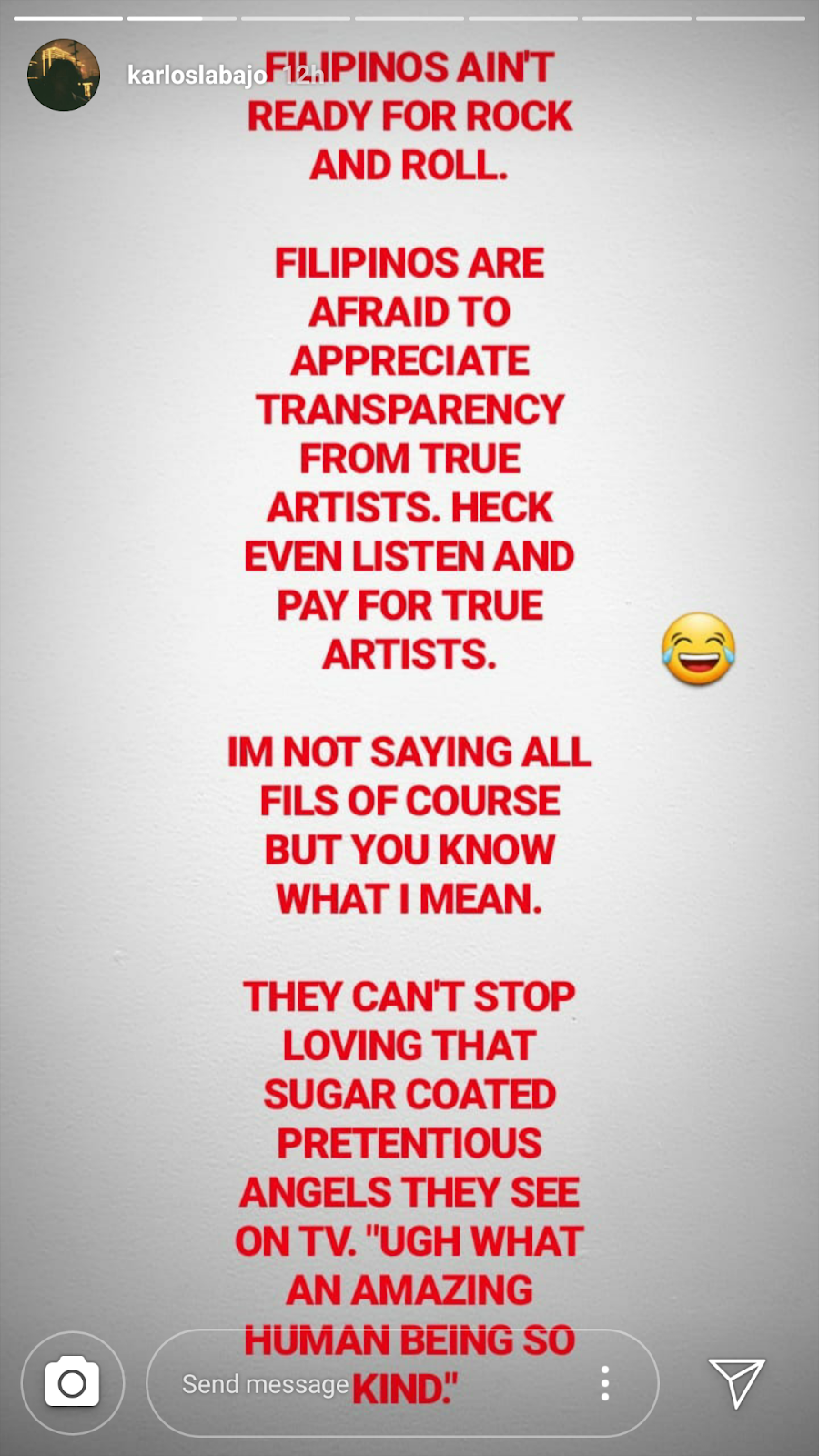 But Juan Karlos didn't forget the people who continue on supporting him. He thanked them for being understanding and staying open-minded. "Maraming salamat sa lahat mga taong umintindi at sumusuporta sa akin. Mahal ko kayo. Panatiliing bukas ang isipan. Rock on!"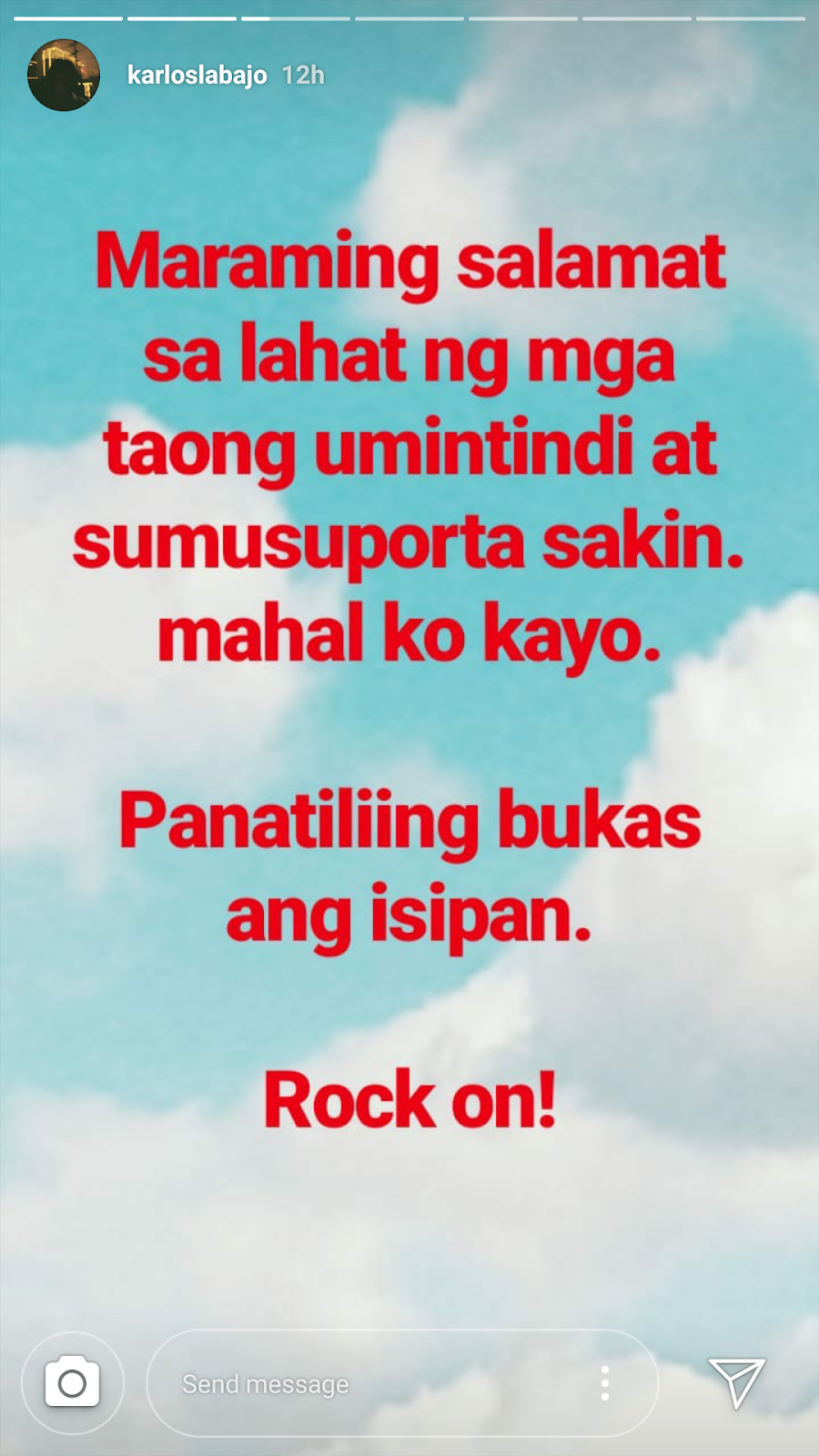 It seems that Juan Karlos wanted to start again without those people who judge him by simply deleting his Twitter and Facebook accounts.