There is no one above the law
Priority is given to the ones who need it, like senior citizens and PWDs
Posted last January 23, Perry Punla's Facebook account showed pictures of a man on a priority lane inside a grocery store; and also showing the dialogue of the cashier and the customer.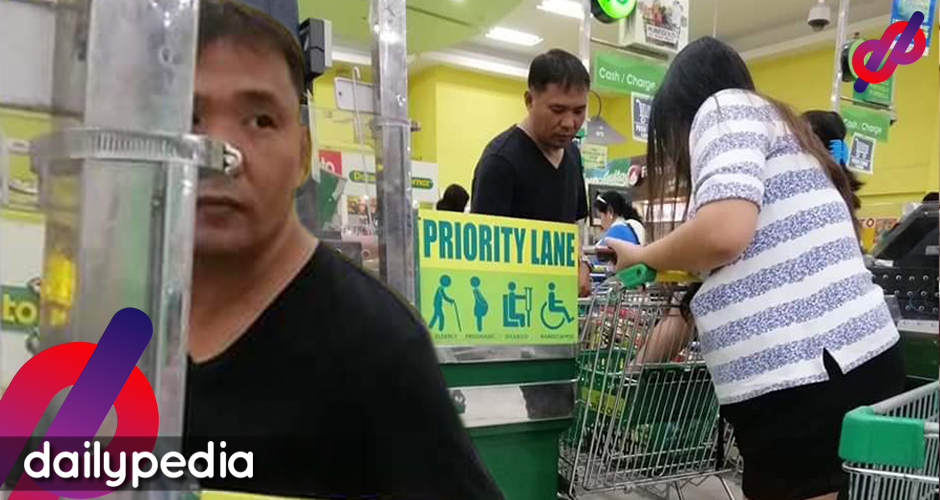 "Cashier: Sir Priority lane po ito for PWDs, seniors, at buntis.
Customer: Pulis ako, basta kapag pulis, priority yan.
Wala ng nagawa yung cashier. Hindi rin makapagreklamo ang mga buntis at seniors sa pila."
https://www.facebook.com/photo.php?fbid=2130650457235266&set=pcb.2130707953896183&type=3&theater
The post has already 151 comment and 9.3k shares. But most of the reactions that it received were negative comments. One comment was saying, "Sa mga nag sasabi ng pwedeng gawa gawa ang kwento. Andoon na tayo…maari nga naman Pero naisip nyo rin ba asa lane sya na di para sa kanya? Doon palang wala ng disiplina Na dapat sila nangunguna kasi tagapag patupad sila ng batas."
And most of the comments are asking that the incident be reported to PNP Chief Oscar Albayalde for using his abuse in authority.
Under Republic Act No. 9257, known as Expanded Senior Citizens Act of 2003, Sec. 4 provides for the privilege of Senior Citizens stating about the "provision of express lanes for senior citizen in all commercial and government establishment; in the absence thereof, priority shall be given to them." This priority is also given to Persons with Disabilities (PWD's) under Republic Act no. 7277, known as the Magna Carta For Disabled Persons.
https://www.facebook.com/photo.php?fbid=2130650457235266&set=pcb.2130707953896183&type=3&theater
As evidence to the privilege entitlement, the PWD must present the following documents:
(I) An identification card issued by the city or municipal mayor or the barangay captain of the place where the person(s) with disability resides;
(II) The passport of the person(s) with disability concerned; or
(III) Transportation discount fare Identification Card (ID) issued by the National Council for the Welfare of Disabled Persons (NCWDP).
On the laws mentioned above, there are no provisions states that a policeman or any other civilian has the authority to use the priority lane, if they are not senior citizens, pregnant women, or a PWD. In this case, the act of the police officer is not appropriate and should not be tolerated.
https://www.facebook.com/photo.php?fbid=2130707870562858&set=pcb.2130707953896183&type=3&theater
But one of the netizens, who happen to know the wife of the policeman concern, posted a comment explaining the side of the police officer.
"Appeal to everyone… The wife had message me airing their side and had asked the Puregold management to help clean their names… Paunawa sa lahat …. Hindi lahat ng disability ay visible… Meron hindi kapansin pansin like mental disorder and the like… May mga doctor po akong nakatrabaho na may mga PWD card din pero kung pag mamasdan ay parang walang kapansanan…. Kahit magtanong po kayo sa mga specialists…. Sana wag po tayo maging mapanghusga…. I called Albayalde attention to shed light and give the spouses chance to explain… Again, hindi lahat ng kapansanan ay visible…"