Instagram user posts a video on IG Story joking about being on a wheelchair and mimics people with seizures and spasms
Netizens called out his actions as mocking of PWDs
Philippine laws RA 9442 and RA 7277 prohibits the public by mocking differently-abled persons whether in writing, in words or in action
Jokes are all good and fun until someone crosses the line. This very incident happened when an Instagram user posted an IG story on his account showing him in a wheelchair mimicking seizures and spasms that most persons with disabilities (PWDs) suffer.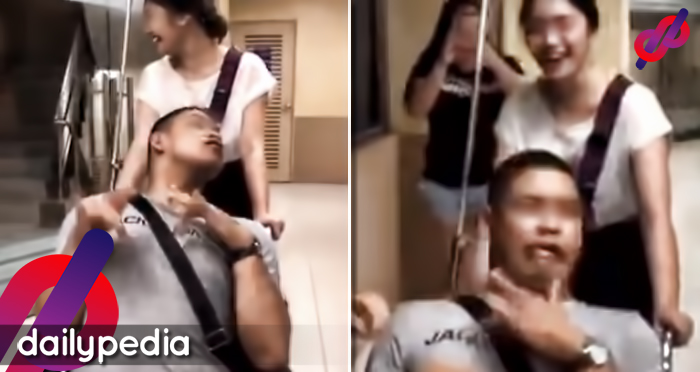 An incensed netizen, who follows the Instagram user, shared the video on Twitter which has now reached 4.3 million views and 29 thousand re-tweets, with netizens replying to the post that they were enraged over the original poster, now identified as Raz Cyrus Elbert's "ignorant" and "ableist" actions.
The latter term, which is in conjunction to "ableism," is a form of discrimination and social prejudice against people with disabilities and/or who are perceived to have disabilities.
The Twitter user wrote on March 30: "This guy I follow posted this video on his Instagram stories, of him mocking people with disabilities, for him and his dumbass friends to laugh. I'm disgusted."
Other netizens condemned the guy's friends who partook in the video and can be heard laughing in the background. One Twitter user even identified the girl on the video, exposing her to be a cabin crew member of a low-cost carrier airline, and has messaged the social media account of said budget-carrier to inform them of their supposed employee's behavior.
One netizen shared her sister's condition and was also upset by the video. "This is my sister, Trinity. She has LGS which is a deteriorating and terminal form of epilepsy (seizure disorder). She also is nonverbal and has frequent muscle spasms. Also, I'll beat the fuck out of this guy since he thinks he's so fucking funny."
It is against the law to deride and mock differently-abled people. Section 39 of Republic Act 9442 defines "public ridicule" as "any act that makes fun or a mockery of, or contemptuously imitates PWDs because of their impairments, whether in writing, in words, or in action, such that it causes them embarrassment and lessens their self-worth."
This law adheres to the United Nations Convention on the Rights of Persons with Disabilities and the Magna Carta for Disabled Persons. It has now been amended into Republic Act 7277, where additional privileges and prohibitions are stated to uphold the dignity of PWDs.
Any person who infringes on the law will be fined. First-time violators will pay not less than P50,000 but not exceeding P100,000 either. They may also be imprisoned not less than six months but no more than two years, or both, at the discretion of the court.
For any following violations, the fine will be doubled and imprisonment is said to be not less than two years but not more than six years, or both, based on the court's decision.
It may be remembered that former Palace Communications assistant secretary Mocha Uson and blogger Drew Olivar released a now-deleted video that made fun of sign language.
Back in 2016, President Rodrigo Duterte who was only a mayor at that time, was described having violated Republic Act 9422. Speaking to an audience in Kalibo, Aklan, then mayor of Davao City mimicked the half-paralyzed movement of a stroke victim, according to ABS-CBN News.
"Iyong isa doon, classmate ko pa. Eh na-stroke, paganoon-ganoon… Gusto ko sabihin, 'Pakamatay ka na lang'," he reportedly said.
"This has blown out of proportion and even though I'm glad it did so people can learn their lesson, please stop sending death threats to these people, regardless of what they did, everyone makes mistakes. I'm pretty sure they learnt their lesson by now," added the Twitter user to clarify that his stance was not to spread mindless hate on Elbert.
Elbert has yet to release a statement and instead has now deleted or deactivated all of his social media accounts after the incident.