Coleen Garcia commented about an accusation of a netizen regarding her opinion on Boracay's improvement.
She stated that she neither hates nor completely adores the administration, but she does respect it.
Coleen Garcia recently posted her admiration towards the newly rehabilitated Boracay.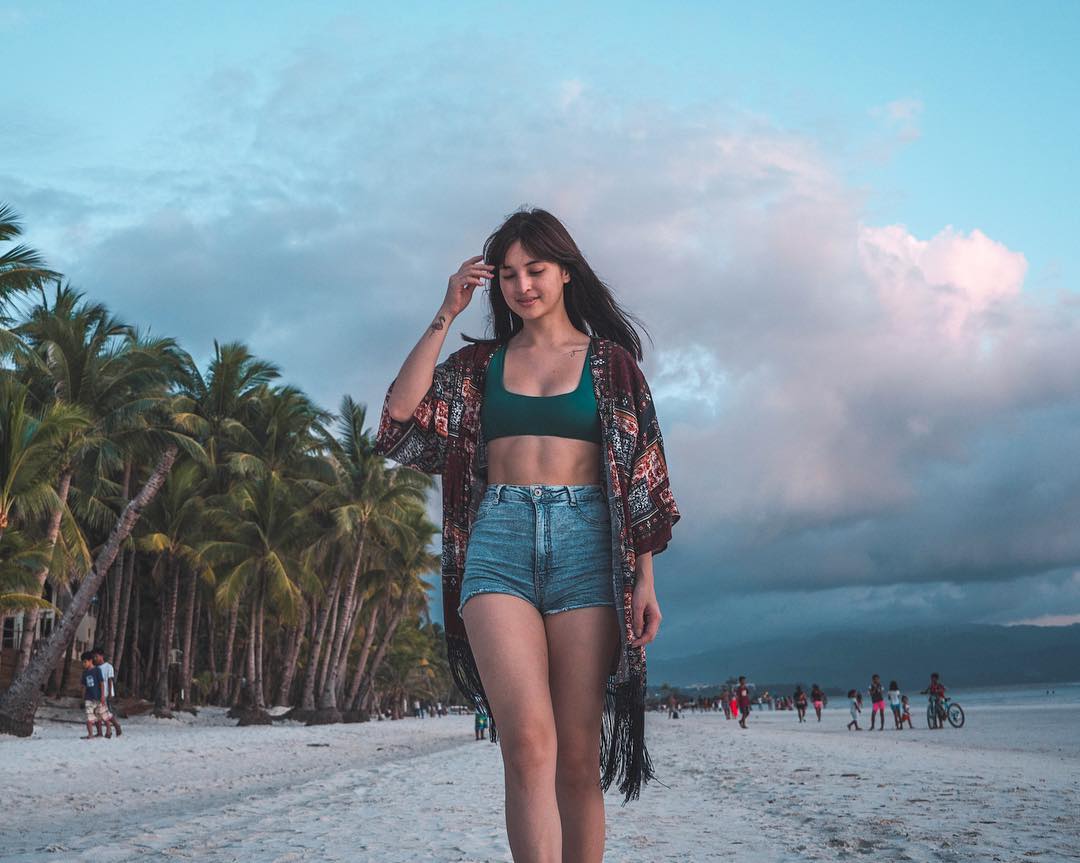 She said that the beach is noticeably cleaner now and safer. The actress added that even though the place has improved, everybody should take part in keeping Boracay clean to not let all the effort go to waste.
"Falling in love with Boracay all over again!
"Walked from station 3 to station 1 to see what has changed so far. I love that the island is noticeably cleaner, and you can walk around and all over the sand without being afraid of stepping on broken glass.
"Congratulations and well done to those who helped clean up Boracay! I already can't wait to come back! 😍 Iba pa rin ang ganda ng Boracay.
But whenever we do visit, let's all make sure we do our part in keeping the island clean. All the effort put into this would go to waste if we don't learn to be more conscious of the damage we humans cause on a daily basis. Let's try to minimize that, not just here, but everywhere we go. 🙂
#BoracayReborn"
https://www.instagram.com/p/BpbN2hBn7Wn/?taken-by=coleen
A netizen, however, didn't seem convinced by her words as she got accused of disliking President Rodrigo Duterte before. He also urged her to thank the President as he's the reason why Boracay improved.

Dati galit ka kay duterte pasalamatan mo siya kung hindi dahil sa kanya di ka ulit maiinlove sa boracay ulit
Coleen replied and said that even though there are things she disagreed with, she's also grateful for other stuff. She expressed that she remains neutral regarding her opinions and she maintains the respect.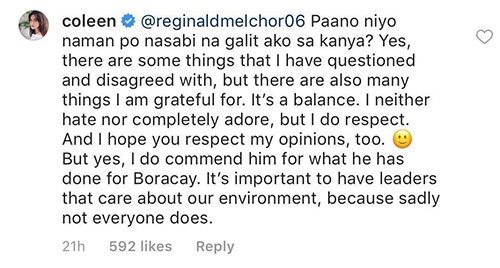 @reginaldmelchor06 Paano niyo naman poo nasabi na galit ako sa kanya? Yes, there are some things that I have questioned and disagreed with, but there are also many things I am grateful for.  It's a balance. I neither hate nor completely adore, but I do respect. And I hope you respect my opinions, too. But yes, I do commend him for what he has done for Boracay. It's important to have leaders that care about our environment, because sadly not everyone does.