Ever wondered how your favorite Pinoy celebrities celebrated their Halloween?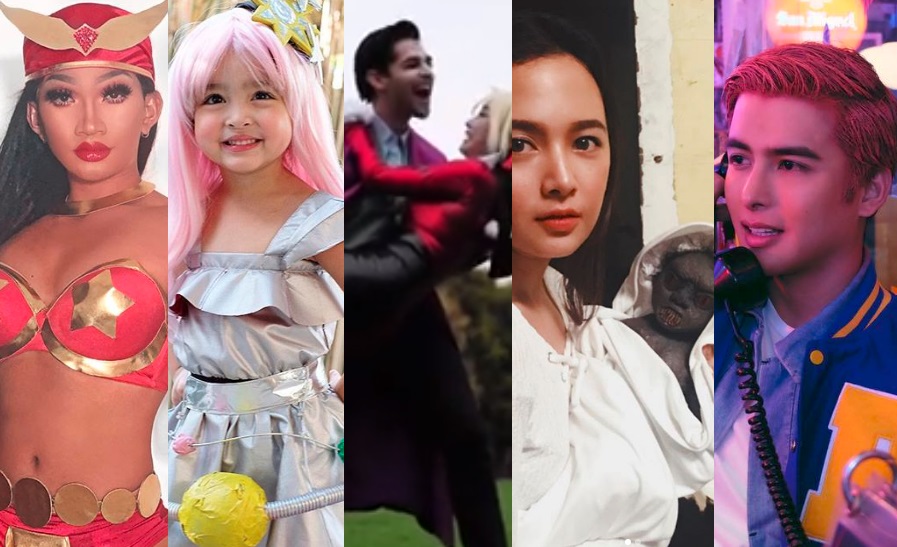 Halloween may be over, but it doesn't mean we can't appreciate the many creative costumes we saw on our social media feeds. This year, some of our local celebrities skipped the horror and instead, went all out with the pop culture references.
A mixture of cute, quirky, and sexy costumes coming your way!
Here are the best Halloween costumes from your favorite local stars:
Maymay Entrata (Annabelle)
https://www.instagram.com/p/Bpl1jqvHooM/
Edward Barber (Chuckie)
https://www.instagram.com/p/BplwMiVn44_/
Liza Soberano (Pennywise)
https://www.instagram.com/p/Bplc1hKFdEj
Maine Mendoza (Just pooping)
https://www.instagram.com/p/Bplkkhzl0u5/
Wil Dasovich and Alodia Gosiengfiao (Joker and Harley Quinn)
https://www.instagram.com/p/Bpiv9MdFsIJ/
Bretman Rock (Darna)
https://www.instagram.com/p/BpdmCdjna3f/
Zia Rivera-Dantes (Miss Intergalactic Space)
https://www.instagram.com/p/BpVpDzfg1jF/
Megan Young (Space Barbie)
https://www.instagram.com/p/BpdXbc6Aouk/
Scarlet Snow Belo (Charlie Chaplin)
https://www.instagram.com/p/Bpa5vdFDJuz/
Awra Briguela (Devil)
https://www.instagram.com/p/BplZVuBH4s1/
Enrique Gil (Joker)
https://www.instagram.com/p/BpkkF5rn_pi/
Bianca Valerio (Black Bunny)
Vhong Navarro (Sweeney Todd)
https://www.instagram.com/p/BplayMjl0Vp/
Kiana Valenciano (Hit Girl)
https://www.instagram.com/p/BpcIQo3Aden
Darren Espanto
Martine Cajucom and Cliff Ho (Vampires)
Jessica Wilson
https://www.instagram.com/p/BpdtnqNhMMm/
Ryza Mae Dizon (Moana)
https://www.instagram.com/p/BplqRfcHg2p/
Inah de Belen (Anak ni Janice)
https://www.instagram.com/p/BpeqqeJgNCB/
Teejay Marquez (Archie)
Marian Rivera (Poison Ivy)
Dingdong Dantes (Riddler)