Gretchen Fullido filed a case against two ABS-CBN executives for sexual harassment.
Personalities reacted to the issue.
Kapamilya entertainment reporter Gretchen Fullido has recently filed criminal complaints against ABS-CBN executives for alleged sexual harassment and libel.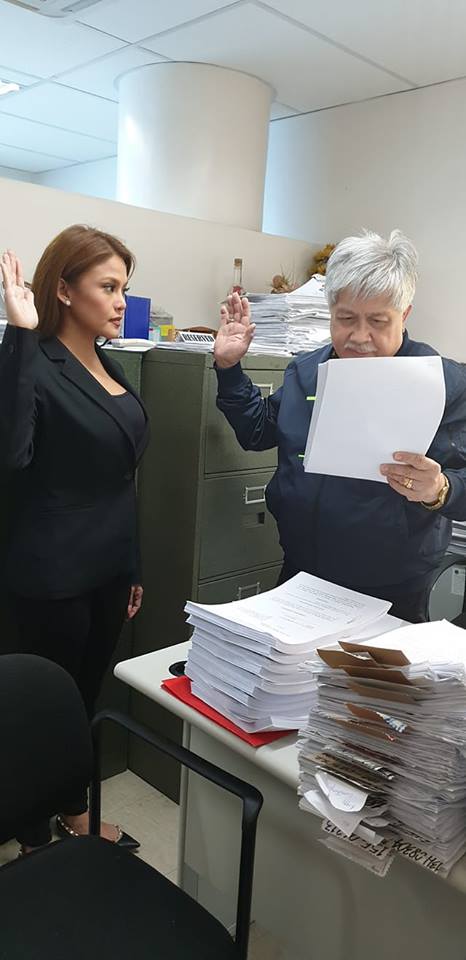 Her lawyer, Marvin Aceron, posted that Fullido filed the said charges on Friday against Cheryl Favila, former ABS-CBN News Executive, and Maricar Asprec, ABS-CBN News Segment Producer. She accused the two of sending her text messages that were full of sexual innuendos and asking for sexual favors.
She has also filed libel complaints against Cecilia Drilon and Venancio Borromeo, and news reporter Marie Lozano, who were said to have "besmirched her reputation" when they accused her of trying to leverage her work status at the said network.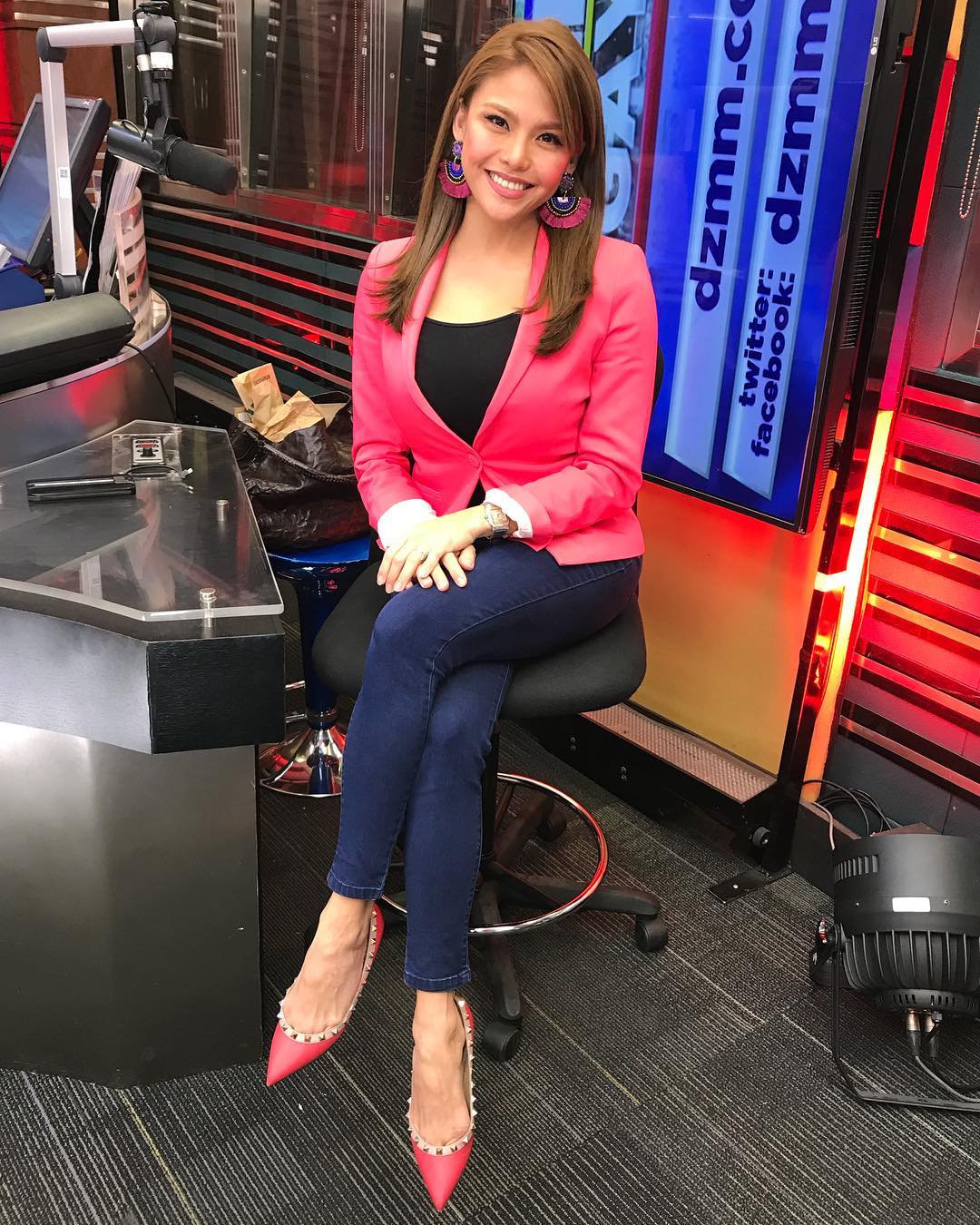 Celebrities have posted their support for Fullido. One of her friends, Melissa Ricks, has posted on Instagram, saying that she is proud of the reporter. Ricks has also inserted the hashtag saying #IStandWithGretchen.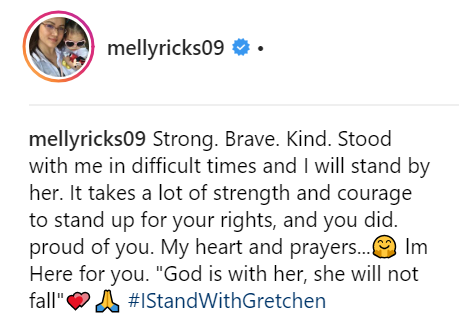 Strong. Brave. Kind. Stood with me in difficult times and I will stand by her. It takes a lot of strength and courage to stand up for your rights, and you did. proud of you. My heart and prayers…🤗 lm Here for you. "God is with her, she will not fall"💕🙏 #IStandWithGretchen
Jerika Ejercito, daughter of Manila Mayor Erap Estrada and actress Laarni Enriquez, also posted a message of support on Instagram.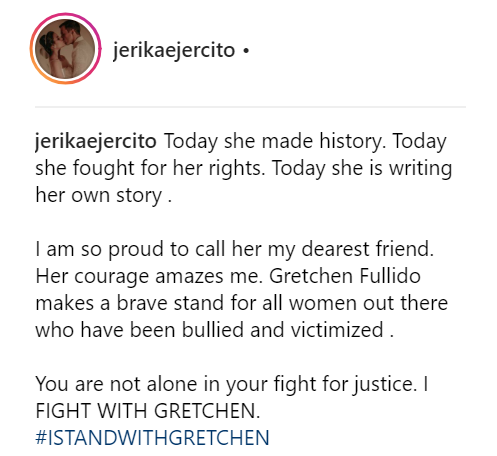 Today she made history. Today she fought for her rights. Today she is writing her own story .

I am so proud to call her my dearest friend. Her courage amazes me. Gretchen Fullido makes a brave stand for all women out there who have been bullied and victimized .

You are not alone in your fight for justice. I FIGHT WITH GRETCHEN. #ISTANDWITHGRETCHEN
Ethel Booba took to Twitter to express her stand on the issue.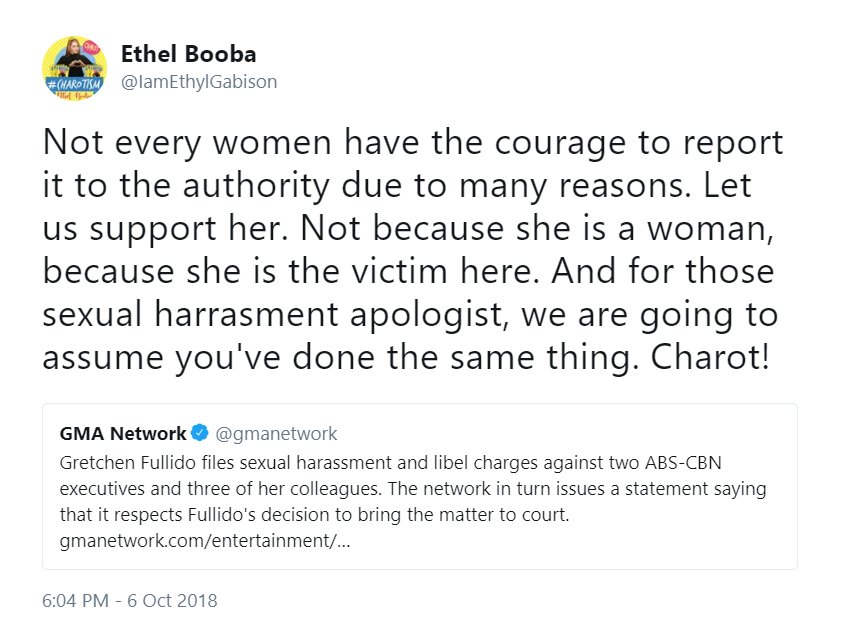 Not every women have the courage to report it to the authority due to many reasons. Let us support her. Not because she is a woman, because she is the victim here. And for those sexual harrasment apologist, we are going to assume you've done the same thing. Charot!
Bianca Gonzales took the situation with a grain of salt as she tweeted about how she just wants the truth as the situation is sensitive and difficult.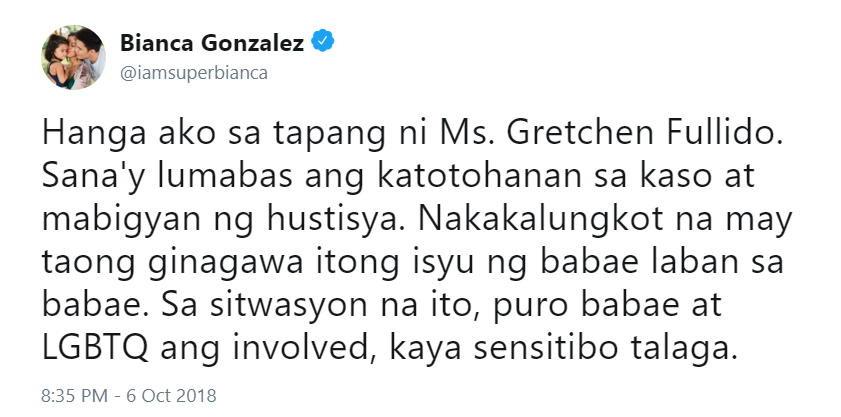 Hanga ako sa tapang ni Ms. Gretchen Fullido. Sana'y lumabas ang katotohanan sa kaso at mabigyan ng hustisya. Nakakalungkot na may taong ginagawa itong isyu ng babae laban sa babae. Sa sitwasyon na ito, puro babae at LGBTQ ang involved, kaya sensitibo talaga.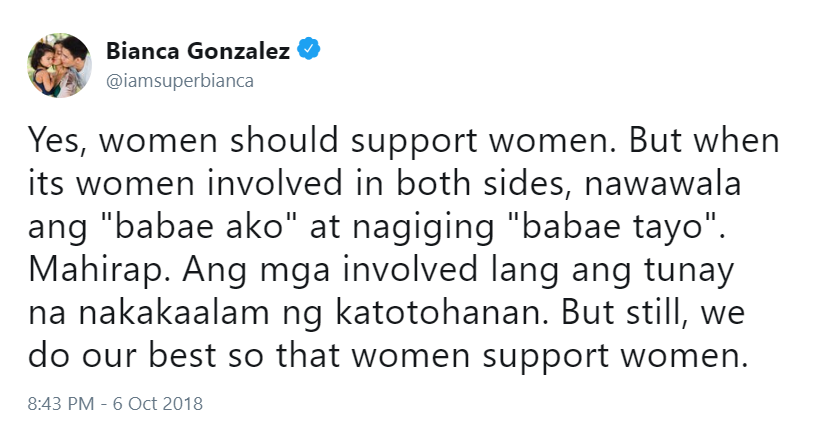 Yes, women should support women. But when its women involved in both sides, nawawala ang "babae ako" at nagiging "babae tayo". Mahirap. Ang mga involved lang ang tunay na nakakaalam ng katotohanan. But still, we do our best so that women support women.
On the other hand, ABS-CBN news anchor Karen Davila tweeted against the actions allegedly committed.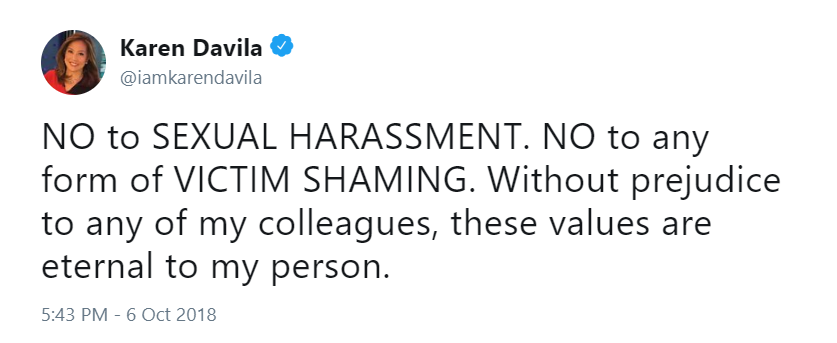 NO to SEXUAL HARASSMENT. NO to any form of VICTIM SHAMING. Without prejudice to any of my colleagues, these values are eternal to my person.