Netizen vents frustration over demands of her godchild's mother.
The OFW stated that they are outside the country but it doesn't mean that they have loads of money.
She also reminded everyone what the real function of a godparent is.
It is a part of the Filipino culture to pick godparents for our children, as it they are often present for the baptism ceremony. Godparents are considered as the 'second parents' of the child, just in case that the parents can no longer support the kid.
But it seems like that some parents take it to a different level, asking unbelievable demands from the godparents of their child.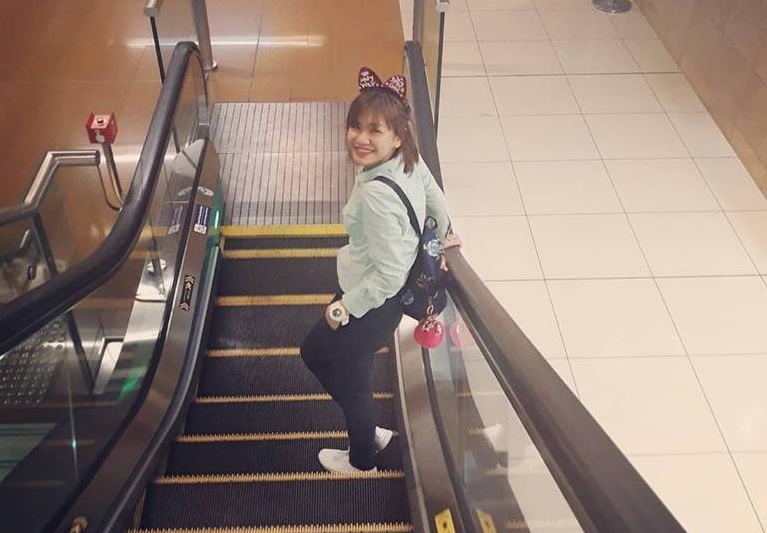 Facebook user Rachelle Claire Melchor vents her frustration regarding her friend's demand for money. "Pangalawang magulang po hindi sponsor," she wrote as she started expressing her disappointment and annoyance by the way that her friend talked to her on Messenger.
"Nakakalungkot lang isipin na kinukuha kang ninang ng iba mong kaibigan para lang may ganito ganyan. Keso nasa abroad daw ako keso malaki daw sahod ko. Oo nasa abroad ako pero di ako lumalangoy sa pera."
In the screenshots of she posted, her friend started by greeting her innocently, and later on asked for her and her child, who is Rachelle's godchild. The friend dropped the infamous line "ang damot mo naman" when the netizen refused to give her shoes.
Her friend proceeded on informing her that she'll also be the godmother of her youngest child, which Rachelle had no idea about. When she recalled that she became the godmother of the first child without her knowledge, her friend replied, "Kaya nga dito sa bunso iniinform na kita diba. Para dalawa silang inaanak mo na."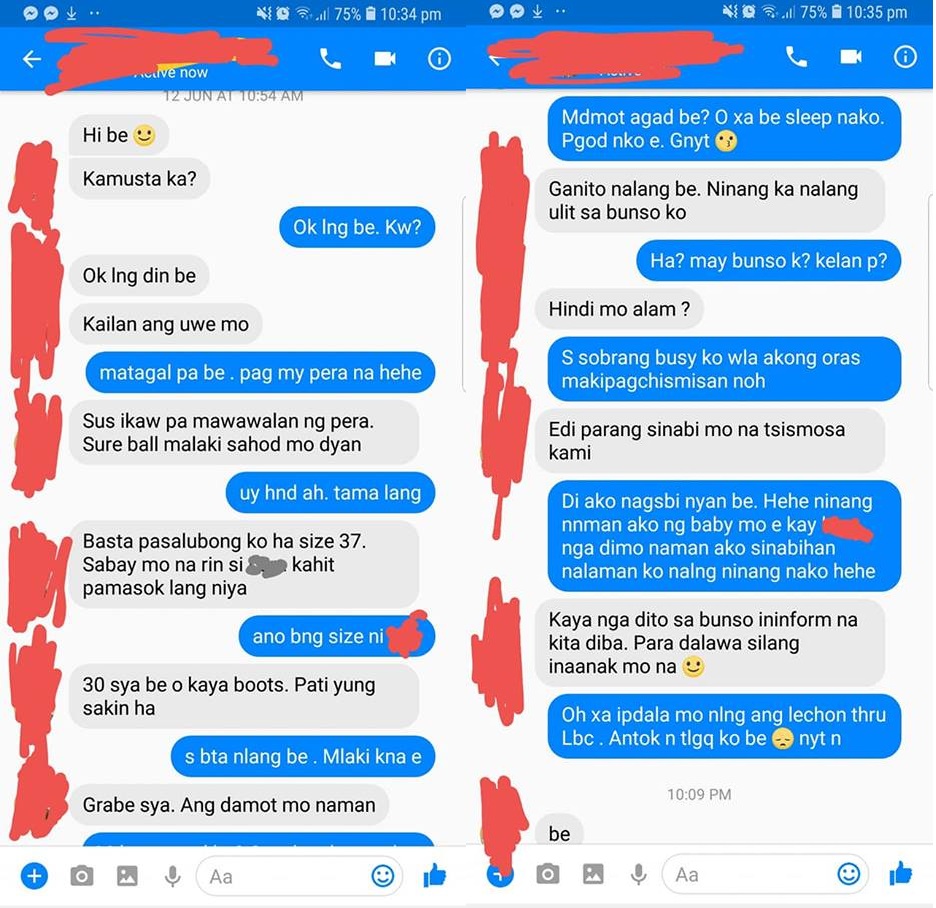 When Rachelle received another request from her friend, that's when things started heating up. After she asked for a Christmas gift for her child, she also informed her that she's the one in charge of the tables and chairs of her youngest's baptism celebration.
Rachelle ended up explaining that she has too many expenses that time because she had to pay a Php50,000 loan and a condo for her siblings. Her friend refused to understand the situation saying that "may pang bayad ka nga ng 50k chaka panghulog sa condo pwede mo na masagot yung lamesa at upuan. 5k lang naman yun".
She replied that 5 thousand pesos is still 5 thousand pesos, but her friend continued to take offense of her explanation.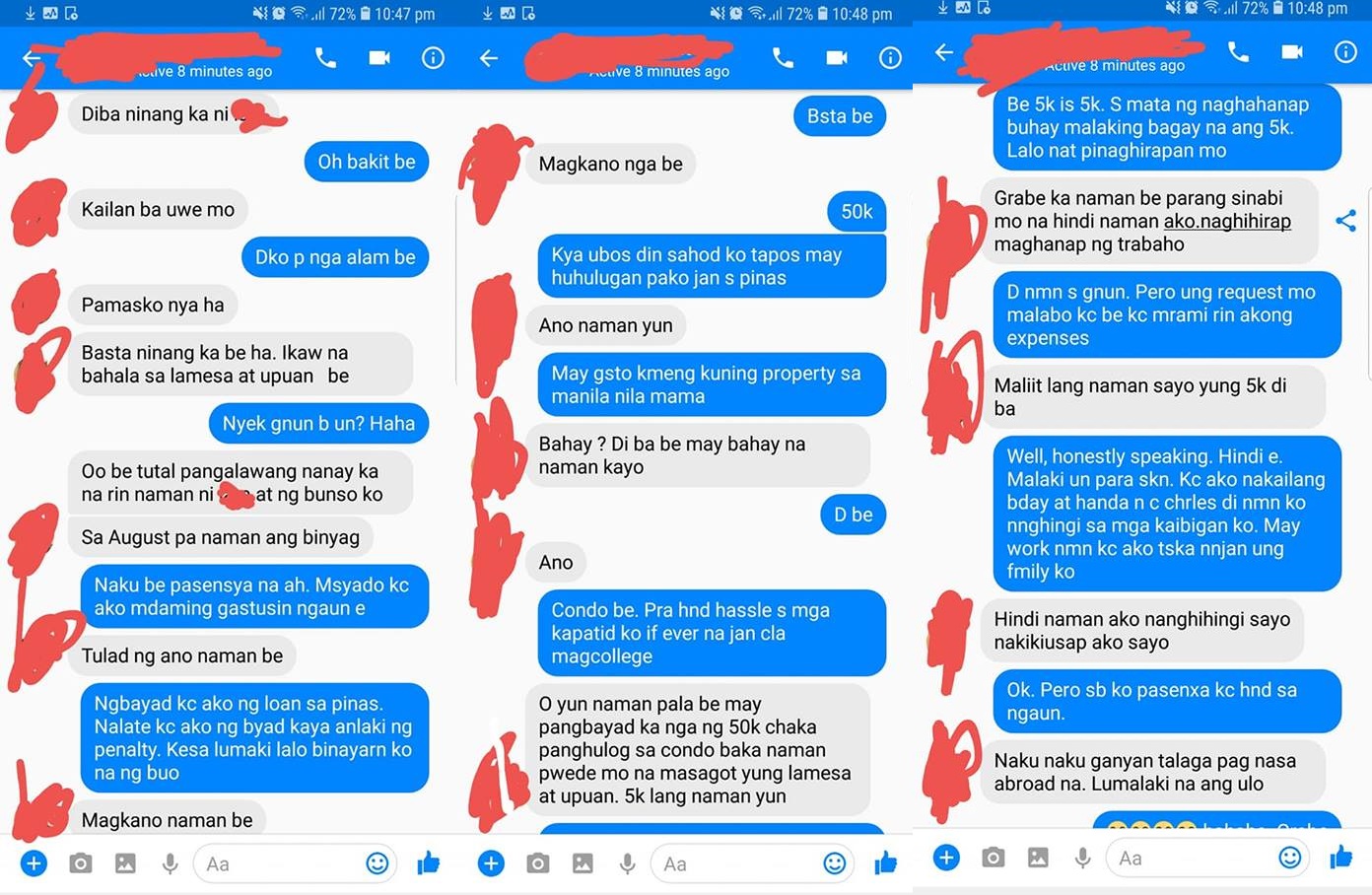 "Ang yabang mo. Sayo na yang 5k mo" her friend told her and she answered back that she has no such amount and if ever she did, she'll just give it to her family.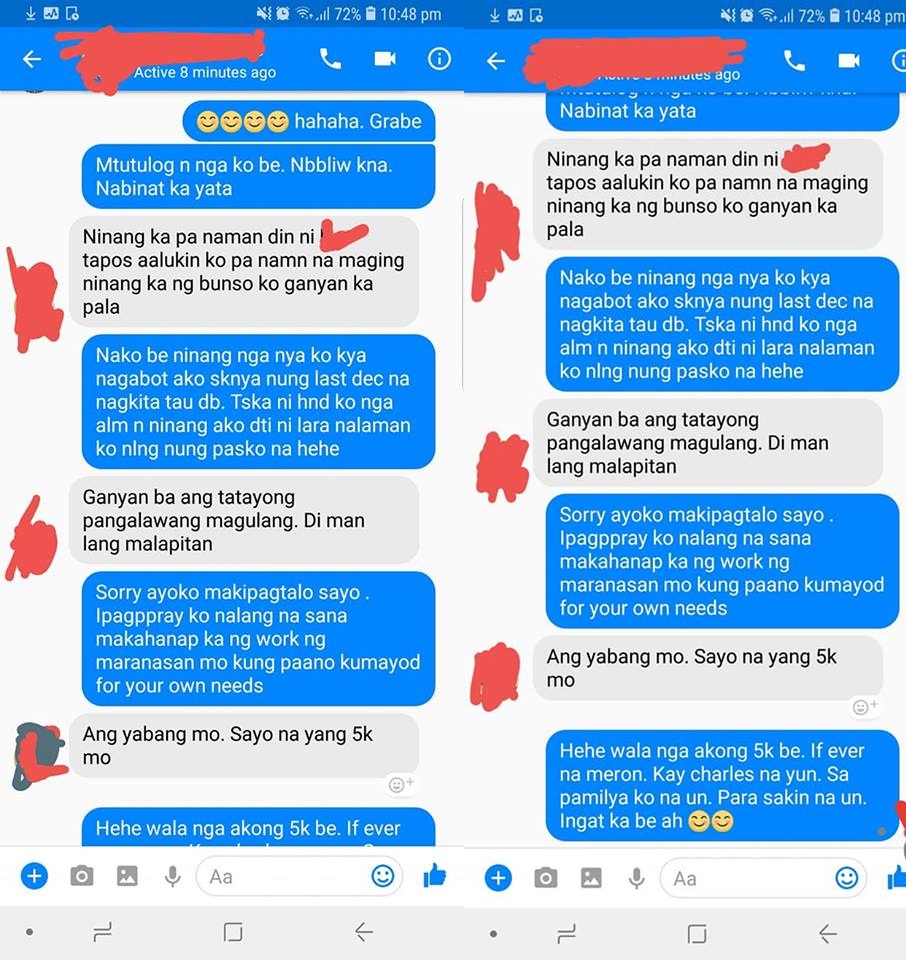 In the Facebook post, Rachelle stated that she's abroad but that doesn't mean that she's swimming in money. "Always keep in your mind na hindi purket nasa abroad kami naliligo na kami sa dolyar. Nahihirapan din kami lalo na yung mga OFW na walang kasamang pamilya. Kahit yung mga di OFW. Kahit yung mga nagwowork jan sa Pinas na kukunin nyong ninong at ninang."
"Bawal tumanggi sa pagiging ninang at ninong. At ayoko naman talagang tumanggi kasi angels ang mga bata pero isipin nyo na kaya nyo kame kukuning ninang at ninong para nandito kami na magbibigay ng guidance if ever na wala kayo sa tabi nila hindi para gawing sponsor." she added