Brother shows support for little brother's online gaming habit.
Lloyd Taganac said that he has promised before that when he starts working, he'll spoil his brother and encourage him to play more DOTA.
Last July 2, a Facebook user named Lloyd Tagatac posted a photo of a thousand dollar bill with a note encouraging him to keep on playing computer games.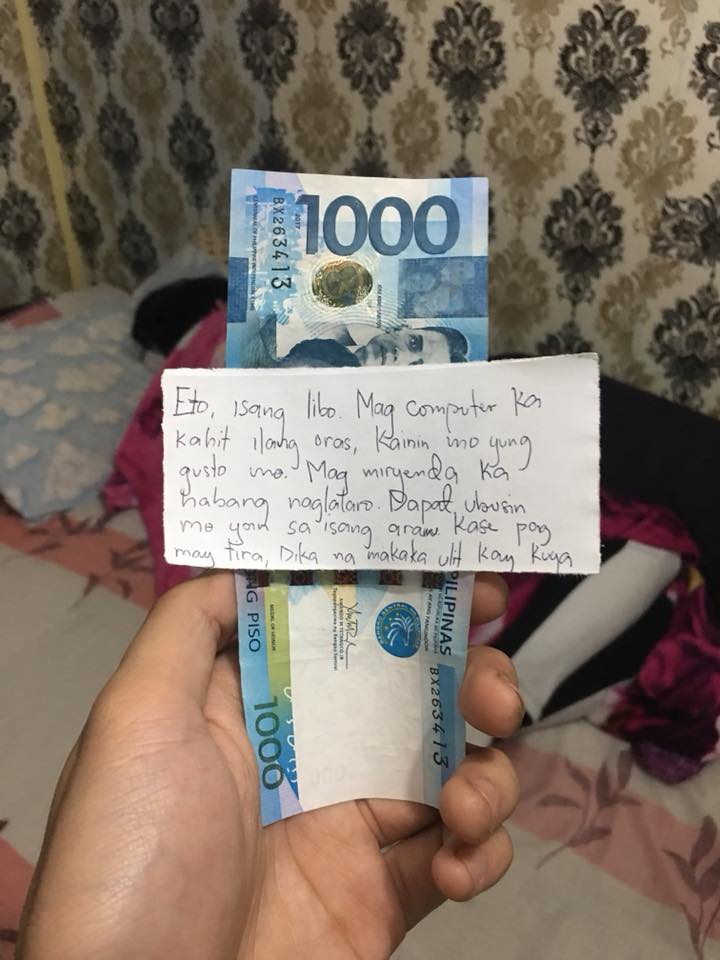 Eto, isang libo. Mag computer ka kahit ilang oras, kainin mo yung gusto mo. Dapat ubusin mo yan sa isang araw kase pag may tira, dika na makaka ulit kay kuya
Lloyd stated that his brother has always been interested in computer games and one day when he was seen watching his friends play at the computer shop, he then promised that when he gets a job, he'll spoil his brother.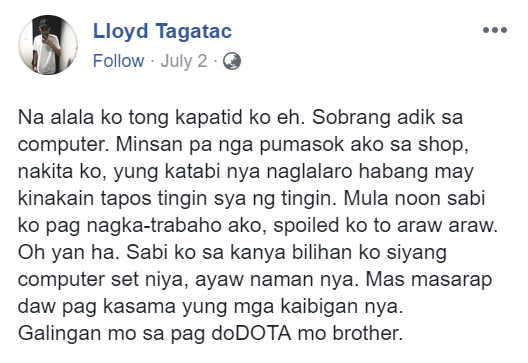 Na alala ko tong kapatid ko eh. Sobrang adik sa computer. Minsan pa nga pumasok ako sa shop, nakita ko, yung katabi nya naglalaro habang may kinakain tapos tingin sya ng tingin. Mula noon sabi ko pag nagka-trabaho ako, spoiled ko to araw araw. 
Oh yan ha. Sabi ko sa kanya bilihan ko siyang computer set niya, ayaw naman nya. Mas masarap daw pag kasama yung mga kaibigan nya.
Galingan mo sa pag doDOTA mo brother.
Lloyd's brother is now 18 years old and he said that he doesn't have any conditions when it comes to the budget he gives his brother as this was his promise to him.
"Talagang gusto ko lang gampanan yung pagiging kuya ko sa kanya." he stated. And yes, he does give him a daily budget to play online games.
Netizens react to the gesture. This one Facebook user tagged her sister saying that if only she was like this, she'd follow all her sister tells her to do.

This one netizen even wants to apply as his sibling.

And another person saying how sweet he is to his brother.