Senate President Vicente Sotto III expresses dismay over criticisms received regarding proposed hybrid body
The proposal was said to have "no constitutional basis"
Senate President Vicente "Tito" Sotto III recently received criticisms regarding his proposed "hybrid" body which will vote on amendments to the constitution, and he went off about it.
In his recent tweets, Sotto expressed his disagreement with the comments regarding his proposal.

"Kung ayaw nyo eh di hwag! Hehehe"

"Ang daming marurunong!"
According to Representatives Edgar Erice, Gary Alejan, Tom Vilarin, Teddy Baguilat, Antonio Tinio, Sarah Elago, Emmi de Jesus, and Raul Daza, Sotto's proposal is unconstitutional.
Erice Stated that "This proposal has no constitutional basis, I don't know where he's getting this idea of changing the charter through a mode that is alien even to 'wambol (sic) university,'".
He is pertaining to the sitcom Iskul Bukol, wherein Sotto was one of the main stars.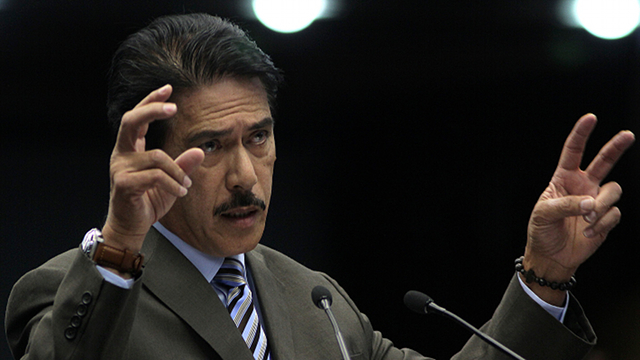 Sotto's proposal suggested on creating a hybrid body composed of "12 senators, 12 congressmen, 12 nominees by the President, 12 nominees from the civil society or the different sectors like the academe."
It was said to compromise between a constituent assembly, which is deemed to be too expensive for the government, and a constitutional convention, which has been rejected in surveys.
In a tweet by Sotto, he clarified that his suggestion would only serve to facilitate discussions on the output of the consultative committee tasked by the president to draft a proposed new constitution.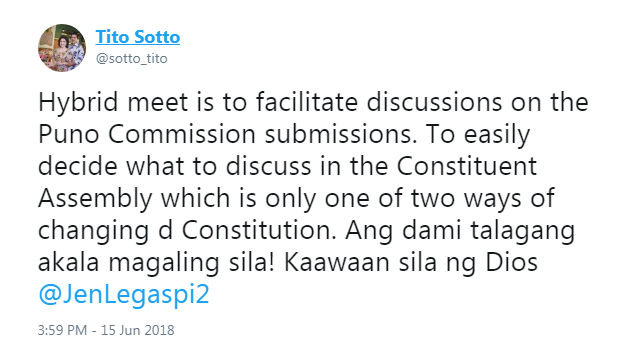 "Hybrid meet is to facilitate discussions on the Puno Commission submissions. To easily decide what to discuss in the Constituent Assembly which is only one of two ways of changing d Constitution. Ang dami talagang akala magaling sila! Kaawaan sila ng Dios @JenLegaspi2"
But despite criticism of his proposal, which he claimed would be supported by a majority of the Senate, Sotto stood by his hybrid constitutional body.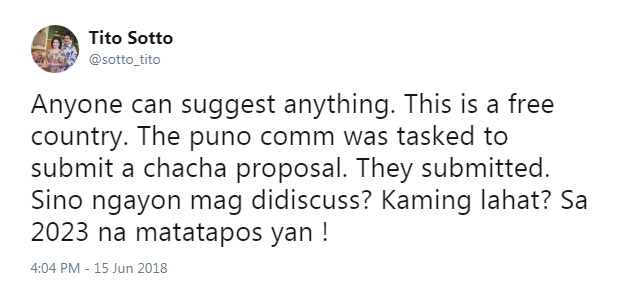 "Anyone can suggest anything. This is a free country. The puno comm was tasked to submit a chacha proposal. They submitted. Sino ngayon mag didiscuss? Kaming lahat? Sa 2023 na matatapos yan !"