A tricycle driver in Cavite has gone viral on social for placing a swastika sticker on his vehicle.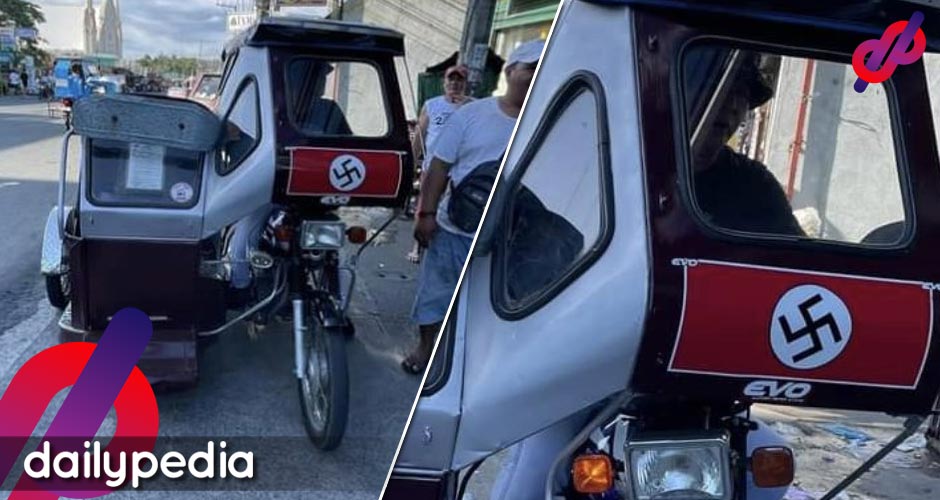 The photo of the tricycle was first shared on Facebook group Cavite Florida ng Pinasposting on May 1.
It showed a swastika, the symbol of Adolf Hitler's Nazi regime, in front of the cart.
The person who took the photo had the chance to interact with the driver.
He asked him, "Ano pong symbol yan, Kuya?"
The driver responded, "Nazi yan. Kay Hitler yan. Ibig sabihin nyan disiplina."
Netizens were shocked to see someone in the Philippines supporting Hitler.
Ay gago. Sana nasa Germany yan para kulong https://t.co/Iz7ZiBqnbf

— simply_clinton (@Simply_Clinton) May 3, 2023
That mindset wtf https://t.co/n8sBC5O76Y

— riri 🦦 | Becky's Mami  (@yooxium) May 4, 2023
Some blamed the lack of education people get in the country.
It's also the lack of proper education. Most of the Filipinos' population aren't as educated as the country makes it out to be. Sure, marunong mag ingles at ibang lengwahe most, pero when it comes to sociopolitcal/ history matters, mostly misinformed/miseducated po yung karamihan https://t.co/X9CrFKsNXq

— 🎼🎶🎵🎧🌹🌸🌕🌑🌙🌒✨🌃🌆 (@passionatelymoi) May 4, 2023
The notion that discipline is an immediate good indicator is bullshit. Oo nga may "discipline" pero at what cost? Just as many people say that the justification of Martial Law dahil it "instilled discipline". Pero at the cost of our freedoms, human rights, our democracy. https://t.co/G8dX4kbbX3

— idk? (@josephatph) May 4, 2023
Many do not know that a Nazi swastika is a symbol of hate and antisemitism. https://t.co/LO7RlC3nmR

— Cherilyn Ngo (@cherrysingh065) May 4, 2023
The swastika symbol, which originally was a symbol of good fortune and well-being in many cultures–is now commonly viewed negatively because of its association with Nazi Germany and the atrocities committed during World War II, including the Holocaust.
The Nazis adopted the swastika as their emblem, and its use in this context has forever tarnished its meaning for many people.
Many countries have banned the usage of the swastika symbol, particularly in public displays or as a symbol of hate speech or white supremacy.
In Germany, it is illegal to display the swastika or any other Nazi symbol in public, and offenders can face fines or imprisonment.
Other countries, such as Austria, Hungary, and Israel, also have laws banning the use of the swastika symbol in certain contexts.