Actor Rocco Nacino spoke about Senator Nancy Binay being offended by an ad in the UK targeting Filipino nurses.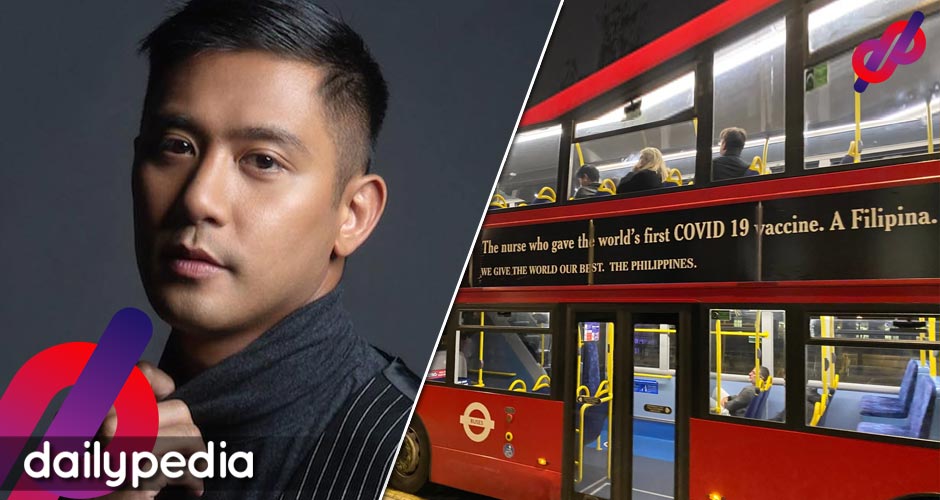 On Wednesday, Binay expressed several concerns regarding the apparent lack of coherence in the messaging of the latest advertisement promoting the Philippines in London.
Binay, who heads the Senate tourism panel, found the London buses advertisement problematic.
The ad featured May Parsons, a Filipino nurse who was the first to administer the world's first approved COVID-19 vaccine, and included the words, "We give the world our best. The Philippines."
While Binay commended the initiative to enhance the Philippines' image on the global market, she felt that the advertisement might convey a vague message.
Binay questioned whether its purpose was to encourage tourism, attract foreign investments, or persuade foreign hospitals to hire Filipino nurses.
"Parang may disconnect ang messaging. Nakaka-bother lang when you see the ad, it seems that we are offering the world our nurses — which is a bit off kasi nauubusan na nga tayo rito ng mga health worker. We don't want to commodify our people, and we don't want to be tagged as a labor-exporting country," Binay said in a statement.
The Ibon Foundation reported that the distribution of healthcare workers in the Philippines in 2021 fell short of meeting World Health Organization's (WHO) standards. According to the think tank, the country's ratio of 17 healthcare workers per 10,000 people was lower than the WHO's recommended ratio of 44:5.
Nacino said this kind of ad would not have existed if health workers in the Philippines had higher salaries.
If we took care of our health workers in the first place, you wouldn't see this ad now. https://t.co/pZbwvBgN9u

— Rocco Nacino (@nacinorocco) May 11, 2023
Binay sought clarification on whether the advertisement truly benefits Philippine tourism.
"Sa unang tingin pa lang, ano ang konek ng nars, heringgilya at bakuna sa pino-promote nating mga tour destination?" she asked.
Despite acknowledging that the advertisement's effectiveness remains uncertain, Binay emphasized that its messaging is already incongruent with the country's tourism objectives.
"Ang tanong ko rin: Iyan na ba talaga ang ia-adopt ng Department of Tourism na bagong slogan? I'm still hopeful that DOT would consider deferring its rebranding plan. Instead, ipagpatuloy na lang natin ang 'It's More Fun in the Philippines' campaign and come up with fresh permutations of fun in the Philippines," she added.