27-year-old Chun Woo Won, the grandson of ex-South Korean President Chun Doo Hwan, kneeled before the survivors and grieving families of the Gwangju Democratization Movement on March 31, pleading for their pardon.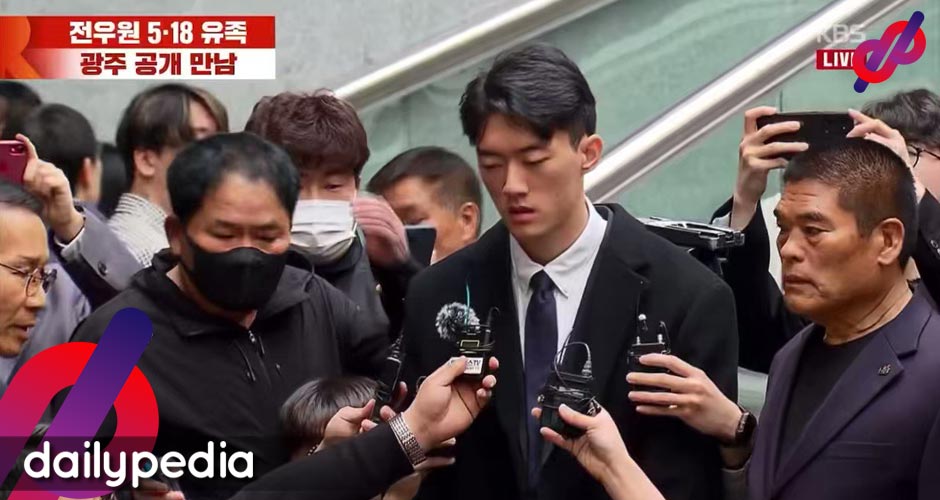 At a media briefing, Chun Woo Won spoke about his grandfather's heinous acts. He asserted that the Gwangju massacre of May 18, 1980, should never be repeated. He lowered his head and declared that his grandfather was a wrongdoer responsible for the mass killing.
Touched by his regret, the mothers of the Gwangju Uprising victims expressed their appreciation and commended Chun Woo Won for his bravery in apologizing.
The mother of Moon Jae Hak, a high school student who perished in the Gwangju Democratization Movement, expressed her empathy. She urged him to seek the truth and strive for healing and unity.
Filipinos wish someone, a politician, would follow Chun Woo Won's apology.
https://twitter.com/ariesarugay/status/1641664673102827521?s=20
Bongbong o Sandro, beke nemen… https://t.co/MiTaavPkbk

— Miss France Sajorda (@PrincessFrance) March 31, 2023
Descendants of fascists in the Philippines can learn a thing or two from this, instead of being involved in disinformation and distortion of history. https://t.co/nXYbPX2xyj

— Jodesz Gavilan (@jodeszgavilan) March 31, 2023
Humility. Justice. Healing. #sanaol https://t.co/JVXzkzVXxG

— Mona Magno-Veluz (@mightymagulang) March 31, 2023
Samantalang sa atin, iniluklok pa bilang pangulo ang anak ng diktador. Tapos ang maraming Gen Z naman, sinisimp pa yung apo ng diktador. Walastik! https://t.co/WqxlgrjntC

— JC Punongbayan, PhD (@jcpunongbayan) March 31, 2023
— Justin Dizon (@iamjustindizon) March 31, 2023
Filipino netizens called out Pres. Bongbong Marcos could do the same.
Following the press conference, Chun Woo Won headed to the National May 18 Democratic Cemetery to pay tribute to the 10 victims interred there. This included Moon Jae Hak. He took off his coat and carefully cleaned each tombstone, showing genuine repentance and dedication to preserving the victims' memory.
The Gwangju Democratization Movement marked a critical juncture in South Korea's history when people rose against the military regime in the name of democracy and human rights. The violent crackdown on the movement led to numerous casualties and injuries, leaving lasting wounds that continue to impact victims and their families. Chun Woo Won's apology is a crucial step toward healing and reconciliation.