PDP-Laban executive vice-chairman Senator Aquilino "Koko" Pimentel III believes that Senator Manny Pacquiao is the President that we need.
During a June 17 interview on Karen Davila's Headstart, Pimentel said Pacquiao is prepping himself for something big soon.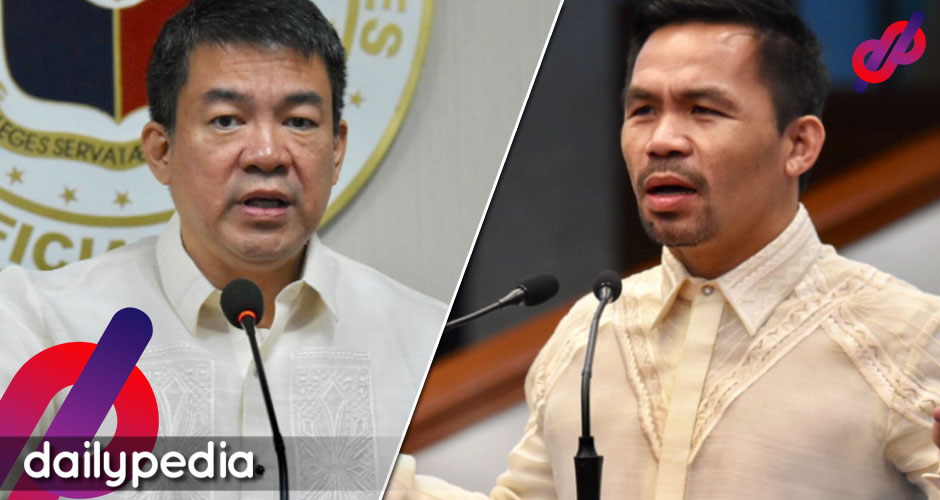 "He has many ideas and he's been explaining his program of government, his platform, and there are many people from different sectors of our society and different socio-economic classes who have a pledge of support to him.
"For a position, hindi ko alam, but they're there consulting with him, telling him their problems, sharing with him, dialoguing with him, so this is what we need.
"Upon observing what the PDP-Laban national president has been doing as of late, Pimentel concluded that Pacquiao is the leader that we need, the President that we need.
"Number one, who has a plan for the country, who has the right heart.
"It's time to look at the heart, the heart is in the right place with the right motivation, the right feelings, and emotions.
"Number two, the plan. And number three, the support," he said.
He noted that Pacquiao is topping the senatorial surveys and wants him to announce a run for the Presidency as early as August or September.
Other possible candidates for the Presidency include Davao City Mayor Sara Duterte and Manila Mayor Isko Moreno. Pimentel said Pacquiao's edge over them is the fact that he came from nothing to becoming a boxing champion.
"But the greatest asset of Manny Pacquiao, given the difficulties which our country's undergoing right now and our people, poverty is still widespread, it's still there.
"He has seen the different levels of the economic situation in the lives of human beings.
"Dinaanan niya lahat 'yon—hanggang sa from natutulog sa kariton hanggang ngayon na umabot na siya na he can now stay in an exclusive village.
"Nakita niya lahat 'yon, nakita niya."
Being once homeless himself, Pacquiao knows what it's like to struggle every day, Pimentel said.
"So, kapag sinabi niyang 'Alam ko ang nararamdaman ninyo kung gutom kayo or wala kayong makuhang trabaho,' tama 'yon, totoo 'yon, alam niya.
"So, ngayon, yung puso, nasa tamang lugar. Gusto nga niya na i-solve yung problema na 'yon.
"I think he will be a good choice of the party to push for president.
"Pero of course, gaya ng sinabi ko kanina, running should be voluntary and the person should be willing to run for that particular position."
While it is true that Pacquiao empathizes with the indigent, the public doesn't consider him qualified for the position since he lacks intelligence.
"Pacquiao is the president we need" – Pimentel

And….. pic.twitter.com/vUdEfdfPW6

— 𝕥𝕒𝕪𝕝𝕠𝕣 𝕗𝕠𝕣𝕖𝕧𝕖𝕣 (@repstan89) June 17, 2021
Pimentel baka president YOU need. Kaya huwag kami isama kagagohan mo. Hindi namin kailangan ang isang Pacquiao. Maawa naman kayo sa bansa natin. pic.twitter.com/Yu0RDTNWGe

— LAHING 🇵🇭 PINOY (@lahingpnoy) June 17, 2021
Anong "Pacquiao is the president we need" yang tinatahol mong ulol ka! Hoy Pimentel naka droga ka ba? Ha? sagot @senkokopimentel https://t.co/GjmJjrwMZF

— Starlet Witch (@StarletWitch_) June 17, 2021
Some even wonder why Pimentel would endorse Pacquiao when he is more qualified than him.
https://twitter.com/alextrvgnt/status/1405505673396330498?s=20
Only you needs Pacquiao, we don't. Pimentel now hitting the gutter, from a bar topnotcher to bartender to covid spreader to arselicker.
Way to go for Nene's son. https://t.co/WCcp4Bs2rL

— Jack Phalaphitac (@JackPhalaphitac) June 17, 2021
Okay ka lang Pimentel tungkol sa statement mo kay Pacquiao?

Ano na, Pilipinas? 🤷‍♀️

— ariaservd (@yangerski) June 17, 2021
Labu Labu na ang mga gahaman.
Sabi ni Pimentel Mas kailangan daw ng bansa si Pacquiao pag siya naging Pangulo.
Ibig sabihin marami pang Alam si Pacquiao kaysa Kay Pimentel? https://t.co/HnkI3cSW7n

— [email protected] (@abet_danan) June 17, 2021
Pimentel: Pacquiao is the money I need. https://t.co/C5H13R99N8

— princé laurent (@poeticroseanne) June 17, 2021