It looks like the most ardent supporters of President Rodrigo Duterte have committed another blunder after falsely claiming that Vice President Leni Robredo was at a ceremonial inoculation in Marikina City.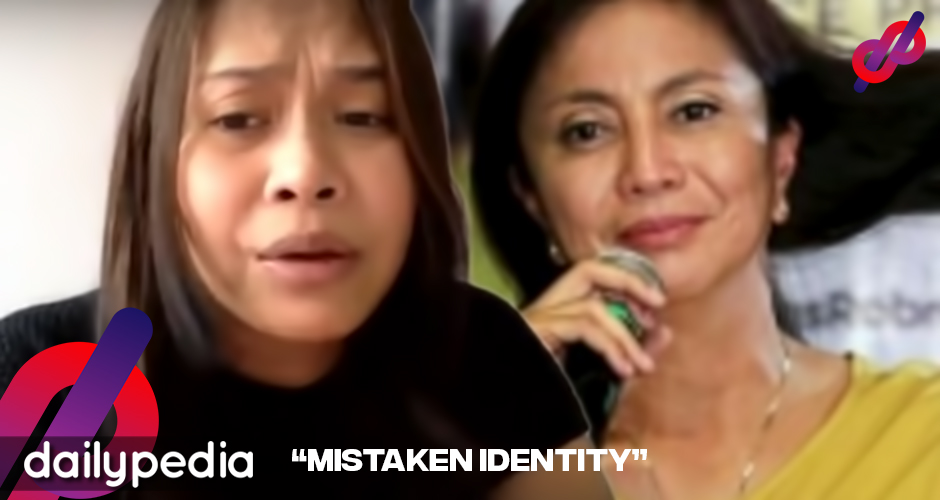 Pro-Duterte blogger Sass Rogando Sasot posted a photo of the ceremonial inoculation with the caption "I know this is symbolic. Pero sana itinaas ang manggas para mas kapanipaniwala. Eksena 101" on March 2.
The original post would since be taken down by Sasot and later reposted—using the same photo—but this time with a PS line saying it was not Robredo.
Robredo would reply to the post—but only after people kept on sending her screenshots of comments on the photo by Sasot's followers.
In a post on her personal Facebook wall, Robredo was quick to correct Duterte's supporters who kept on insisting she was in Marikina.
"This is ridiculously funny. Hindi ako iyan," Robredo said, later adding that the lady in the photo was Dr. Flordeliza Grana from the Amang Rodriguez Memorial Medical Center.
Grana would share Robredo's post on her own Facebook account, and as if to answer Sasot, she would say she wore a "bakuna" blouse—one that has a slit on the sleeves—that day.
The Department of Health would also post a statement from the 58-year-old pediatric surgeon, calling her an inspiration to others who were wary of Sinovac's COVID-19 vaccine.
"Doon po sa mga natatakot magpabakuna, ako po ay 58 years old [pero] talaga pong nag-volunteer ako para mapabakunahan para po 'yung iba ma-encourage din kahit 'yung edad nila ay katulad ko." pic.twitter.com/qxGMtTuJeI

— Department of Health (@DOHgovph) March 3, 2021
Reactions to Sasot's post would be put further under the bus after News5's Greg Gregorio posted these photos on his Twitter account to prove that Robredo was nowhere near Marikina on March 2.
Bilang kabilang sa nag-cover sa ceremonial vaccination sa Marikina kanina, yung doktora po na naka-blouse at binakunahan ng Sinovac kanina ay si Dr. Flordeliza Grana ng Amang Rodriguez Memorial Medical Center. Good night, everyone! pic.twitter.com/9TiU2XJolv

— Greg Gregorio (@GVGregorio_TV5) March 2, 2021
Gregorio was one of the reporters covering the ceremonial inoculation in Marikina.
Screenshots of what can only be called "receipts" are now circulating on Twitter and Facebook, allowing those critical of Duterte and his followers to have a "memory" of yet another DDS mishap.
kadedes are either tanga or just plain idiots or both 🤣😂

yung napagkamalan nila si dr flordeliza grana ng amang rodriguez hosp na si vp leni at kinuyog na nila🤣😂

pati bakuna blouse (may slits) ng doktora ay kinuyog 🤣😂

ctto sa pix pic.twitter.com/mEIIZRh3DE

— Datu Mamumugon (@IamYaakovBaruch) March 2, 2021
May pa click bait na naman si Sas Rogando Salot o Sasot. Syempre nagkagulo ang DDS-landia at inakalang si Madam @lenirobredo yung binakunahan sa picture.

Akala nila si Madam Leni e si Rachel Alejandro yun! Kidding aside yun si Dr. Flordeliza Grana of ARMMC. pic.twitter.com/1KsHs4IJYc

— AkoNgaSyLico 璃乎. リコ. りこ. #LabanLeila (@SyLicoNgaAko) March 2, 2021
The screenshots feature not only Sasot's original post, but also those from pages critical of Robredo.
One supporter of the president, however, came to his senses and warned his compatriots to be more careful in sharing photos of the vice president.
Hi everyone, I think we ought to double check this photo before we claim or tag her as Leni. If you zoom in, you'll realize her ID shows that she's a different person. I could be wrong but all I'm saying is that we should vet our info before tweeiting. Thank you. pic.twitter.com/BHiZTmGGys

— Lakay (@LakasNgTimog) March 2, 2021
The same person would, however, go back on his word almost immediately and threw out a conspiracy theory—that it was Robredo but with another person's ID.
Unless that's Leni and she's using somebody else's ID.

— Lakay (@LakasNgTimog) March 2, 2021
DDS getting more rabid, Robredo doing more 'hair flips'
This would not be the first time that the president's supporters would try to throw Robredo under the bus.
Duterte's supporters have had it out for Robredo since the beginning of her term as Vice President, often claiming she is not doing anything to support the administration.
This became more evident during the pandemic when the president's supporters would go out of their way to claim that Robredo was more of a vlogger than a public servant.
Duterte himself has been fuelling hate towards the vice president.
Recently, Duterte told Robredo to die after the vice president criticized how the administration rolled out CoronaVac shots to healthcare workers.
He would also tell Robredo to "stop competing with me" after Robredo initiated measures to help out those badly hit by Typhoon Ulysses.