Pres. Rodrigo Duterte's allies will always get the VIP treatment. Ramon 'Mon' Tulfo, a special envoy for public diplomacy to China, revealed that he, a senator, and some Cabinet members got inoculated with smuggled Sinopharm vaccine in October last year.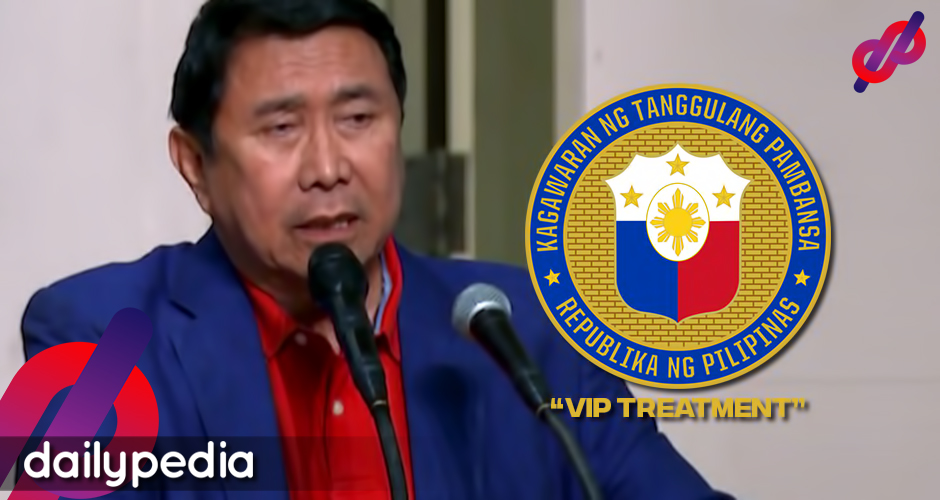 He said that members of the Presidential Security Group (PSG) also received jabs.
"I don't feel guilty about it," Tulfo told One News in a Tuesday interview.
He said he got hold of the vaccine from a friend who smuggled it into the country.
According to him, nothing wrong with what he did since he is a private citizen and 'technically' he is not a government official since his title is 'honorific'.
According to Tulfo, he actually 'risked' his life by getting inoculated before the public did.
The 74-year-old revealed that he went to a company called 'Apollo' and applied to become a distributor of the Chinese-made vaccine, but denied ever using his status to seal a deal on local distributorship.
Social media erupted upon hearing about Tulfo's admittance.
A Duterte ally getting vaccinated first before the health workers who sacrificed their lives everyday to fight the deadly disease that killed millions worldwide–seemed to be not right.
Gideon Lasco described it as another case of this current Administration's 'double standards'.
Let this sink in: Mon Tulfo got a vaccine ahead of all our healthcare workers, including those he tried to shame in PGH.

The delays in vaccine rollout in the country are inexcusable, but even more offending to the Filipino people are the double standards of this administration.

— Gideon Lasco (@gideonlasco) February 24, 2021
After hearing Mon Tulfo's statements pic.twitter.com/I8epIfU7J7

— CholoIngan (@CholoIngan) February 24, 2021
So Mon Tulfo thinks that getting smuggled vaccines isn't wrong? And that he doesn't guilty about it?

Isa nanaman pong entitled na tanga pero sikat.

— Shane Torralba *SHE/HER* (@wink_shane) February 24, 2021
Maybe Tulfo should be ashamed of himself at least, said a netizen.
Mon Tulfo, you should resign from your honorific title. You take advantage to get a vaccine as a special envoy to China. Your family is fighting about injustice in our country, but their own brother did an illegal act, in violation of existing law in our country. Mahiya ka.

— asdfghjkl (@mapanglinlang) February 24, 2021
Mon Tulfo, who metes out frontier justice on camera and enjoys the affections of Duterte, says there is nothing wrong with him getting a smuggled vaccine.

Only in the Philippines can the lack of delicadeza be so brazen.

— Daily Double (@bvergara) February 24, 2021
The Government's priority list for vaccination included frontline workers in health facilities both national and local, private and public; health professionals and non-professionals like students; nursing aides; janitors; barangay health workers, etc.
Mon Tulfo is a government official and yet openly admitted his alliance with a smuggler. Sira ulo rin ito ano? https://t.co/0jBcDBynvA

— Eres Tu (@CIRE41) February 24, 2021
May vaccines na tayo. Yun nga lang, inamin ni Mon Tulfo (candidly) na smuggled. Tapos ang mga unang naturukan, mga non-medical frontliners.

Indeed, Filipinos are second class citizens in their own country https://t.co/tb9vNOqChP

— Viki (@Hell0_Viki) February 24, 2021
His revelation wasn't a surprise to many, given his relationship with the Commander-in-Chief.
Sadly, nobody is surprised.

— Jack Lazo (@jacklazo1) February 24, 2021
In a recent interview with GMA News, Tulfo said he is willing to go to jail for getting vaccinated last year.
"Sige po! Oo. Ok. Pero imbestigahan din nila yung mga opisyal na nabakunahan. Kung magaling sila, alam na nila kung sino yung mga yon."
But he will not snitch on the other government officials whom he said also took the Chinese vaccine.
"Hindi, hindi, hindi. I'm sorry. Bahala na. Kung mangyari, I'm willing to go to jail," he added.
He said that he experienced no side effects after taking a jab of the Sinopharm vaccine.
"Wala. Beneficial nga. Walang adverse side effect."
He further explained that his role as a special envoy to China had already expired when he got vaccinated.
"Kasi ang Special Envoy to China, ang appointment niyan is good for six months each time. Last year, di ko nai-renew yung appointment ko because of the pandemic. So technically, my appointment as special envoy had expired when I had that vaccination," he said.
The FDA last February 11 granted Sinopharm compassionate use of its vaccines for the PSG.
Justice Secretary Menardo Guevarra earlier said the issue with the Chinese vaccine is already under investigation.
"The NBI has an ongoing investigation on the alleged importation, entry, sale, and administration of unregistered COVID19 vaccines in the underground market. I will leave it to the NBI to determine if it's necessary or relevant to invite Ramon Tulfo to shed light on the matter," he said.