Delivery driving is one of the most common jobs in this pandemic. Millions of people are unemployed and are willing to do anything just to make money, even the most fortunate ones.
But since there are so many of them, the competition has become stiff. Just because one does deliveries doesn't mean they will be getting all the orders.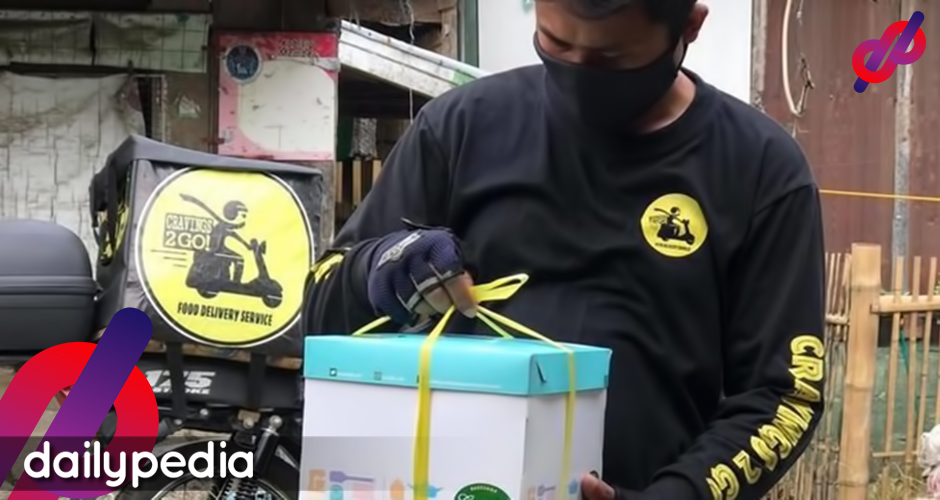 If a driver wants to make four digits a day, they'd have to work all day, but even this isn't guaranteed.
However, reports about delivery drivers getting screwed by their customers keep cropping up.
Facebook page "Trending TV" shared the story of an unnamed motorcycle delivery driver who was rejected by his customer, leaving him hopeless.
According to the page, the driver arrived at the destination of delivery but had to wait around two hours before the customer arrived.
The delivery driver was then surprised when the customer rejected him because the "Conti's Mini Mango Bravo" cake had already melted.
"Dalawang oras nag hintay si rider kay customer pero hindi kinuha yung Contis Mini Mango Bravo dahil malambot na daw yung cake nung dumating na si customer," said the page.
He then told sources that the cake was his day's worth of being a delivery driver.
"Hanggang ngayon di malaman ni rider kung saan kukunin yung perang pinang abono nya sa cake dahil halos sahod nya na ito buong maghapon," it added.
Netizens say that the ordering system should be more favorable to the drivers since instances like this have happened many times before.
"Grab should have the policy of online payment. Halos same complains lang of the riders. Protect your employees."
"Dapat ang mag order na hindi i2loy na konin,kong ano ano nga ang sinasabi para hindi ma2loy ang order,dapat pagmoltahin. Nakakaawa ang mga rider may pamilya silang sinosoportahan,ginagawang tanga,kong ka u ang ganyanin masaya ba ka u ?matakot ka u sa KARMA God s everywhere,god bless us all."
"Diba pag nag order complete details yan pati address nya ireklamo mo marami na mga kunwari order tapos walang pangbayad ibaranggay mo para madala mga animal na yan,sorry kasi kawawa naman niloloko nila katulad yung jolibee noon."
"oo nga bwesit dyan sa pilipinas ..oorder order tapos ganyan ginagawa bakit kasi mali anh style dyan..dito kasi bayad muna bago deliver kasi kawawa ang mga grab..dito kc may mga apps kami sa bank account namin pwedi transfer bank to bank sa selfon…hayst bwesit kawawa naman c kuya."
"Sana magkaroon ng batas na Kung saan patawan ng karampatang parusa Kung sinuman ang hindi kumukuha, di nag bayad o ki na cancel kahit a Dyan na OTS ang order. Kawawa kasi Yung mga ganito na naghahanap buhay ng maayos."