Wuhan, the ground zero of the new coronavirus has lifted it's lockdown after 76 days. Residents are now allowed to travel in and out of the city as long as they have a mandatory smartphone application that is a mix of data-tracking and government surveillance that shows how healthy they are, and whether or not they have made recent contact with a COVID-19 infected individual.
Wuhan had a light show on the Yangtze river, with skyscrapers and bridges showing animated illustrations of health workers treating patients, plus a sign that said "heroic city," a title which was given by President Xi Jinping.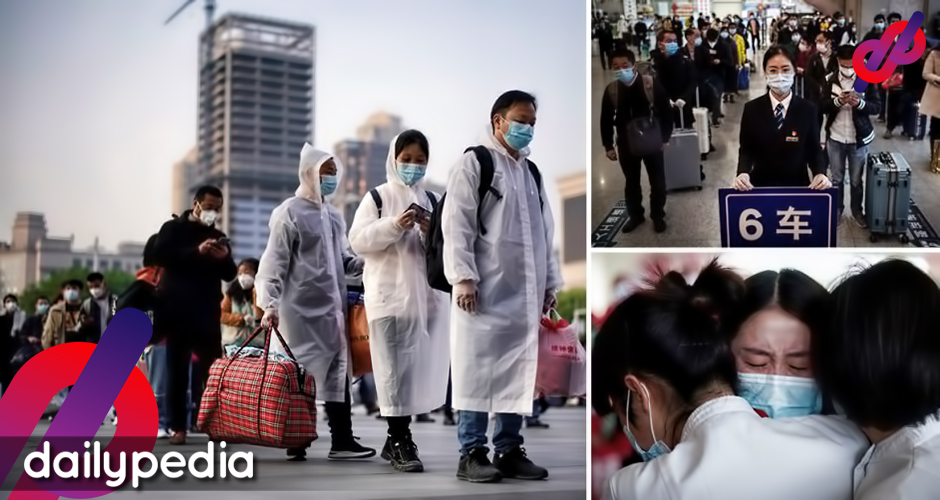 People were chanting "Wuhan, let's go!" as they waved flags then sang the acapella version of their country's national anthem.
Now, Wuhan looks just like any other city prior to the rise of the pandemic.
The whole world is suffering while the city—which is most likely responsible for the deaths of thousands of people worldwide—is celebrating like nothing ever happened.
The whole celebration seems uncalled for, considering all the nations that are still suffering from the pandemic and the billions of people whose lives and sources of income have been affected.
The city is slowly easing up on restrictions as the number of new cases has been nearly non-existent in recent weeks.
Even with over 3,300 COVID-19 related deaths recorded, various nations decided to do similar lockdown measures as Wuhan did.
The 11-week lockdown limited movements of Wuhan residents. They were only allowed to step outside for necessary things such as buying food.
At the time, residents could only leave the city if they had paperwork showing they were not a health risk and attesting to where they were going and why.
However, the People's Daily, the largest newspaper group in China, warned the city of celebrating too early.
"This day that people have long been looking forward to and it is right to be excited. However, this day does not mark the final victory," the paper said. "At this moment, we still need to remind ourselves that as Wuhan is unblocked, we can be pleased, but we must not relax."
During the lifting of the lockdown, SWAT teams and staff in white hazmat suits were situated at the city's Hankou railway station, while guards had a security briefing at the entrance.
Electronic billboards were already showing available train tickets with destinations outside of the city, while loudspeakers were constantly reminding the public to always practice health measures.
Small businesses are still suffering from the lockdown, but manufacturers have already started operating. A $2.8 billion in loans are being used to help businesses get back up.
The lockdown started back on January 23, when China decided to prohibit people from leaving or entering Wuhan. Checkpoints were established in various areas.
This was a huge decision as the virus was spreading through China and other countries during the Lunar New Year holiday in late January, when the Chinese are known to travel a lot.
On Monday, Wuhan's highest-ranking official, Party Secretary Wang Zhonglin, inspected the city's airport and train stations to make sure they were fine.
The city must "enforce prevention while opening up, maintain safety, and orderliness and the assurance of stability."
A lot of work still has to be done, but the number one concern is to not let the virus rise and take over Wuhan again.
Wuhan's celebration is disrespectful towards other countries currently suffering from the virus that originated from it. Things are not getting any better in some areas and are getting a whole lot worse in the US.
The confirmed COVID-19 cases in the US is now at 464,865, with 16,498 deaths. The American economy is now on a downward spiral, and China remains unapologetic about the whole thing.
People around the globe think the celebration wasn't appropriate at all.
Wuhan, China is celebrating because they've beaten the Corona Virus. Well let us remind them that while they're doing that, the rest of the world is suffering because of the mess they've made. There's no room for celebration right now. China is accountable to all of this.

— Zenku (@TCRaizen) April 8, 2020
WUHAN & China in celebration after lifting the lockdown
while the rest of the world is suffering from their recklessness that created the dreadful COVID-19 pandemic. pic.twitter.com/pZr2dgATyV

— YinYang (@YinYang0523) April 8, 2020
I see the celebrations in Wuhan. If I were Chinese I would show a bit of modesty and not celebrate when the whole world is lockdown because they contamined it.#coronavirus

— DavidAnaton (@thevejavi) April 9, 2020
Outraged at the vulgar celebrations in Wuhan while human beings are dying world https://t.co/fmMYgZdeCH is indecent and shameless display to say the least; satanic expression of happiness when they have caused darkness & misery on the planet.

— virender thapar (@Thapar77Thapar) April 9, 2020
Wuhan having a massive party, lightshows, fireworks. The bat eating prick is probably somewhere having a beer. Something massively outrageous having a show of celebration whilst the rest of the world continues to suffer for their backwards eating habits.

— Simmo (@Alfiebiggs) April 8, 2020
I'm sure Wuhan's celebration today was with good intentions. But did anyone else take it as a slap in the face?

— maymat (@MayMat_Music) April 9, 2020
https://twitter.com/aboutblou/status/1247977080039657474?s=20
Wuhan should've delayed their celebration. The whole world is suffering at the moment because of a virus that originated in their place. If decency doesn't exist in your vocab, at least be humane. There's nothing to celebrate at this point.

— Jules Guiang (@JULESguiang) April 8, 2020
Not sure that the massive light show celebration in Wuhan is appropriate with the World suffering an unprecedented pandemic caused by the eating habits of their citizens , #WuhanCoronavius

— Nigel Roberts (@NigelRoberts15) April 8, 2020
I think wuhan can stick their celebrations right up their jacksies.

— RSpurs1980("Don't get your hopes up."Levy 2020) (@RSpurs1980) April 8, 2020
There are now a total of 1,596,496 confirmed cases worldwide, with 95,506 deaths.
These numbers would not be as high as they are today had China disclosed the existence of the virus at the very onset of it all.
Christopher Dye, visiting professor of zoology and visiting fellow at the Oxford Martin School, University of Oxford, says that at least 700,000 could have been spared of the virus if China revealed it at an earlier date.
"Our analysis suggests that without the Wuhan travel ban and the national emergency response there would have been more than 700,000 confirmed COVID-19 cases outside of Wuhan by that date. China's control measures appear to have worked by successfully breaking the chain of transmission — preventing contact between infectious and susceptible people."
The January lockdown of Wuhan actually helped other nearby cities to prepare for the virus by giving them more time.
"This delay provided extra time to prepare for the arrival of COVID-19 in more than 130 cities," said Huaiyu Tian, associate professor of epidemiology at Beijing Normal University, in the statement.
Iran, Russia, Indonesia, and North Korea are some countries that are also downplaying their confirmed cases.
U.S. Secretary of State Michael Pompeo has urged China and other nations to report accurate data.