Chriselda Base gave birth at a very young age
But this doesn't mean her life is over
She promises to be a responsible mom to her family and to achieve her goals in life
Chriselda Base went on Twitter and posted a photo of herself in a classroom while carrying her child in her arms.
Apparently, she gave birth at a young age which delayed her pursuit of an education. But to her, this is nothing more than an obstacle that she will overcome. Her child is just part of the journey and she will continue pursuing her dreams.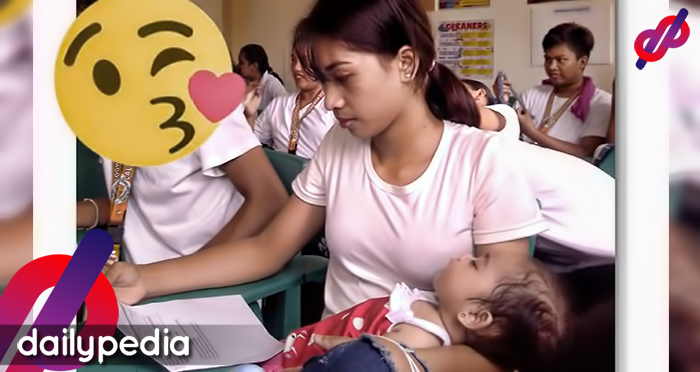 "Oo maaga akong nagkaanak,pero hindi porket maagang nabuntis sinira na ang buhay. Hindi porket maagang nabuntis wala ng pangarap sa buhay."
She said that people look at and treat her differently but none of that matters to her. What is important is the love she has for her family.
"Pag usapan man nila ang aking talambuhay, hindi nila mababago ang pag mamahal ko sa aking pamilya ko na pang habang buhay."
Furthermore, Base said that life is too short to give unimportant people your attention.
"Minsan lang tayo mabuhay kaya wag nating pag tuunan ng pansin ang mga taong walang kabuhay buhay at mag focus tayo sa mga mahal natin sa buhay. Masama man ang tingin sakin ng iba. Magiging mabuti pa din akong INA sa aking pamilya."
She does not look at her daughter Kyrille as a problem but a blessing from God. She just wants people to face reality and take responsibility for their actions.
"Wag nyo kong tularan sa pagkakaroon ng anak sa murang edad. Tularan niyo ako sa pagharap sa responsibilidad at pag alaga sa blessing na ibinigay ni GOD."
Base started going back to school on June 3, 2019 and is currently studying at Los Baños Lalakay Senior High School Stand Alone.
Netizens were touched by her post.
"nakakaproud naman.😊😘keep up the good work insan. lablab"
"support .po ??stay good health kay baby"
"Wow! As in wow be! Di ko akalain na ganan kana magdesisyon sa totoo lang kase alam mo naman diba? Kilala naten ang isat isa. Im so proud of you ang strong mo paden gaya ng dati. Missyou"
"Tol asan na ung nag aalaga nan.. bat kasama mo kawawa ung bunso ko"
 "yiisss support mo ko im so proud of you baseeee"
Her post has over 16k shares.