A Netizen found a huge amount of cash on an ATM
Tagudar knew how hard it is to earn money; so she made a way to return the money she found
She was able to find the owner of the money
P.T. Barnum wrote, "Money is a terrible master but an excellent servant."
Yes, money doesn't exactly shape anybody's belief system, it can influence the way anybody thinks and acts toward others.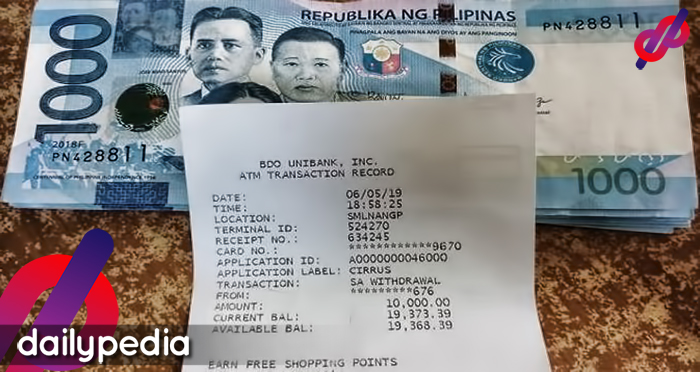 Money could be a temptation especially when there is no one looking, but for someone who found a huge amount of cash on the Automated Teller Machine (ATM); one is tested on the area of honesty and integrity.
A facebook user named Rosennie Tagudar of Davao City posted on her account with the hopes of reaching out to the owner of the money she found on a ATM at SM Lanang around 7:58 in the evening. She said that she would turn over the money at BDO SM Lanang after her office hours.
The money amounted to 10 thousand pesos with a withdrawal receipt. The owner left the machine because it took time to dispense the money without knowing that the transaction was successful.
She was so blessed that the one who found her money was honest as she thought of returning the money because Tagudar knew how hard  it is to earn money.
Netizens admired her honesty as they hoped that there will be more people like her.
"God bless you more for your honesty and good heart. Sana lahat ng tao ganito."
"God bless you Ma'am ang bait mo sana ganito rin ibang tao may magandang loob."
"Wow sana ganyan din ang iba pag nakakita ng cash. God bless po sainyo and more blessings to come napaka honest niyo po."
"Napakabait mo Ma'am, kung mga tao sa ibabaw ng mundo katulad mo masaya ang lahat. GOD BLESS YOU po, more blessing's sa ginawa mong pagbalik sa pera, hari nawa kaawaan ka ng poong maykapal."
On her update post, she was able to return the money to the owner as she thanked all those people who have shared her post.