A netizen shared video of a woman physically standing on a parking slot to "reserve" it, goes viral on social media
Mary Grace Holdermann posted the video on Facebook to let the public know about 'basic parking etiquette'
Holdermann and the woman filmed in the video had a lengthy back and forth until the latter gave in when the security guard told her that it was not right to reserve parking spaces
"Standing reservation" for parking slots? That is the question in this viral video that a netizen shared on social media, showing a confrontation between two pedestrians over a parking slot.
Mary Grace Holdermann posted on her Facebook account a video of a woman physically standing on the slot where their car was trying to park. She opposed this behavior and the two had a lengthy argument.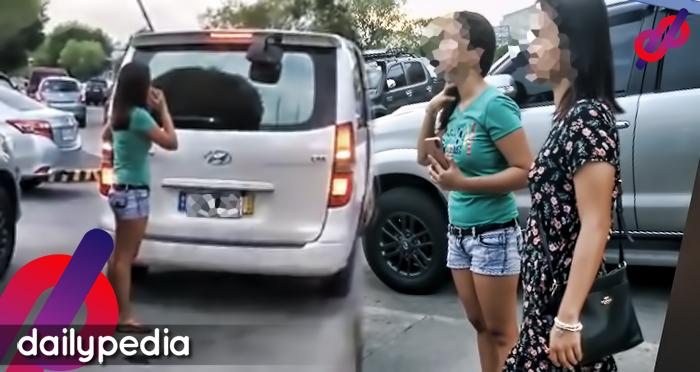 "Ilang minuto na (siya) (diyan), (nagtawag) (pa'ko) ng security sa entrance (para) (mag-paassist) (nandiyan) (parin) (siya). At (wala) (parin) (sasakyan) nila ayan (tinatawagan) (niya) pa kung (nasaan) na," wrote Holdermann.
"(Yung) guard (naman) (nakatingin) (lang) (sa kanya) (tas) (sabihin) paalisin (daw) (kaming) (dalawa), kung (hindi) (magbibigayan), isa pa (tong) (si) Kuyang guard (hindi) (iniimplement) (yung) (tama). (Bwisit) din e!" added the original poster.
In the end, the woman gave in and let the vehicle park when the security guard finally said the rules that it was not right to reserve parking spaces.
According to an article by TopGear Philippines, "basic parking etiquette dictates that in the absence of a formal reservation with parking management (in which case a slot will be properly marked or blocked by a pylon or sign), free slots are on a first-come first-served basis. This is regardless of whether it's in a public or private area."
Wag na wag tutularan c Ate nkakaloka…😂😂😂😂😂😂😂Ang siste:Sskyan ata tingin nya s srili nya at nauna na dw xa dun, ung sskyan nya umiikot pa…at ssbhin kmi dw mali, kmi dw mghanap ng parking slot! 😂😂😂😂😂😂😂Ilang minuto na xa jn, ngtwag pko ng security sa entrance pra mgpaassist nnjn prin xa. At wla prin sskyan nila ayan tintwagan nya pa kung nsan na😂😂😂😂😂😂Ngvideo ako kc nkikita ko xa ngvvideo, ts ttwag ts mgvvideo kya ayan mgvideohan kmi…abangan nyu ako sa fb world pasisikatin nya ata ako, naku di pa nmn ako mxdo ngayos nyan kc ksama ko s sskyan mga anak ko,ngaasikaso ako sa loob sna ok itsura ko sa video mo..nyahahaha😂Anyway, bumaba ako kc umaatras na kmi ayw nya umalis sbay sbi nya cge subukan nyu ako sagasaan..subukan nyu…e umaatras kmi ayw nya umalis ts ssgasaan n dw xa..gagawa pa ng kwento nkakaloka tlga…😂Ung guard nmn nkatingin lng sknya ts sbhin paalisin dw kming dlwa, kung hndi mgbbigayan, isa pa 2ng c Kuyang guard hndi iimplement ung tama. Bwct din e!Pero buti nlng sa huli cnbi nya na ang mali tlga ung babae kc hndi pwede gnun, kya naisip nlang umalis sbay sbi cla dw nkakaintindi at hndi dw kmi kya cla nlng paabuya…hahaha boset… Yaw ko na sa earth…kmi pa hndi nkakaintindi😂😂😂😂Nsan kya mga isip nila at naiisip nlang tamang tama yang gnwa nung babae na ipark ang srili nya at sbhin reserve na un sknya…nkakaloka tlga juskow mga ate kht umabot pa tau sa pluto wlang gnyang patakaran sa mundo😂😂😂😂😂Kht 24hrs kpang nkatayo jan ate kung wla ung sskyan mo wla kng karapatang harangan ang mga mgpapark jan, kc sskyan ang pinapark jn hndi tao😂😂😂Ung mga tao sa paligid tinatwanan na xa…nsbihan pa 2loy xang row4 ni manong na nkatayo sa gilid…kulet e hahaha😂

Posted by Mary Grace D. Holdermann on Thursday, April 11, 2019
The video has now gone viral with four million views, 45 thousand reactions and 31 thousand shares online with most of the netizens' siding with the video uploader.
"Pareho (lang) kayong di marunong magbigay at mapagpasensya.. Ang babaw ng pinagaawaayan. (Nakakatawa)," thought netizen Minnie Pelayo.
Erra Basa joked about the issue, saying "Dapat tinusok mo sa kanya yung susi. Feeling kotse. Hahahaha."
Another netizen mocked, "Transformer si ate maya maya lang mag tatransform na yan ng kotse kayo naman 😜✌"