Popular travel-guide Lonely Planet credited the Chinese for building the Banaue Rice Terraces
Netizens were quick to correct the error, citing sources and studies that the indigenous people built the terraces
The controversial video has been taken down by Lonely Planet and has yet to release a statement on the error
Netizens slammed travel guide Lonely Planet for incorrectly stating that the Chinese built the Banaue Rice Terraces in a video they posted on Sunday, which featured the famed Philippine landmark as one of  the "world's greenest places."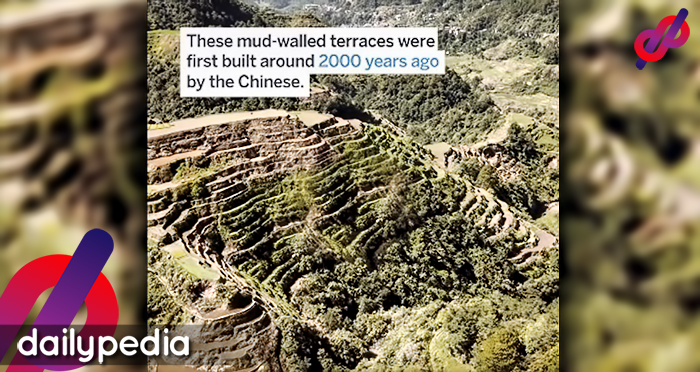 In their Facebook video, they have described Banaue Rice Terraces as "first built around 2,000 years ago by the Chinese." Netizens were quick to correct them, citing different sources to refute the claim made by Lonely Planet.
A parody Twitter account of Martin Andanar tweeted: "Dear @lonelyplanet , the Banaue Rice Terraces were built by Filipino indigenous people, not by the Chinese. (Screengrabbed from a video posted in Lonely Planet's facebook page)".
Dear @lonelyplanet , the Banaue Rice Terraces were built by Filipino indigenous people, not by the Chinese. (Screengrabbed from a video posted in Lonely Planet's facebook page) pic.twitter.com/HzHlOuE3we

— Jose Ruperto Martir (@AltPCOOSec) March 30, 2019
"Everything's made in China nowadays 😂" one netizen jested while another said, "Chinese built Banaue Rice Terraces?!?!😂😂😂 the other hand Filipinos built Great Wall Of China😁😂😂😂 Happy April Fools Day everyone🎉@lonelyplanet"
The Filipinos and Chinese share 50% similar DNA. The origin of rice came from China NOT the Philippines. The rice terraces of China predates that of the Philippines. The Filipinos came from Taiwan, part of China thru a land bridge to build the Banaue Rice Terraces. China? Yes!

— Viktor Philippe (@viktorphilippi1) April 1, 2019
https://twitter.com/bebebudak/status/1112684322069176325
pati ba naman banaue rice terraces kine-claim na ginawa ng China? sabihin nalang kasing buong Pilipinas sa kanila na rin nahiya pa sila

— s l f l s s g r y f f n d r (@johnraiseto2) April 1, 2019
lahat na lang made in china???#lonelyplanet
Banaue Rice Terraces is Igorots priced possession For your info , the Ifugao ethnic group

— rocel tafalla (@indianpadin11) April 1, 2019
Tangenah, ung Banaue Rice Terraces! Bukod jan, ano pa ang gawang China sa Pinas?😂😂😂 #riceterraces #nachina #ItsMoreFunInThePhilippines

— Inked_Label29 (@Inked_label) April 1, 2019
China's claiming Banaue Rice Terraces from the Philippines? Then it's gon' be Thanos vs China…

— Reiner (@rhnavro) April 1, 2019
okay what in the utter fuck do u mean by saying na china is the creator of banaue rice terraces jesus christ china holy hell gET UR OWN BREAD BRO

— gen (@roselanijimin) April 1, 2019
In their website, they wrote that the terraces were "introduced around 2000 years ago by the Chinese" but recognized that it was built by the Ifugao people. Their information had been inconsistent at the very least for they also had the statement "World Heritage listed, they're impressive not only for their chiselled beauty but because they were introduced around 2000 years ago by the Chinese," in their web page.
Their controversial video has been taken down this Monday morning and the well-known travel guide has yet to release a statement on the error.
They did, however, acknowledge the issue by tweeting: "Thank you for flagging this, we'll share this with our editors who'll take a further look into it. We'll share updates/action points on this thread."
The Banaue Rice Terraces, dubbed by some as the "Eighth Wonder of the World," were carved into the mountains of the Ifugao province in northern Luzon. It is said to symbolize bayanihan, or the spirit of coming together, as they were commonly known to be built largely by our ancestors' hands.
According to United Nations Educational, Scientific and Cultural Organization (UNESCO), the rice terraces were built 2,000 years ago by the Ifugaos and were the priceless contribution of Philippine ancestors to humanity.
"The Ifugao Rice Terraces represent an enduring illustration of an ancient civilization that surpassed various challenges and setbacks posed by modernization," UNESCO added.
In a report by Rappler, they have cited the late Otley Beyer, American anthropologist who moved to Ifugao in 1905, for theorizing that 2,000 years ago a group of people from Indo-China who knew how to cultivate wet terraces, migrated and settled in Ifugao. According to Ifugao scholar Manuel Dulawan, this skill was eventually passed to the natives and mountain folk, who "applied their understanding of gravity and use of conduits to channel water from distant streams to water their fields."
This news came in amid the tension between Philippine and Chinese relations as critics disparaged Duterte's administration for the influx of Chinese workers in the country and his wavering support for the disputed West Philippine Sea.