Boys pinned their BFF's ribbon on behalf of parents who could not attend his awards ceremony
Albert Egot Jr., father of one of the boys, proudly shared the story online and admitted he got emotional witnessing the heartwarming scene
The kind gesture of Lance and Nicko also touched netizens' hearts
Two boys from Mintal Elementary School, Davao City cheered their best friend and pinned his ribbon during their awards ceremony, when the latter's parents could not attend the said event–and their kind action made them viral online.
Albert Egot Jr. captured the touching moment between friends: his son Lance Seigfred, Nicko, and Arce and shared the photos on his Facebook account.
During the awards ceremony held in the boys' classroom, the proud father recounted that his son Lance had already received his Merit Award for being Top 5 in class and also his Happy Helper Award. Nicko, on the other hand, had also received the Eager Beaver Award.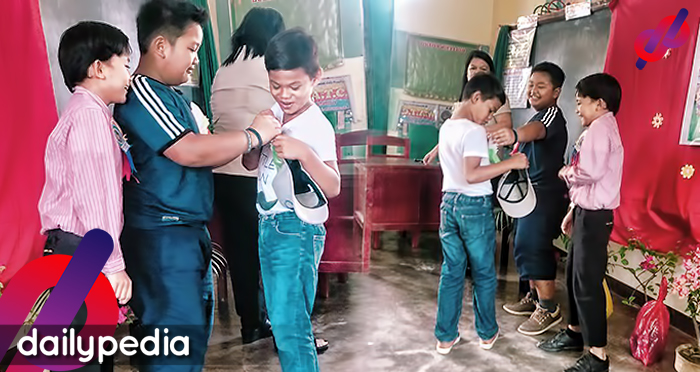 The two boys were cheering for Arce then, hoping he would also receive an award. Egot Jr. overheard his son telling his other friends to pray that Arce be called for an award, and their prayer was heard when the boy was called for the Best in Attendance Award.
Lance and Nicko cheered the loudest for their friend. Their teacher waited for Arce's parents to come forward but because they were not around, Lance and Nicko ran to the front of the room to pin Arce's ribbon on their behalf.
"Naiyak ako ng bahagya," Egot Jr. confessed upon witnessing the heartwarming scene. "Friendship is real… So inspiring. Hope they would see this post when they grow up."
In his post, Egot Jr. also remembered a similar experience he had in the past. "I got emotional because biglang nag flashback ang college graduation ko. My relatives were still on their way from bukid. Rumampa na kami. I was there escortless. The ceremony started. The parents were instructed to transfer the tassel from right to left while standing. I was there alone BUT PROUD. Then Mai Floreza's father saw me in tears and offered to do the tassel ceremony. At the stage I saw my family far far away. Natanggong sa crowd. Guess where we celebrated after? (kasi 1,500 nalang ang budget namin) – Bulaloan in Agdao Public Market."
He concluded his post with, "Then, it became so easy for me to target all my goals today because of those life battles in and outside school. My life lesson? We need to treasure people who will cheer us up. We need people who believe in us — like Nico and Lance. ❤️"
The viral-post has now obtained 54 thousand reactions and 18 thousand shares online.
"Aww. You've raised a humble and kind hearted kid, along with those two kids I am extending my appreciation to their parents on how well you guys hone their characters. I wish even if they grow up they'll still got each other's back. I'm pretty sure you're the proudest dad out there. 🤝" one Facebook user commented.
"Young as they are, they already knew the value of true friendship. Good job boys," another netizen replied to the post.