Kio Priest tweeted against music labels attempting to sign him up.
He said that some of the labels disappeared after learning about his sexuality.
A musician named Kio Priest tweeted about some record labels' prejudice against the LGBT Community.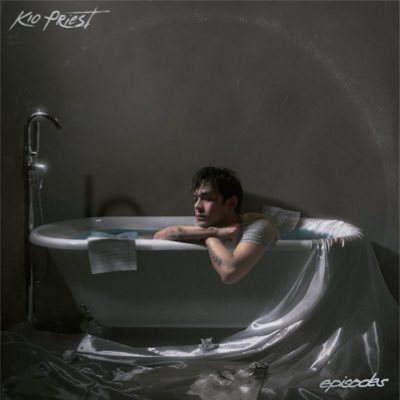 He said that they get so excited whenever they sign him up, however, after they have browsed his Twitter page and found out that he's openly gay, they tend to disappear.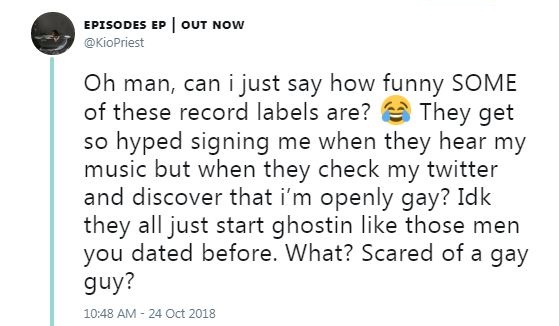 Oh man, can i just say how funny SOME of these record labels are? 😂 They get so hyped signing me when they hear my music but when they check my twitter and discover that i'm openly gay? Idk they all just start ghostin like those men you dated before. What? Scared of a gay guy?
He added that their reasons are often about the difficulty in marketing him because of his sexuality.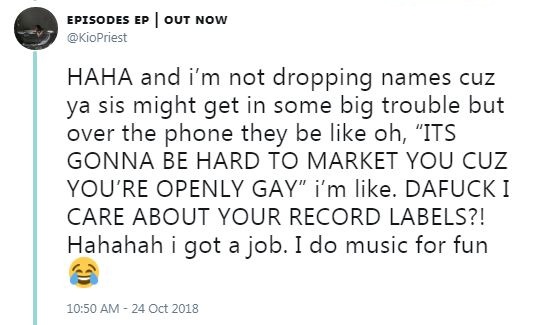 HAHA and i'm not dropping names cuz ya sis might get in some big trouble but over the phone they be like oh, "ITS GONNA BE HARD TO MARKET YOU CUZ YOU'RE OPENLY GAY" i'm like. DAFUCK I CARE ABOUT YOUR RECORD LABELS?! Hahahah i got a job. I do music for fun.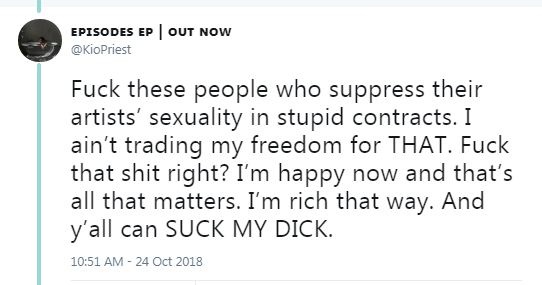 Fuck these people who suppress their artists' sexuality in stupid contracts. I ain't trading my freedom for THAT. Fuck that shit right? I'm happy now and that's all that matters. I'm rich that way. And y'all can SUCK MY DICK.
Kio Priest also shaded others who think that the key to fame is through the internet.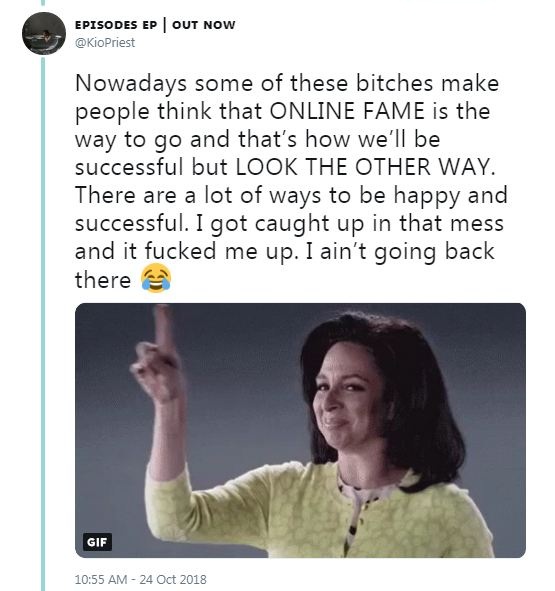 Nowadays some of these bitches make people think that ONLINE FAME is the way to go and that's how we'll be successful but LOOK THE OTHER WAY. There are a lot of ways to be happy and successful. I got caught up in that mess and it fucked me up. I ain't going back there
He ended the thread saying that if labels prioritize sexuality over music, then he'd rather not get famous.

MY SONGS ARE THE BOMB AND IF THESE LABELS PRIORITIZE SEXUALITY OVER THESE BABIES. Then i DONT WANNA BE FAMOUS