Tito Sotto suggested revising the lyrics of 'Lupang Hinirang.'
Netizens strongly opposed to Sotto's proposal.
Senate President Vicente "Tito" Sotto III suggests revising the lyrics of Lupang Hinirang.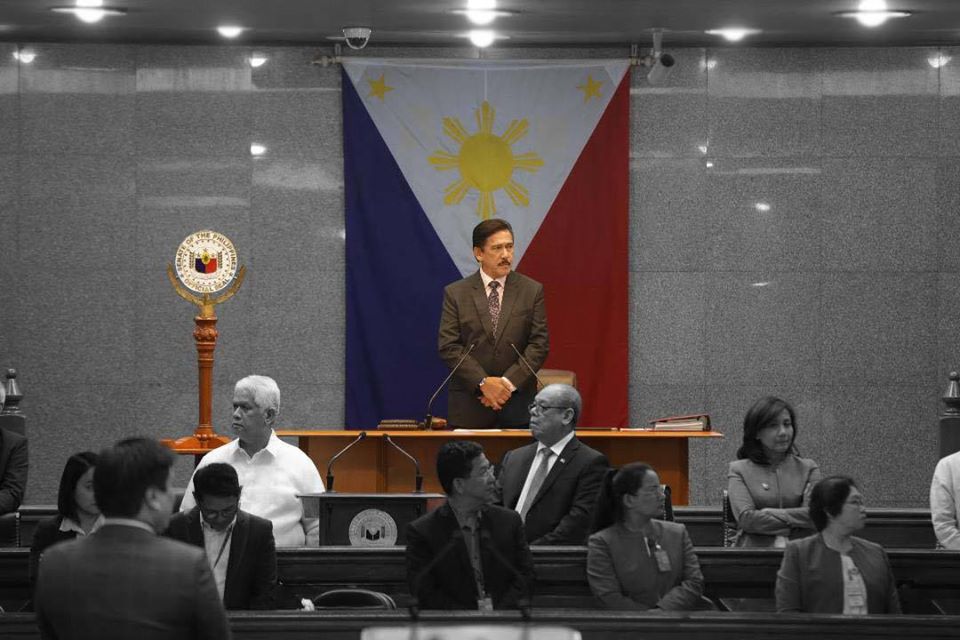 In his speech during the plenary debates on the proposed amendment to Republic Act 8491 or the Flag and Heraldic Code of the Philippines, Sotto talked about changing the last line of the national anthem because it is "defeatist."
Sotto suggested changing the line "ang mamatay nang dahil sa 'yo" to "ang ipaglaban ang kalayaan mo."
https://www.facebook.com/LionhearTV/photos/a.680561508629606/2176587499026992/?type=3
In an interview with the media, he said, "Imbes na lumaban eh mamamatay eh. "Aming ligaya na kapag may nang-aapi ang mamatay nang dahil sa'yo." Sa panahon ngayon dapat, "Aming ligaya 'pag may nang-aapi ang ipaglaban kalayaan mo.
"Dapat laban hindi patay. My suggestion is perhaps the proper Senate Committee should study and we can consult the NCAA to look at that possibility."
Netizens then reacted to Sotto's suggestion. They joked about his lyrics change proposal.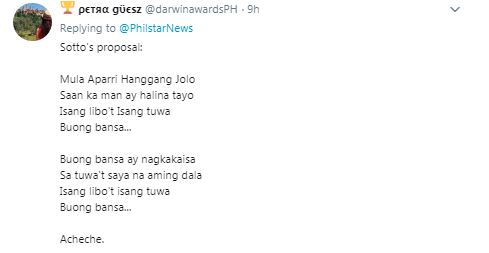 Sotto's proposal:

Mula Aparri Hanggang Jolo
Saan ka man ay halina tayo
Isang libo't Isang tuwa
Buong bansa…

Buong bansa ay nagkakaisa
Sa tuwa't saya na aming dala
Isang libo't isang tuwa
Buong bansa…

Acheche.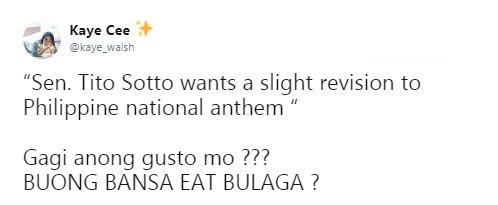 "Sen. Tito Sotto wants a slight revision to Philippine national anthem "

Gagi anong gusto mo ???
BUONG BANSA EAT BULAGA ?

Tito Sotto ano na naman pakulo mo na baguhin Ang national anthem? Idagdag yung "mula aparri hanggang jolo "??
Allen Gaborro stated that Sotto is "intellectually unqualified."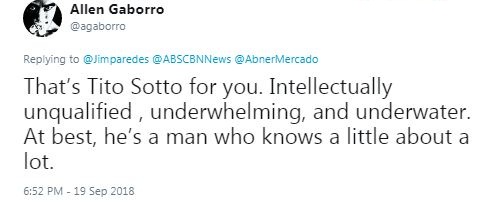 That's Tito Sotto for you. Intellectually unqualified , underwhelming, and underwater. At best, he's a man who knows a little about a lot.
Ian Darwin followed Sotto's move and proposed that Leron Leron Sinta's last line should be changed to "kapos kapalaran, bigyan ng second chance" instead of "humanap ng iba."
Okey din kaya kung papalitan ang huling linya sa kantang Leron Leron Sinta at gawing "kapos kapalaran, bigyan ng second change"

keysa "humanap ng iba"

#happyhormones #goodvibes
Karl Negado said that this is just a result of the Philippines' economy declining, that the Senate President has ventured into song revision.

When your national economy is in the pits, it's always a good idea to venture on singing song writing LMFAOOOO
A Twitter user then added this to the growing list of recent issues "hounding" the Philippine government.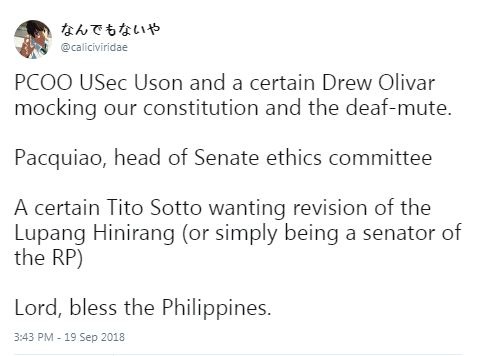 PCOO USec Uson and a certain Drew Olivar mocking our constitution and the deaf-mute.

Pacquiao, head of Senate ethics committee

A certain Tito Sotto wanting revision of the Lupang Hinirang (or simply being a senator of the RP)

Lord, bless the Philippines.
@jwoein implied that Sotto just wants to cover up his Pepsi Paloma case in his history.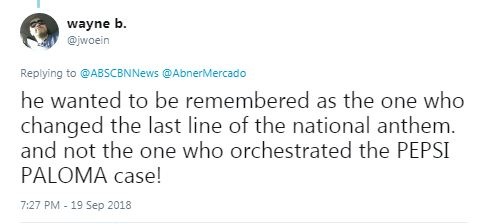 he wanted to be remembered as the one who changed the last line of the national anthem. and not the one who orchestrated the PEPSI PALOMA case!
Julian Felipe composed 'Lupang Hinirang' in 1898 while Jose Palma wrote the lyrics a year after.