Netizen is moved by gesture of delivery guy ordering food for his 92-year-old neighbor.
She said that the old woman saw her getting her food from the Jollibee employee and proceeded to order her own from the delivery guy. 
As people get older, they become more persistent. This sometimes drives other people to the point of annoyance.
One Jollibee delivery guy, however, was praised after he entertained a grandma who just wanted to order food.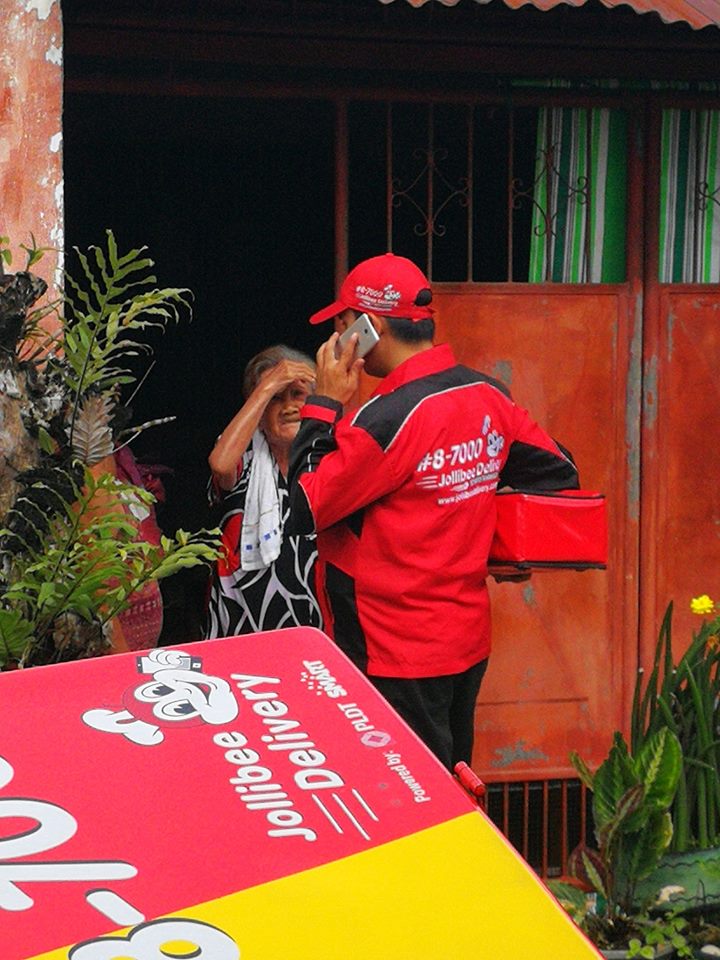 Facebook user Maris Mayol Tian shared the cute scene on Facebook, narrating how her 92-year old neighbor saw her getting her breakfast from the Jollibee delivery guy. After she got her order, the old woman called the delivery guy over and asked him about his job.
After learning about his work, the lady proceeded on telling him her order.

So I just ordered my breakfast from Jollibee and my 92 YEAR OLD neighbor saw me with the delivery guy.

When lola saw him handing me my food at our gate, she called him over and asked him what he does… So when he told her he delivers food that she would want to order, she proceeds by enumerating her order 🤣
As most people would get quite annoyed over the situation, the guy actually took out his own phone and ordered her food for her.

I honestly thought he would just ignore her, laugh and be on his way, but he actually took out his own cellphone, dialed a number, and ordered for her!!!

There was a time when I hated Jollibee's delivery service because they messed up a few times, but now I think I'm going to order more delivery from them.
#KudosDeliveryGuy
Netizens praised the delivery guy for his patience and willingness to help the grandmother.
Bernadette Capulong Tia said that because of that, Jollibee will now be her first choice.

May Puso. <3
From now on, Jollibee delivery na ang first option ko. 😀
Katherine Anne Jimenez shared that she got a bit emotional because of the post.

That feeling when I almost teared up from being so touched. – ang tunay na customer service *bow* 👍🏻
Facebook user Bern Bueno said that even though Jollibee's delivery service is often late, it's still her favorite.

Kahit madalas kayong late 😂😂😂 okay lang. Paborito padin kita 😍😍😍❤️❤️❤️
Henry Antonio posted the saying "Not all Heroes wear a Cape"

" Instead of putting others in your place, put yourself in their place"
Not all Heroes wear a Cape , sometimes it's just an Ordinary Delivery Guy Uniform 🙂 Jollibee, Love ko To !! 🙂 ❤️

#KudosDeliveryGuy
Fritzel Cadorna Tabaque commented that the guy is how all delivery guys should be like.

kudos to this accommodating Delivery Man .. dapat gaan xa award as a good Employee <3 #jollibee Lopues East Branch Bacolod City
The post surpassed 51,000 shares as of this writing.