Aiko Melendez called out Mocha Uson and Andrew Olivar for video mocking deaf people.
Malacañang distanced itself from the controversy.
Andrew Olivar and Mocha Uson apologized.
Actress Aiko Melendez calls out Presidential Communications Operations Assistant Secretary Mocha Uson and her co-host Andrew Olivar for making fun of deaf people.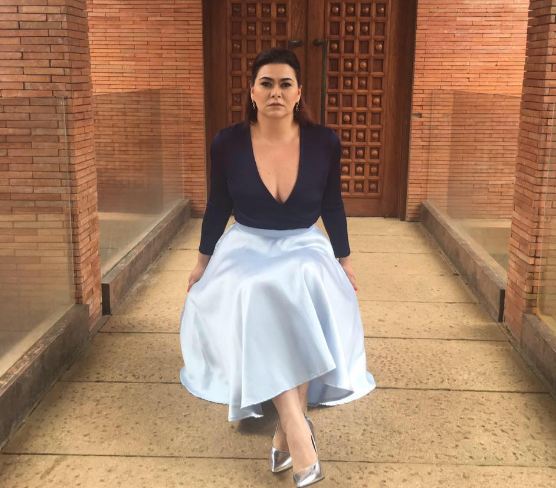 According to a report by Abante, Aiko questioned if Uson and Olivar know the meaning of "offensive'" and when something is "too much."
"Sukdulan to ah… And dapat may kaso ito? Ginagawa nyong katatawanan ang mga me kapansanan? Too much. Ako makakalaban nyo dito!!! Enough!

"Mocha Uson and Drew Olivar, hindi ba nyo nararamdaman ang o alam ang ibig sabihin n OFFENSIVE?!!!..Ganito po pasimplehan naten para di na humaba."
Melendez added that she knows members of the PWD community that are more deserving of such a position in the government.
"Paano kaya kung isang araw magbaliktad tayo ng puwesto ng me kapansanan at mga PWD ang mag-explain ng Federalism Government sa inyo at yang pamamaraan nyo din ang pagpapaliwanag ang gawin sa inyo? Ano ang mararamdaman nyo?

"Madami kasi ako kilala na PWD na mas karapat-dapat sa position nyo eh. Sabi ko nga paulit ulit ako ay taga suporta ng PRD pero ang mga tulad niyo ang nakasisira sa imahe ng Pangulo."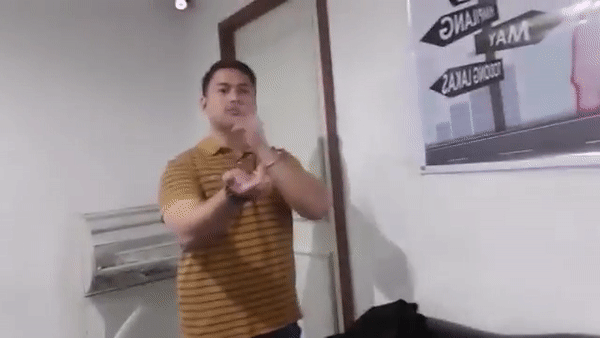 She then proceeded to demand a public apology from the duo and hoped that they get the right punishment for their actions.
"Wag nyo antayin na si PRD mismo ang magsabi sa inyo nito. I demand a public apology on behalf of the PWD. Kung kayo ay me puso at public servant manghihingi kayo ng tawad sa ginawa nyo? Or gagawa kami ng petisyon para mabigyan kayo ng karapat-dapat na kaparusahan sa asal nyo."
After their "pepederalismo" jingle controversy, Uson and Olivar found themselves in the middle of yet another issue for making fun of deaf people and sign language.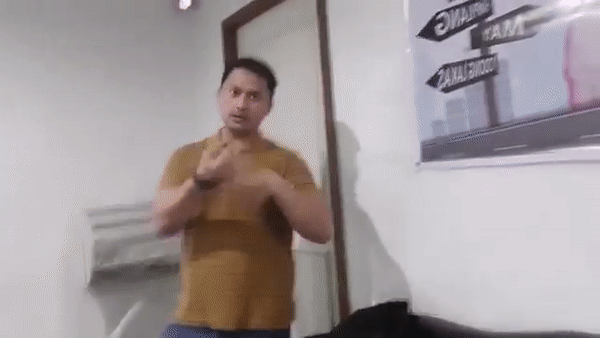 The now viral video was posted by Uson on Facebook, promoting their DWIZ noontime radio show. On the first part of the clip, Uson asked Olivar to do the sign language, he obliged and proceeded to make fun of it.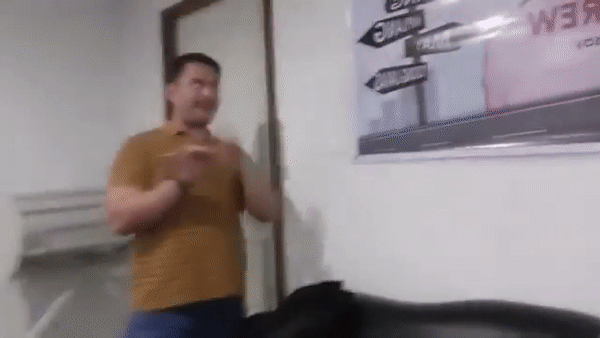 Twitter user @krizzy_kalerqui reposted the video on Twitter, saying "YOU NEVER MAKE FUN OF DEAF PEOPLE!".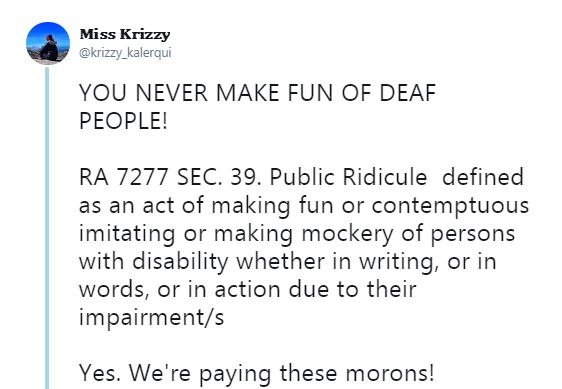 YOU NEVER MAKE FUN OF DEAF PEOPLE!

RA 7277 SEC. 39. Public Ridicule defined as an act of making fun or contemptuous imitating or making mockery of persons with disability whether in writing, or in words, or in action due to their impairment/s

Yes. We're paying these morons!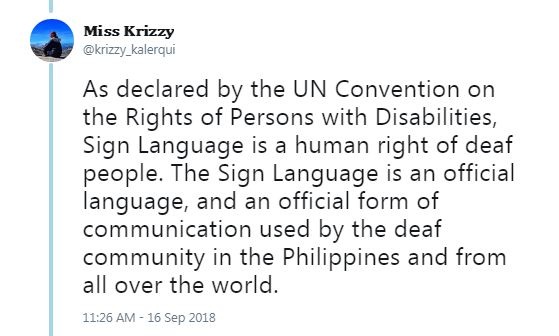 As declared by the UN Convention on the Rights of Persons with Disabilities, Sign Language is a human right of deaf people. The Sign Language is an official language, and an official form of communication used by the deaf community in the Philippines and from all over the world.
She added that such action is unacceptable as it was "disrespectful" and a "form of discrimination."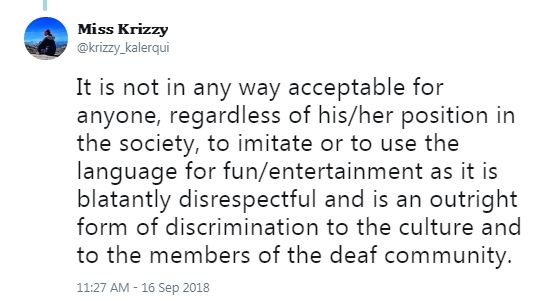 It is not in any way acceptable for anyone, regardless of his/her position in the society, to imitate or to use the language for fun/entertainment as it is blatantly disrespectful and is an outright form of discrimination to the culture and to the members of the deaf community.
Palace distances itself.
Presidential Spokesperson Harry Roque refused to comment on the issue, saying that "leave that to PCOO (Presidential Communications Operations Office) Secretary Martin Andanar."
On the other hand, Andanar stated that he would "discuss this with the team."
Olivar and Uson apologize.
Early evening of September 17, Olivar uploaded a video of his public apology regarding the issue.
https://www.facebook.com/Mochablogger/posts/10156884476206522?__xts__%5B0%5D=68.ARBdLBqbVGWCT68hcmRxGvEigjO2ZZ046x3AtYyicoPzKBBUJQmktTMJq01f7Ggqq_c_ARKeEtiv5PO8Unb8NlLjYp2gDhKXWicTB3gDKLBzAA_HqJZyeytjDcnpkbK5j3onRSsgMG-B8T2aXvKbXv4K6iWqI43jQqeo2j0TJUWXqiUyWq3viUM&__tn__=-R
The video was later shared by Mocha Uson Blog with the caption "Sorry po."

In an earlier statement, the Asec said that she will "be more active in guiding Drew."

My statement on the Andrew Olivar sign language video:

Andrew Olivar will apologize on the Issue. But I want to clarify as some are saying that this is a federalism video. It is not a federalism video. On my part, I will be more active in guiding Drew. I hope this will serve all. Thank you.