'Crazy Rich Asians' author Kevin Kwan described Kris Aquino as a 'highlight of the movie'–the Crazy Rich Asians film.
Kris Aquino, who was deeply flattered, posted Kwan's interview on her Instagram account.
When Kris Aquino was featured on TeenVogue for her role in "Crazy Rich Asians" as Princess Intan, the novel's author, Kevin Kwan, has nothing but nice words to the Queen of all Media.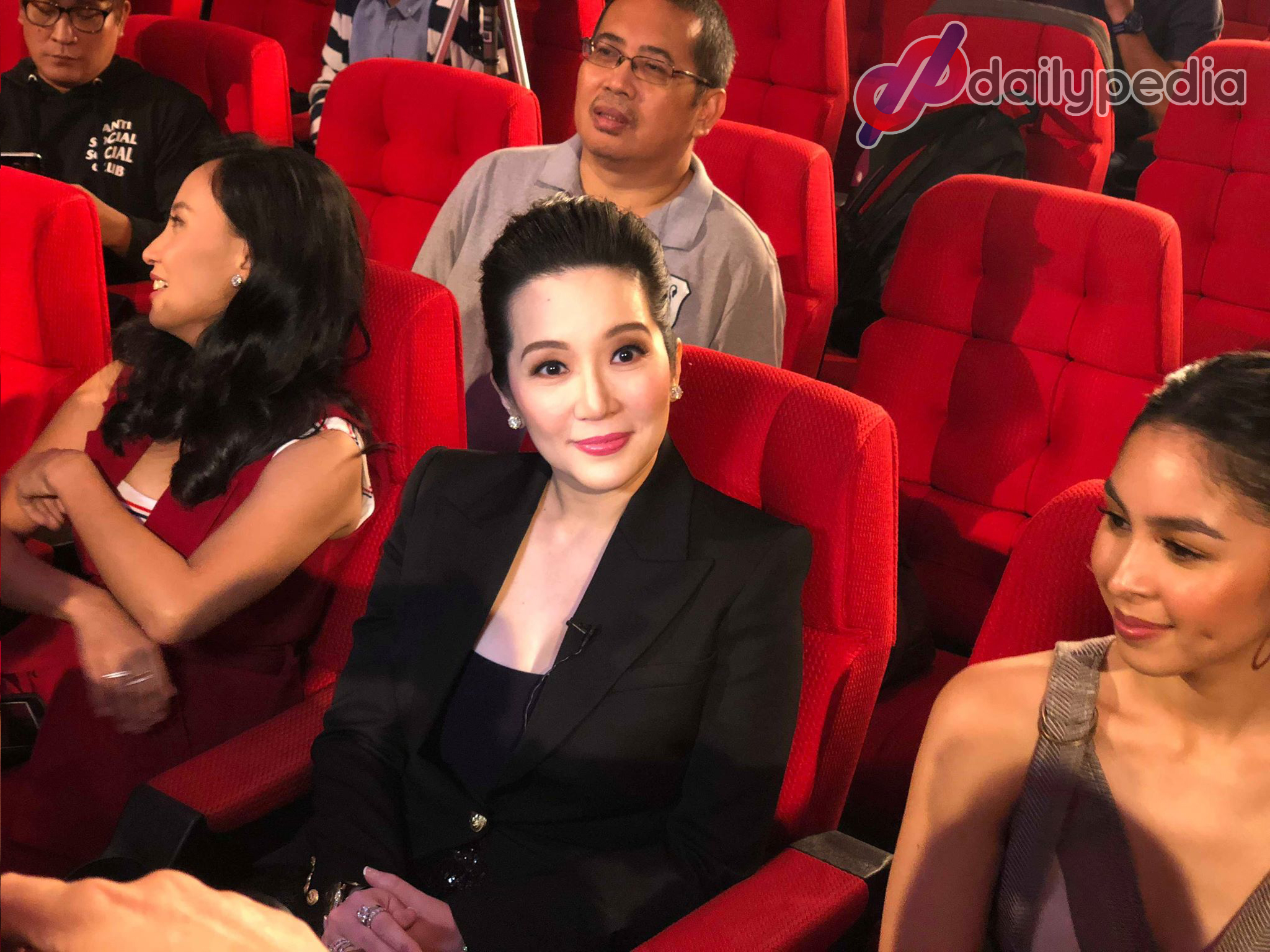 On her Instagram page, she posted a portion of Kwan's interview with former US Ambassador to the Asian Development Bank and commentator Curtis Chin. In the video, Chin called Aquino the "super celeb-interviewer-media star" as he asked the author about the actress's role.
Kwan then answered that not only she is in the film, but she's actually the highlight of the movie. "She's definitely in the movie.
"She's a highlight of the movie, for me, she's ahighlight of the movie."
The author even joked about how Aquino doesn't really need his help in promoting.
"She doesn't need my help. Everything she does goes viral." 
Video courtesy of Kris Aquino | Instagram
Aquino expressed her gratitude for the Kwan's kind words and how the Filipinos are "super fans" of the series.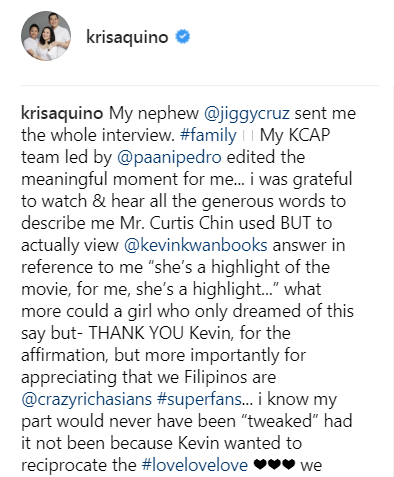 My nephew @jiggycruz sent me the whole interview. #family 💛 My KCAP team led by @paanipedro edited the meaningful moment for me… i was grateful to watch & hear all the generous words to describe me Mr. Curtis Chin used BUT to actually view @kevinkwanbooks answer in reference to me "she's a highlight of the movie, for me, she's a highlight…" what more could a girl who only dreamed of this say but- THANK YOU Kevin, for the affirmation, but more importantly for appreciating that we Filipinos are @crazyrichasians #superfans… i know my part would never have been "tweaked" had it not been because Kevin wanted to reciprocate the #lovelovelove ❤️❤️❤️ we
She also added the she wouldn't have made it far if a few friends didn't connect her with other mutual friends.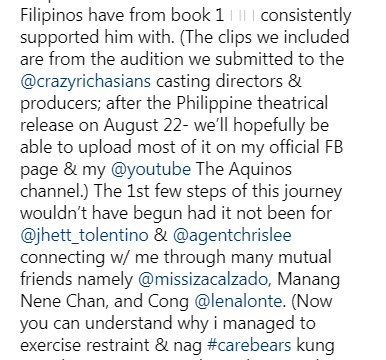 Filipinos have from book 1 📚👓 consistently supported him with. (The clips we included are from the audition we submitted to the @crazyrichasians casting directors & producers; after the Philippine theatrical release on August 22- we'll hopefully be able to upload most of it on my official FB page & my @youtube The Aquinos channel.) The 1st few steps of this journey wouldn't have begun had it not been for @jhett_tolentino & @agentchrislee connecting w/ me through many mutual friends namely @missizacalzado, Manang Nene Chan, and Cong @lenalonte. (Now you can understand why i managed to exercise restraint & nag #carebears kung
Aquino shared that she won't argue with those wanting to downplay her role in Crasy Rich Asians as believes in the quote "Work hard in silence, let success make the noise".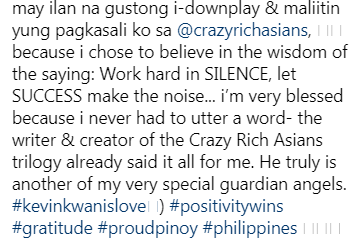 may ilan na gustong i-downplay & maliitin yung pagkasali ko sa @crazyrichasians, 🎬🎥because i chose to believe in the wisdom of the saying: Work hard in SILENCE, let SUCCESS make the noise… i'm very blessed because i never had to utter a word- the writer & creator of the Crazy Rich Asians trilogy already said it all for me. He truly is another of my very special guardian angels. #kevinkwanislove👼) #positivitywins #gratitude #proudpinoy #philippines