Beauty vlogger Ana Victorino posted an open letter to Michelle Dy.
Victorino took it to Facebook and Twitter to address the rumors regarding Dy stealing her content ideas.
It looks like the series of controversies involving beauty vlogger Michelle Dy is not going to end soon as it opened up the wounds of fellow YouTuber Ana Victorino.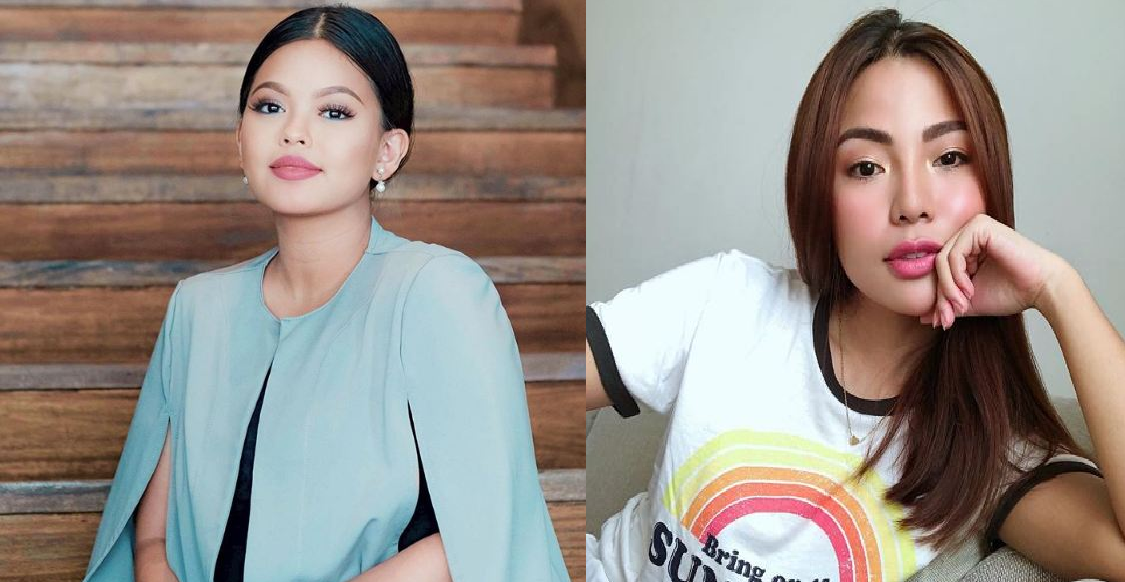 The latter wrote Dy and her "minions" an open letter regarding rumors that Dy has copied content ideas from Victorino a few years ago, and yet no one addressed it.
In a post on her Facebook account, she admitted that she did feel betrayed, however, she used that incident to improve herself. She also said that she does not hate the person and she has forgiven her long before.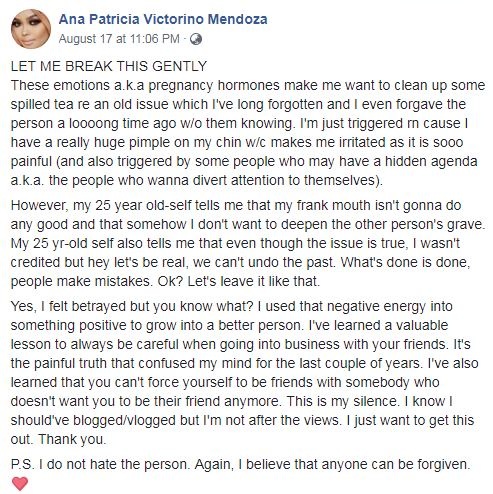 LET ME BREAK THIS GENTLY
These emotions a.k.a pregnancy hormones make me want to clean up some spilled tea re an old issue which I've long forgotten and I even forgave the person a loooong time ago w/o them knowing. I'm just triggered rn cause I have a really huge pimple on my chin w/c makes me irritated as it is sooo painful (and also triggered by some people who may have a hidden agenda a.k.a. the people who wanna divert attention to themselves).

However, my 25 year old-self tells me that my frank mouth isn't gonna do any good and that somehow I don't want to deepen the other person's grave. My 25 yr-old self also tells me that even though the issue is true, I wasn't credited but hey let's be real, we can't undo the past. What's done is done, people make mistakes. Ok? Let's leave it like that.

Yes, I felt betrayed but you know what? I used that negative energy into something positive to grow into a better person. I've learned a valuable lesson to always be careful when going into business with your friends. It's the painful truth that confused my mind for the last couple of years. I've also learned that you can't force yourself to be friends with somebody who doesn't want you to be their friend anymore. This is my silence. I know I should've blogged/vlogged but I'm not after the views. I just want to get this out. Thank you.

P.S. I do not hate the person. Again, I believe that anyone can be forgiven.
The online community continued on discussing the issue, Victorino turned to Twitter and ranted about the topic. She said that she did not post her clarification on Facebook to get fame.
And since, Twitter is now made for ranting. Yes, I'm going to be in my feelings ok? 1. I didn't post my FB status to gain fame. You know why? I'm not in this for the likes, views, or subs. I WAS top 1 top this top that and trust me it was not a good place for me…
Ana said that one of the lessons that she learned is that when you're on top, everyone is friendly to you. But when she disappeared, the people who were once 'chummy' with her suddenly stopped talking to her.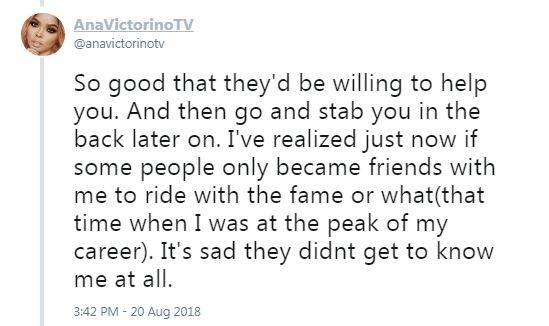 So good that they'd be willing to help you. And then go and stab you in the back later on. I've realized just now if some people only became friends with me to ride with the fame or what(that time when I was at the peak of my career). It's sad they didnt get to know me at all.
She tweeted that she wanted to reach out to Dy last month because she's still hurt over the incident.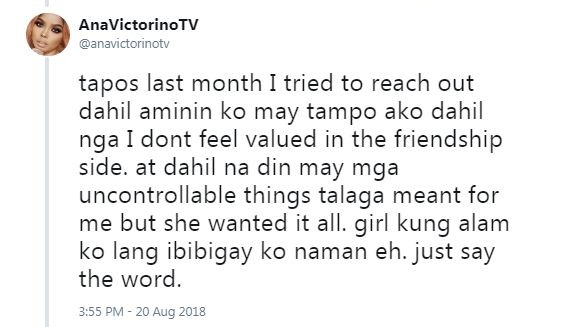 tapos last month I tried to reach out dahil aminin ko may tampo ako dahil nga I dont feel valued in the friendship side. at dahil na din may mga uncontrollable things talaga meant for me but she wanted it all. girl kung alam ko lang ibibigay ko naman eh. just say the word.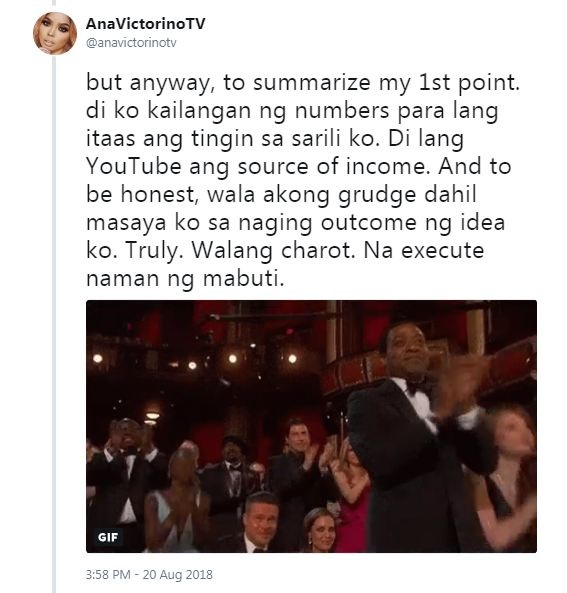 but anyway, to summarize my 1st point. di ko kailangan ng numbers para lang itaas ang tingin sa sarili ko. Di lang YouTube ang source of income. And to be honest, wala akong grudge dahil masaya ko sa naging outcome ng idea ko. Truly. Walang charot. Na execute naman ng mabuti.
She stated that she doesn't need an apology anymore as she has forgiven everyone that has wronged her in the past.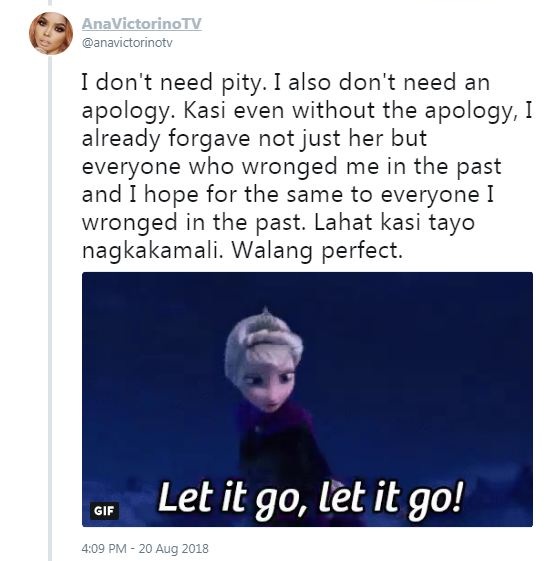 I don't need pity. I also don't need an apology. Kasi even without the apology, I already forgave not just her but everyone who wronged me in the past and I hope for the same to everyone I wronged in the past. Lahat kasi tayo nagkakamali. Walang perfect.
What she was annoyed with are the people who kept on defending Dy for the wrong reasons, including the skin shaming issue that the YouTuber is currently facing.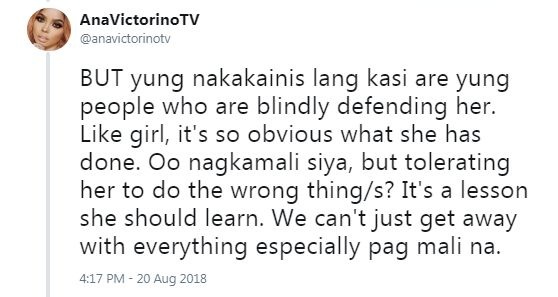 BUT yung nakakainis lang kasi are yung people who are blindly defending her. Like girl, it's so obvious what she has done. Oo nagkamali siya, but tolerating her to do the wrong thing/s? It's a lesson she should learn. We can't just get away with everything especially pag mali na.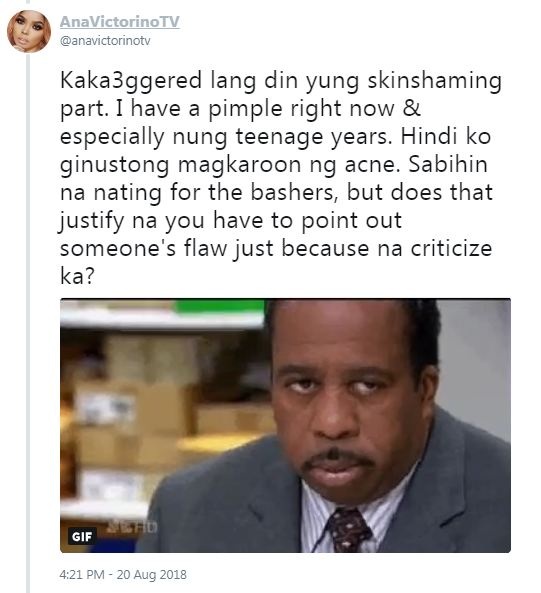 Kaka3ggered lang din yung skinshaming part. I have a pimple right now & especially nung teenage years. Hindi ko ginustong magkaroon ng acne. Sabihin na nating for the bashers, but does that justify na you have to point out someone's flaw just because na criticize ka?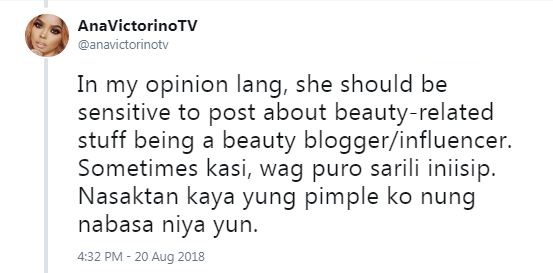 In my opinion lang, she should be sensitive to post about beauty-related stuff being a beauty blogger/influencer. Sometimes kasi, wag puro sarili iniisip. Nasaktan kaya yung pimple ko nung nabasa niya yun.
The influencer called out Dy's "representatives" for trying to make her change her perception. She even recalled an incident wherein Dy left her in the club, drunk; but she said that it was okay.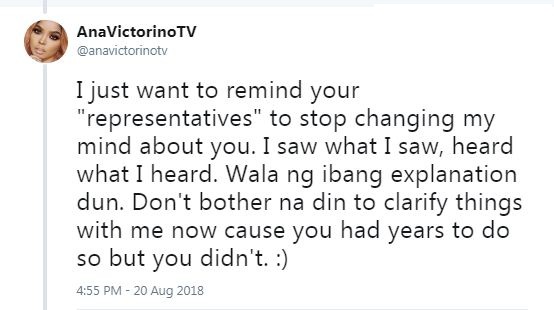 I just want to remind your "representatives" to stop changing my mind about you. I saw what I saw, heard what I heard. Wala ng ibang explanation dun. Don't bother na din to clarify things with me now cause you had years to do so but you didn't. 🙂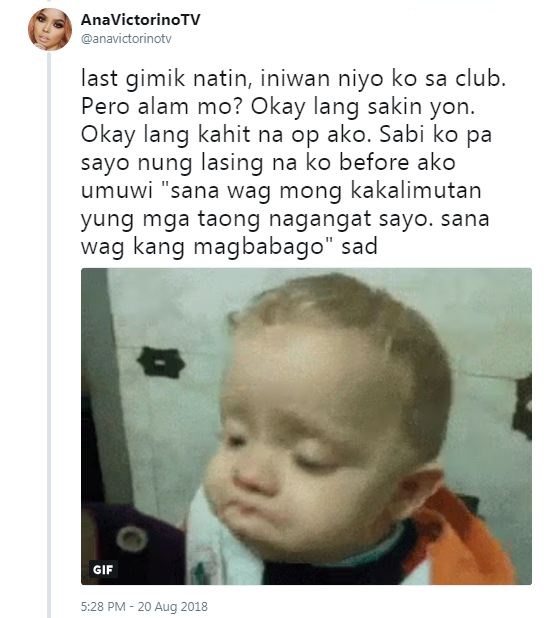 last gimik natin, iniwan niyo ko sa club. Pero alam mo? Okay lang sakin yon. Okay lang kahit na op ako. Sabi ko pa sayo nung lasing na ko before ako umuwi "sana wag mong kakalimutan yung mga taong nagangat sayo. sana wag kang magbabago" sad
Victorino continued on saying that Dy should've known better on how to handle criticism as they have been on YouTube for nearly a decade now.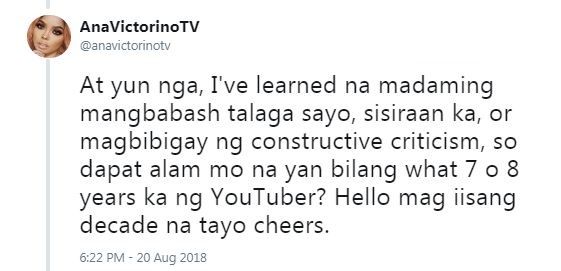 At yun nga, I've learned na madaming mangbabash talaga sayo, sisiraan ka, or magbibigay ng constructive criticism, so dapat alam mo na yan bilang what 7 o 8 years ka ng YouTuber? Hello mag iisang decade na tayo cheers.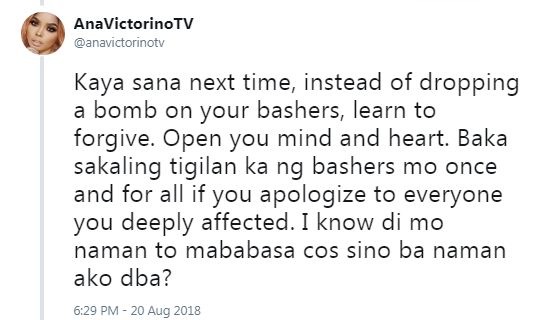 Kaya sana next time, instead of dropping a bomb on your bashers, learn to forgive. Open you mind and heart. Baka sakaling tigilan ka ng bashers mo once and for all if you apologize to everyone you deeply affected. I know di mo naman to mababasa cos sino ba naman ako dba?
In her last tweet, Victorino proceeded on tagging Dy as it was an open letter to her.
Image: Screengrab of Ana Victorino's tweet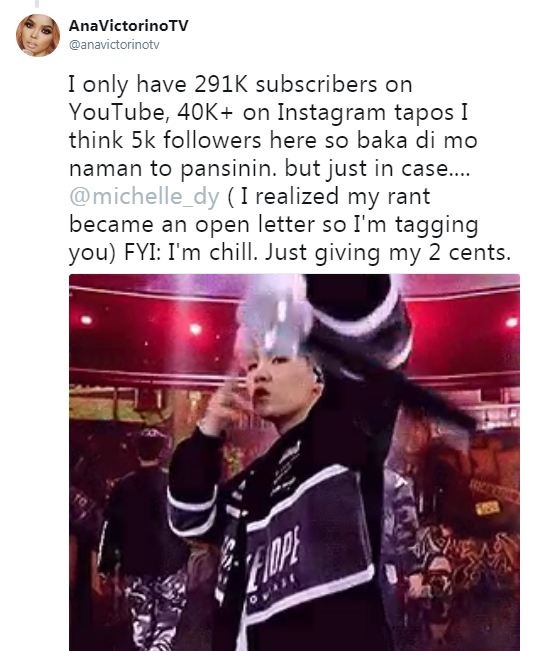 I only have 291K subscribers on YouTube, 40K+ on Instagram tapos I think 5k followers here so baka di mo naman to pansinin. but just in case…. @michelle_dy ( I realized my rant became an open letter so I'm tagging you) FYI: I'm chill. Just giving my 2 cents.
Dy has yet to comment regarding Victorino's statements and the skin shaming issue.