Ben Tulfo refused to return the Php60 Million his media outlet received from an advertisement deal with the government.
On a Facebook post, he claimed that the deal was legal and they had papers to prove it.
Broadcaster Ben Tulfo, the brother of former Tourism Secretary Wanda Tulf0-Teo, has said that his media company will not return the Php60 million that was paid for an advertisement deal with the government.
The people demanded that his company must give back the said money as the government auditors saw a possible violation of the anti-graft law.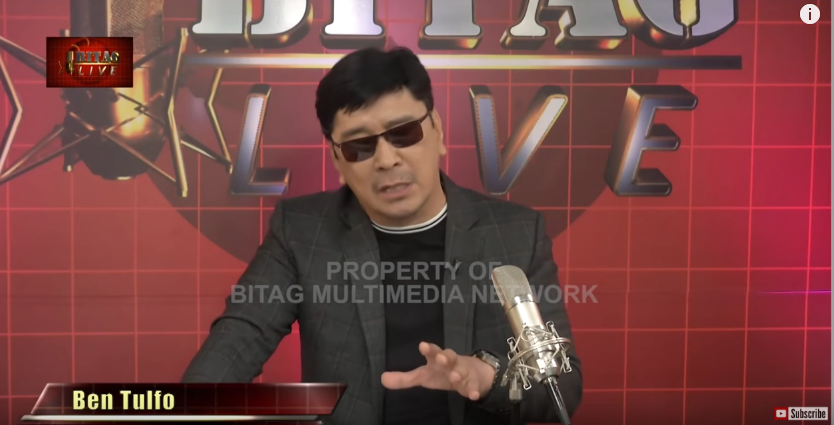 Tulfo, the chief executive officer and founder of Bitag Media Unlimited, Inc. (BMUI) said on facebook dated July 26, that the company obtained the money with a legitimate contract between his Kilos Pronto program and the People's Television (PTV), which is the government's flagship television network.

He wrote, "Anong isasauli? Maninigil pa nga kami dahil may utang pa sa'min ang principal na PTV-4 dun sa kanilang kliyente, ang DOT. Kumpleto kami sa kontrata at mga dokumento. Legal ang ginawa namin. Nai-deliver at tinrabaho namin."
The broadcaster added that he won't return the money even if people's eyes turn white. "Sa mga nagsasabing isauli ang pera at hinihintay daw ang 60-M, mamuti na mga mata niyo! Wala kaming isasauli! Sa mga nagsasabing ilegal at nangulimbat kami, e'di sampahan niyo kami ng kaso, tutal nandyan naman ang COA at Ombudsman!"
The issue started in April, when Commission on Audit (COA) released their 2017 report. It was found that Teo may possibly be liable for graft after PTV 4 paid Php60 million to BMUI to air DOT advertisements. It is said that "Considering that the DOT secretary and the producer of  'Kilos Pronto' are siblings, there is a possible conflict of interest, which may be a violation of Section 3(e) of the Anti-Graft and Corrupt Practices Act,".
Teo's lawyer Ferdinand Topacio stated that the media firm will return the payment, however, Teo did quit as tourism chief right after the announcement.