Senator Manny Pacquiao states his opinion regarding President Rodrigo Duterte's controversial statement.
Pacquiao says that we should respect the everyone's opinion and belief.
Last June 26, Senator Manny Pacquiao explained that he didn't have the chance to read President Rodrigo Duterte's controversial statement regarding his belief and his opinion towards God.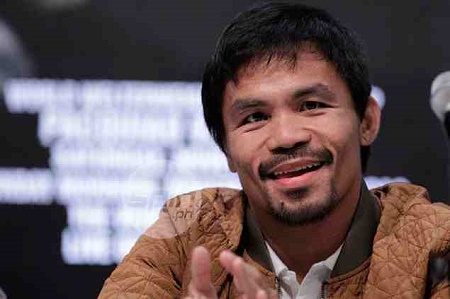 Pacquiao stated that he is currently not updated when it comes to news in the social media platforms.
He did hear that the president has said something that caused an issue but has not yet read the full speech but he said that he believes that we should respect every opinion.
"I heard sa mga pastor na makipag-audience sa kaniya. Dito sa atin, iba-iba ang paniniwala natin. Nirerespeto natin ang bawat isa, ang bawat paniniwala. At kung anuman 'yung malalim na dahilan ay hindi natin alam, kaya hindi tayo puwede magbigay ng comment."
The born-again Christian senator received backlash after he has stated his view on the issue.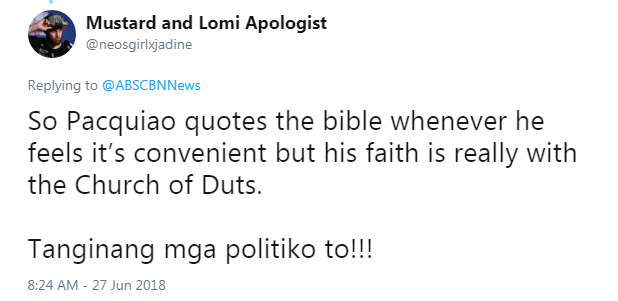 "So Pacquiao quotes the bible whenever he feels it's convenient but his faith is really with the Church of Duts. T*ng*n*ng mga politiko to!!!"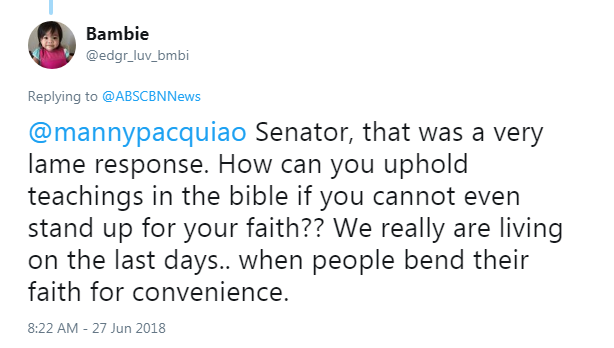 "@mannypacquiao Senator, that was a very lame response. How can you uphold teachings in the bible if you cannot even stand up for your faith?? We really are living on the last days.. when people bend their faith for convenience."

"Duterte's tirade about God is acceptable to paquiao, oh but when the topic is divorce and LGBTQ all hell breaks loose?????? Wow"

"Senator Pacquiao ayaw ipagtangol ang tunay na Diyos dahil ang kanyang dios ay fake at negotiable. Kung saan ang may pera doon pupusta ang kanyang dios."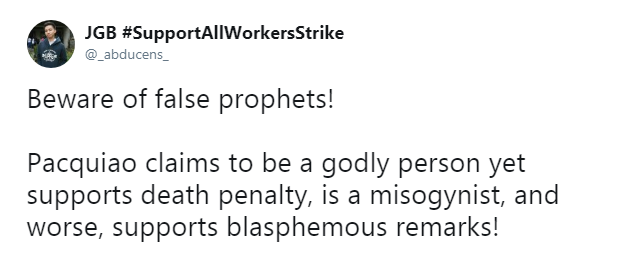 "Beware of false prophets! Pacquiao claims to be a godly person yet supports death penalty, is a misogynist, and worse, supports blasphemous remarks!"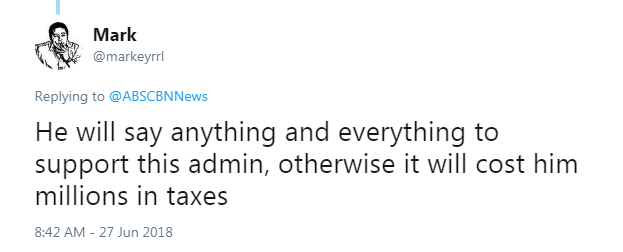 "He will say anything and everything to support this admin, otherwise it will cost him millions in taxes"
Pacquiao is currently preparing for his fight with Argentinian boxer Lucas Matthysse this July 19 in Kuala Lumpur, Malaysia.