Arnold Legara Cuevas gave his students an assignment on their family
His student, Rheann Khinn Cabahog, reveals that his family died back in March
Brings netizens to tears
Imagine losing your family at a very young age, knowing that you won't ever see them again.
Arnold Legara Cuevas is an elementary school teacher in Davao City.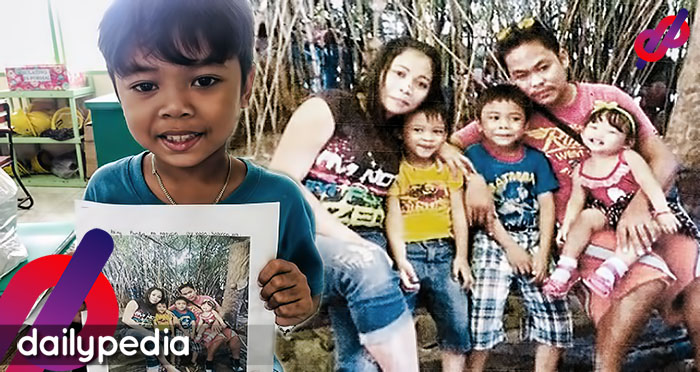 He had his heart broken when he gave his students an assignment to bring their family picture to school.
One of his students, Rheann Khinn Cabahog, submitted his assignment but it had a twist to it.
Cabahog brought a family picture with him that said, "Ang aking pamilya na ngayon ay nasa heaven na."
Cabahog also had an essay written.
"Ang aking pamilya noon ay saya-saya naming nagsisimba kami. Kumakain sa labas. Pero dumating ang araw na bigla akong lumongkot kasi ang Mama at Papa ko ay kinuha ni God. Pati mga kapatid ko iniwan na nila akong nag-iisa. Super lungkot ng buhay ko."
It was later revealed that his family's house in Isabela got burned on March 12 as they were sleeping.
His family wanted him to study in Isabela so they could be together, but his teacher advised his family that they should just let him finish the school year before transferring.
Cabahog was and is still living in Davao City with his grandparents, and that is the only reason why he is still alive.
Cuevas also revealed that Cabahog said he was really thankful that his teacher Josephine Echavez Sumarago convinced his family to not let him transfer yet or else he would be in heaven too.
His aunt and grandparents are taking good care of Cabahog, along with his adviser Cecil Ganir Alburo.
Cabahog also said that his sadness is sometimes alleviated when he spends time with his friends.
Regarding his parents and siblings, he said that at least he has guardian angels watching over him.
Netizens were touched by his story and felt sorry for him experiencing a great loss at such a young age.
"Everything happen for a reason baby kapit ka lang kay Lord .. pasasaan at magiging maayos din ang laht 😢 pray ka lng"
"Naiyak ako while am reading this,prang msakit n msakit puso ko,ndudurog..but Godless u boy.mdmi png tao ngmamahal sayo.mg-aral k ng mbuti.tc always"
"its break my heart while reading..tulo luha q s kwento nya..dont be sad baby boy.be brave and God bless you"
"Sakit kau akong dughan nakakalungkot nman baby boy be strong trust god lng boy hindi ka niya iiwan…godbless"
"Trust Lang ka Kay GOD Nak, daghan mig gapalngga nimo.. Ug ang imong mga ginikanan gaguide pod nim"